Former President Carter impacts the world, Midtown
To the world, Jimmy Carter, who is now in hospice care at age 98, is known as an American politician, serving as a Georgia senator and governor and later winning his presidency to become the 39th President of the United States. To those close to him, he is a father, a grandfather, a great-grandfather and a friend.
Over the span of his presidency, Jimmy Carter implemented several break-though policies such bolstering Social Security, creating the Department of Education, along with brokering peace in the Middle East through the Camp David Accords.  
Although Jimmy Carter only served a single-term as president, he has left a long-lasting legacy. 
"I was very young when [Jimmy Carter] was president but I still remember him being president," AP Human Geography teacher Christopher Wharton said. "My biggest impression of him was [not his presidency but] more about who he seemed to be as a human being, to have genuine care for his citizens." 
Pres. Carter's former Chief White House Domestic Policy Advisor Stuart Eizenstat admires his global policies to create global peace while in office. 
"It was one of the most consequential, impactful presidencies in American history," Eizenstat said. "For foreign affairs, the Camp David Accords between Egypt and Israel, followed up six months later by the treaty between the two was, in my opinion, the greatest feat and a personal presidential diplomacy in American history."
Eizenstat reflects on what made Jimmy Carter's presidency so special.
"I've been in five administrations and this one was the highpoint of my government career because I had been with Jimmy Carter from the start," Eizenstat said. "Working with him personally was a highlight because he's brilliant, incisive and extremely hard working. He would work as hard as [his administration] did, which is not often the case with presidents."
AP US History teacher Jason Slaven agrees that Carter was a unique president as he was elected during a time of political unrest. 
"Jimmy Carter is really special; he's an anomaly in American politics," Slaven said. "If you look at the historical context of the 1970s, he was elected out of the distrust that the American society developed in the federal government after Watergate and the failures of the Vietnam War."
Carter's accomplishments while in office will continue to benefit Americans just as they were intended to do during his presidency. 
"When I think of his lasting legacy, I think of Middle East peace, human rights, a new policy for our energy foundation, airline deregulation, all the ethics legislation and appointing so many women and minorities to office and to judgeships," Eizenstat said.
Slaven also believes that Carter's policies have had a long-term positive impact, specifically on education in America. 
"He improved federal funding for schools and created national guidelines and policies for schools," Slaven said. "Because education had previously been a part of a larger department, it got pushed to the side, but Carter recognized it as a priority for the government when he created the Department of Education."
Overall, Slaven admires Carter as a person aside from just his political persona. 
"I just see him as an honest politician, which is a rare find," Slaven said. "I also think that the honesty and practicality that Jimmy Carter was so famous for was sometimes his downfall." 
Through Eizenstat andCarter's long-lasting friendship, Eizenstat has been able to see Carter grow and develop as a politician. 
"It was like seeing a flower bloom. It was like seeing someone really mature and broaden from just a local and state political leader to a national leader," Eizenstat said. "He became comfortable dealing with international leaders and really strengthened NATO; so, he showed great growth in office."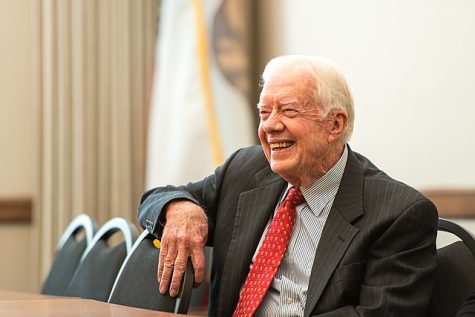 School Impact
Midtown teacher and Speech and Debate coach Mario Herrera admires Carter's values and believes Midtown implements them well. 
"I think the school kind of embraces this idea of community and being a positive influence in your community. I think that kind of epitomizes Jimmy Carter," Herrera said. "You live in a community, you do good, you have a positive attitude, I know and that's a lot of what we try to do here."
Carter's impact spans further than just his policies, leading Herrera to name the yearly Midtown-hosted debate tournament after him. 
"He's a confident speaker; that's how he got to be president," Herrera said. "He was able to articulate his idea of the world that he envisioned and people agreed, and I think that's kind of what speech and debate does."
Kate Carter, aside from being Carter's granddaughter-in-law, is also an English teacher at Midtown. She says she has learned to keep her family and professional life separate, not wanting to let her relation to Jimmy Carter influence her teaching. 
"In general, I've really tried to compartmentalize my home life and my work life," Kate Carter said. "I like to be just like a normal person and not related to anybody famous when I'm at school."
Personal Life
Carter's grandson, Jason Carter, cherishes his close relationship with his grandfather. 
"I have tons of memories with [Jimmy Carter]. People know him as this public figure, but I will always know him as just my Papa," Jason Carter said. "He would take me fishing, and I'd go to [the Carter's] house for Christmas. We would have very normal interactions like any other person's grandparents; it just so happened that that particular person, who was my grandfather, had also been the President of the United States."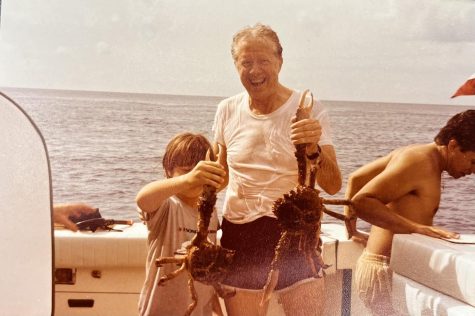 Kate Carter sees Carter as more than just a past president, but also as family. 
"I distinctly remember the first time I met him being sort of nervous," Kate Carter said. "But then I was impressed by the fact that this person I'd always known about and learned about was really just like a sweet grandpa to this person that I really adored [Jason]."
Jimmy Carter's great grandson, Henry Carter, is a sophomore at Midtown. 
"Having such a politically-involved family has definitely been different," Henry Carter said. "It makes dinner conversations different, like instead of talking about school, we're also talking about what's happening in Sudan, or Guinea Worm disease, which has helped me to learn about things that other people don't really know about."
As far as his political beliefs, Jason Carter says that Jimmy Carter would always put his personal principles ahead of politics. 
"He's a peacemaker, fundamentally, and his successes in office became his proudest accomplishments," Jason Carter said. "His commitment to human rights internationally was something he believed in in office."
Eizenstat shares a similar stance on Carter's approach to personal principles while in office. 
"He put human rights at the center of his foreign policy," Eizenstat said. "It was really a flagship for his presidency."
Eizenstat shares that Carter treated his administration as more than just employees, but as friends. 
"As a person, he was very kind," Eizenstat said. "He was always pushing to get new options, fresh options to deal with problems. But with that came a kindness to our family."
With Carter currently in hospice, Jason Carter realizes how much of an influence his grandfather had on him throughout his life in several aspects. 
"I grew up my whole life with him being my grandfather, so I've always known the public aspect of him and talking about him publicly. But what I didn't realize was how sad I was actually going to be because of how much he had done for me as a person," Jason Carter said. "So, I've been surprised at how sort of emotional I've been about him over these last couple weeks."
Eizenstat reminisces on his close relationship with Carter throughout decades of political partnership.
"The last time I saw him personally was at Plains [GA] for his 75th wedding anniversary," Eizenstat said. "He gave me a big kiss and told me how much he appreciated what I'd done for us, and I told him, 'whatever I've done for you, you've done for me multiple times over.' It was incredible."
Carter and his achievements will forever impact people across the world, especially his family members. 
"He's done so much for me; setting an example and teaching me among other things that people who do great things, including presidents of the United States, are just regular people," Jason Carter said. "That idea that some people who don't know him personally will look out  [and just see his] amazing life; one of the things I know about him is that he is just a regular guy, and that's inspiring."
Carter led America from 1977-1981, but he will continue to leave an impact on people all over the world, especially his family. 
"All the other people in the world see him as this public figure, but to me he'll always just be my grandfather," Jason Carter said.