Midtown theater continues streak of excellency
Established in the spring of 1987, Midtown's theater program has worked tirelessly to put on shows and other productions. 
Under the direction of theater teachers Jacob Drieling, Lisa Willoughby, John Brandhorst, Kevin Hill, and until last year, Lee Pope, the program has established itself as a key component of the Midtown community. 
Dreiling, who directed "Our Place," "Ranked," and "Chicago" this year, arrived in 2007, a time when Atlanta Public Schools was adopting a different approach to teaching, which gave the theater department more resources and new classes. 
"Right at the time that I came, I was really lucky because it was when we were starting a new program to come up with these, 'small schools.' There was a rollout for every APS school to become this sort of small school," Dreiling said. "The idea was that each school would have the little schools for different programs. We were going to be the last generation, and the principal at the time, Dr. (Vincent) Murray, decided that he would begin with exploration classes into the different schools that we could possibly have. I was hired to teach three sections of that as the arts person, along with a section of tech theater and a couple of math classes." 
Theater
One of the most acclaimed parts of Midtown is the theater program, which produces numerous plays and musicals, including "Mamma Mia!" and "West Side Story." Many students, parents and community members, like senior Grace Bradshaw, look forward to and enjoy watching the student productions. 
"I've always tried to see the shows everytime the school puts them on, and I am always blown away by what they are able to do and in awe of the students' talent," Bradshaw said. "I watch them and think about how fun it would be to be a part of these shows."
Senior Arden Dalia, who joined the program her junior year, has starred in several productions and thinks the strong community is one of the best parts about theater. 
"My experience has been really positive," Dalia said. "It's a really large department in comparison to where I came from previously. There's a lot of interest surrounding the theater department and the arts. There's a lot of people doing backstage work,;there's a lot of people doing on-stage work and you can just tell that even though the community is bigger, you fit into it really well, no matter where you come from or how old you are."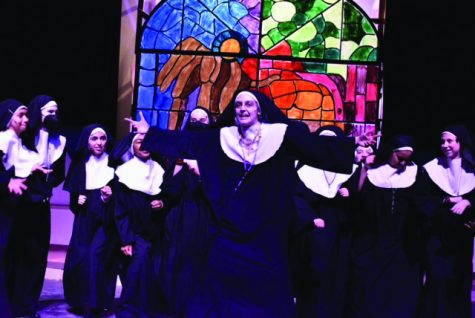 Dreiling credits the success of the program partially to the accepting nature of theater. 
"I would say that theater is one of the places where it really doesn't matter who you are," Dreiling said. "I think it's one of the most accepting places possible. No matter what your sort of thing is, there's something for you. If you like building stuff, if you like painting, if you like acting, singing or dancing – there's always a spot for you. If you're really into editing sound, whatever it might be, there's room. I think that attracts a wide variety of personalities."
Aside from the people involved, Dreiling also recognizes the support from administration as a key component in the program's success. 
"Every administrator, including the first one that hired me and throughout, has been really open to expanding and trying to make the program continue to grow," Dreiling said. "It's why I've stayed — because we've added so many classes;so now there are 14 different theater classes that we offer, and that's crazy. It's really nice to see that as we grow, the administration is so supportive. We've created new classes; we've come up with new things, and every single time the response has been, 'Yeah, that sounds great.'"
Currently, the program faces the challenge of not having enough slots to cast everyone who wants a role, though they are working hard to accommodate everyone. 
"I feel so fortunate because I have colleagues around the country who do not have this experience — that struggle with administration, that have kids that are not really engaged, that talk about the struggles of not having enough people come out and don't have enough people or enough money to do what they need to," Dreiling said. "But we have all of it — the parent involvement, the administration support, the general interest; so, I am just very grateful."
Dalia thinks having a large program is crucial to keeping theater strong. 
"I would say that the program has grown in terms of the enthusiasm, and the inclusivity of it has really expanded in the years that I've been a part of it," Dalia said. "We had 120 or so people come out for 'Chicago' and for 'Mamma Mia.'"
There are usually two productions happening at any given time to help ensure that anyone who wants to be involved, can be involved.
"One of the biggest challenges for us right now is we have so many people that want to be involved in extracurriculars, and we just don't have enough opportunities," Dreiling said. "For Chicago, we have 42 cast members, but we had 70 try out. So, 30 people who wanted to do it couldn't do it. But, we offer the spring film at the same time; so, we're constantly doing double productions to make sure we can fill the need." 
This year's spring musical was "Chicago," which the cast and crew had been working on since August. Freshman Sam Otoski had a smaller role, as most underclassmen do, but is excited to work on more productions in the future after his positive experience this year. 
"The 'Chicago' community is very together and familiar; people have many different friends that are in different grades, and we all have this common interest, and that's made it really fun," Otoski said. 
Film
The theater program is comprised of several classes; one of the more recent additions is film. The film classes have quickly gained interest over the last couple years, producing several projects a year. 
"Back in 2013, Georgia passed their tax relief; it became very lucrative and attractive to start filming big blockbuster films here in Georgia, which is why we had that influx of all those films, and basically became Hollywood south," Dreiling said. "When that was happening, as the department, we kind of said, 'All right, well we're going to have film around us all the time; we need to start incorporating that into our program, or else, we're not really training people to possibly work on a film when it is literally in our backyard.''
Senior Wesley Stewart has participated in the film class and found it to be one of his best and most rewarding high school experiences.
"Film is a hidden gem in the theater community because it's not really as highly valued [by students]," Stewart said. "There's so many fun aspects, like in terms of camerawork and acting."
Since 2013, the program has participated in the "48 Hour Film Project,"an international competition that challenges participants to produce a whole film in just 48 hours, picking the genre out of a hat. 
"The first time we participated in the project, we were just like, 'Let's try this,'" Dreiling said. "It's actually an international competition, mostly for professionals, but there's a few schools that do it. We're one of the few that do it every year, and this will be our tenth year doing it. It's super fun – exhausting – but so much fun to do." 
After experimenting with the "48 Hour Film Project," the theater teachers collaborated to discuss ways to further incorporate film into the curriculum. 
"I had an Acting II class (second year acting class), and I said, "Alright, guys, this is what we're going to do for Acting II: we're still going to do this curriculum as written, but instead of doing it for stage, we're just going to do it all for film,'" Dreiling said. "We changed it to be sort of a film-oriented class. I didn't know much about film; honestly, no one else did, either. We all sort of started learning the same thing, and so, I started saying to my students that if they liked this, we can make it a film class and just sign up for it next year, and we'll see if we can keep generating interest."
Following the first year of implementing the film curriculum, Dreiling was approached by an administrator from the Department of Education and asked if he would design a full course on film production for the state of Georgia. After a year of working on the curriculum, the class called, "Acting and Production of Film" was made an official part of Georgia curriculum. 
"We were trying to fit the in between [of theater and video] because we have a video production class, but that's more like broadcast journalism," Dreiling said. "What we were missing was just film-like shooting on camera, being on set, that kind of idea. Now, it's been three or four years of that class being legit and I think there's seven or eight high schools across the state that are doing it, which is really awesome."
Success
Though the time and commitment put in by the teachers, students and other volunteers is great, the program has seen it pay off, winning numerous awards for student productions. This year, the fall play, "Our Place" won the Region One Act Play for GHSA Region-5AAAAA and got second at the state competition. 
"My favorite show to have been a part of was 'Our Place,'" Dalia said. "It was a very small cast, and we all became very close, and we were able to go to the regional competition, which we won and then go to the state competition, in which we got second place, which was incredible and a really great opportunity. I learned the most through that experience."
Along with the students' success, this year, Dreiling was awarded the Outstanding Teaching Award for theater teachers in Georgia.
"When I got [the award], I was completely surprised," Dreiling said. "I was at the conference, and two of my students walked out on stage. I thought one of our students had won something; I didn't even connect that it might be me."
Stewart thinks that Dreiling's ability to connect and work with students made him a great candidate for the award. 
"Dreiling is one of the greatest teachers I've ever met," Stewart said. "He is such an incredible leader, and he really works things efficiently, and I love his process of directing. He makes it really fun on stage, and I've always had a blast working with him."
Dreiling thinks that his connection with students and the strength of the program is rooted in the abundance of support from everyone involved. 
"There's so many things that we have;our problems are that we have too much, which is a great problem to have," Dreiling said. "We're just so fortunate to have something like we do. I mean, yes, it is a lot of our doing to build that, but it's a two-way street. If the kids aren't interested or the parents aren't, or we don't have the administration, then we don't have that experience. I just feel ridiculously fortunate to be in the position of having all of this wonderful stuff."