Sophomore Kimmons follows passion for arts
Sophomore Lannea Kimmons has always had a passion for the arts. Whether that be the 'Mommy and me' class she took when she was young, or a creative movement class, it was apparent from a young age that Kimmons would find her niche in the world of arts.
Kimmons does a wide variety of dance styles, and has found inspiration for other art fields through dance. 
"I do modern, ballet, jazz and some other styles on the side," Kimmons said. "I've pretty much been dancing my whole life and I think having that going into high school launched my interest to go into theater."
Sophomore Lucia Olivera is Kimmons's close friend and has known her since they were young. 
"I've known Lannea since elementary school," Olivera said. "Seeing her grow and develop as we've gotten older really shows her true passion for theater and dance and it's been great to know she's found something that makes her happy."
Kimmons appreciates her prior dance experience that led her to be able to find her love for theater and grow at other skills she didn't have as much exposure to.
"Because I was already a strong dancer I was actually able to spend more time focusing on my acting and singing, and that allowed me to be more confident and pursue those passions," Kimmons said.
Kimmon's mom, Michelle Kimmons appreciates that she has stuck with her activities and excelled at what she does.
"I was never nearly as brave as she is, and ever since she was little she has loved music, singing, playing instruments and dancing," Michelle Kimmons said. "I've always let her decide what she wants to do and seeing her pursue both dance and theater so seriously has been great, it's nice to know she's doing what she loves."
Kimmons acknowledges the difficulty that comes with managing both dance and theater. 
"The biggest challenge has definitely been balancing my activities," Kimmons said. "During 'Our Town', I was originally going to be in it, but then I had to drop out because it has too much crossover with dance and then in Chicago I had to miss a lot of dance to be able to carry out my commitment to that."
Olivera makes note of Kimmons's ability to perform at a certain level. Olivera notices the dedication that Kimmons puts into everything she does.
"I've gone to a lot of her performances, and she always performs with so much passion and joy," Olivera said. "It's so great to go see her because you can tell that she loves it, whether it's singing, acting or dancing. I know she works really hard so it's been great to see her hard work pay off."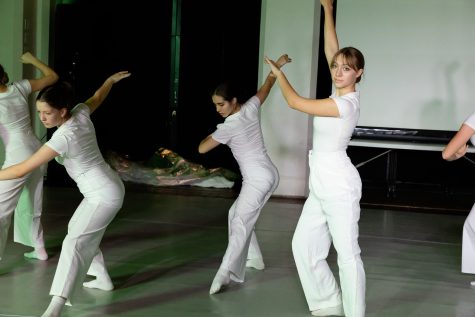 Michelle Kimmons is impressed on how Kimmons kept up with dance during Covid-19.
"During Covid she did online classes and watched a lot of Broadway dancers online, which promoted the interest in acting, directing and filmmaking," Michelle Kimmons said.
By being active in both dance and theater, Kimmons has been able to translate both activities into one another.
"I think with dancing it's always good to be able to have emotion in it and theater has helped me with that and dance does the same in theater," Kimmons said.
Michelle Kimmons felt fortunate that Kimmons had already found something to put her time into before high school had started.
"To be in Covid during such a delicate time of growth, I was very glad that she had a foundation of dance to support her interests going into high school," Michelle Kimmons said.
Along with acting Kimmons has participated in Midtown's "Coffee Houses', which are talent shows for students to be able to sing, act, dance, do comedy or anything else.
"Coffee House was really impactful for me and I love being able to sing and play guitar in a supportive and low-key environment," Kimmons said.
Olivera feels that Kimmons is a positive force, one which she appreciates for their friendship.
"Lannea, besides being an amazing friend, is just such a good person, she has the ability to walk into a room and just brighten it instantly," Olivera said. "She makes doing literally anything just so fun and enjoyable."
Kimmons doesn't know what the future will hold for her but knows she wants the arts to be a part of it in some shape or form.
"I think that art will always be with me, whether it's acting, visual, dance or music," Kimmons said. "I definitely want the arts to be some part of my future."