Lyman commits to continue diving in college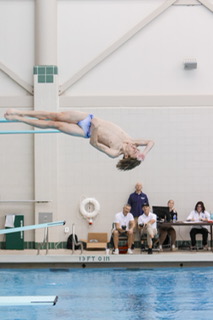 Junior McCoy Lyman verbally committed to the admissions process at Dartmouth University for diving, a culmination of his efforts in the sport throughout high school.
Lyman started diving five years ago after moving away from gymnastics, and it has been his main sport since.
"I used to be a gymnast, but around the end of  fifth grade, it ended up   being too much for me," Lyman said. "My mom met my dive coach through her work, and I tried it out, and I've loved it ever since."
Diving allows an athlete to expand their repertoire, allowing them to learn new dives whenever they want.
"I really enjoy the high skill ceiling of diving," Lyman said. "I've never felt like I was plateauing or that I was running out of things to learn because there are always more dives to try. The sense of accomplishment you get from learning new dives is honestly unmatched."
In 2021, Lyman became the first freshman diver in Midtown history to qualify for the GHSA Swimming & Diving State Championship. That same year he placed first in the diving state meet, another first for any Midtown diver. Lyman has continued to break barriers for the Midtown diving community since.
Lyman also participates in club diving, which practices at Georgia Tech. Both experiences provide their own kind of excitement.
"My favorite school accomplishment was definitely winning state in my freshman year, and my favorite club achievement was breaking the 500-point barrier at my most recent 3-meter meet," Lyman said.
This year, Lyman competed in the GHSA State Diving Championship, which was held at Westminster, and placed second overall in the Boys 4A-5A division, scoring 711.90 points.
"I have seen McCoy since he was on the team his freshman year, and we were sophomores," senior Sarah Prevost said. "I was very impressed with his first place finish at state his first year, and as a freshman. I knew he would make a big impact on the team. He contributes by giving us a lot of points for [the city championship],and he always places really high at state. He placed second last year, even though he had a broken hand. I practice at the same pool as him for our club teams and always see him working hard. It's very impressive to commit to a college your junior year, especially a school like Dartmouth."
In one and a half years, Lyman plans to continue his academic and athletic journey at Dartmouth, pending the admissions process.
"I chose Dartmouth diving for a couple reasons, but I'd say the main ones are the coach, the team spirit, and the school's support for the sport," Lyman said. "I love how connected the team feels, and the coach is a really down-to-earth, caring person who you can tell knows a lot about what he does. Dartmouth is a really student-focused school, and the opportunities are basically unending when it comes to internships, travel, majors, and basically anything else."
Lyman believes the Ivy League and Dartmouth team will provide the best situation for college diving.
"I'm most excited about college diving because of the environment," Lyman said. "The Ivy League is pretty competitive with diving, and I think that going to Dartmouth will allow me to have a lot of fun challenging myself against other great divers. I really look forward to meeting divers from other schools and connecting with other people that I know have also committed to Ivies."
Junior and friend Caitlin Stanley has watched Lyman through the years and reflects on his attitude and achievements.
"I would say McCoy is one of the hardest working people I know. As long as I've known him, from gymnastic to diving, he has always been dedicated to his sport. He is also one of those people who works really hard but doesn't say much about it and allows his achievements to speak for himself, which says a lot about his character. Coming from someone going through the recruiting process I've experienced first hand what it really means to "go D1″ like people say, and it is much harder than people realize, but wit the time McCoy has put into his diving, he has undoubtedly earned it." p