Fast fashion is ruining our consumer culture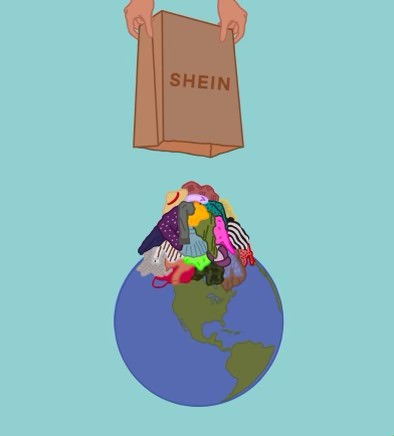 Overconsumption, the rapid consumption of cheap products that a buyer does not truly need, is fueled by social media "hauls" and reviews and has caused great damage to our consumer culture. A quick scroll on any media platform: TikTok, Instagram, Facebook, will likely result in being bombarded with ads or review videos, showing you all the things you "have to have."
While fashion trends have always existed, social media has dramatically escalated the speed of these trends. Before social media became popular, fashion trends would usually last five to ten years. In the past, trends were carefully curated and modeled by famous singers, actresses or political figures. Now, trends are created by influencers with a social media presence or someone who just happened to go viral. These short-lived trends, called "micro trends," promote overconsumption.Micro trends make people think that they need everything they see on social media. The ever-increasing persistence of social media has further aided the increase in micro trends. 
Overconsumption is not just a waste of money, it also harms the environment and fuels fast fashion. Fast fashion is a marketing and production method that works to quickly produce large volumes of clothing. In order to produce clothing at fast enough rates, fast-fashion companies typically use cheap materials, have unsafe working conditions and pay their workers little. For example, Shein has been found to severely underpay workers, exploit and plagiarize designs, produce clothes that have high levels of toxic chemicals and has reportedly sold items with Nazi symbols. These fast-fashion companies don't care about the health and safety of their workers,  they only work to rapidly meet consumer demands. 
Buying new things is always fun, but it becomes a problem when consumers are buying from fast fashion brands with unethical practices. Instead, a better alternative is to buy from thrift stores, still in moderation, or to buy from honest, ethical "slower" fashion companies. An average American throws out 60-80 pounds of used clothing in a lifetime. Instead of throwing away their clothes, people can also donate their old clothes to stores like Goodwill or Salvation Army. Thrifting reduces the number of clothes that end up in landfills and allows people to reuse clothes, giving them a longer life. People can also donate their old clothes to stores like Goodwill or Salvation Army, giving them the chance to have a second life. 
Buying things secondhand and from quality brands means that fewer clothes need to be produced. The fashion industry accounts for 10% of the world's carbon emissions, so less clothes produced means less pollution. Breaking the current trend of overconsumption will help our environment and promote more mindful buying practices. 
"De-influencing" a current trend on social media is the opposite of overconsumption. Influencers will "de-influence" viewers by reviewing things they don't need, and explaining how they aren't worth their money. While this is definitely a step in the right direction, it will likely be just as short-lived as other current micro-trends are. However, being more mindful of buying sustainably and in moderation will allow consumers to break the habit of overconsumption.