Nyla Woods throws toward a bright future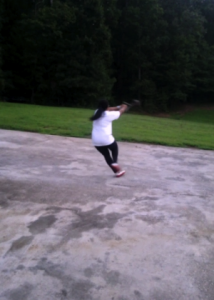 The Southerner
December 16, 2013
Hang on for a minute...we're trying to find some more stories you might like.
By Meredith Fossitt
For a fourth-place finisher in the nation for the hammer throw, Grady senior Nyla Woods is modest.
"Thank you so much for thinking of me to interview," she repeats multiple times.  From the early age of 8, Woods has been competing in track and field events.
Woods began her track and field career as a runner, but considering her large build, her coach suggested she try shot-put.
"I remember that at first the ball was really heavy," Woods said. "But then they saw I had a really good arm and I just stuck with it."
A combination of natural talent and a grueling practice schedule have gotten her to where she is today, excelling in the shot-put, discus, hammer throw, and weight throw.  Woods' strongest event is the hammer throw, the event that she placed fourth at nationals with and eventually competed in in Ukraine.
Last summer, Woods was selected for the U.S. team to travel to the Ukraine and to compete against countries from around the world.
"It was probably my biggest achievement to date," she says. "I would have liked to do better but I was very close to my personal record so I wasn't disappointed."
Grady Track and Field Assistant Coach Jackie Huhey points to factors in her success.
"I'm out here with her about 18-20 hours a week," she said. "That's not counting what she does at home or on the weekends.  So I would almost say she has a 40 hour a week job."  Huhey has high expectations.
"I see her as a future Olympian," she says.
Her dedication and love for the sport seem unparalleled.
"I love the way it makes me feel.  Especially when you get a PR, it's one of the best feelings in the world," Woods says. "It's like 'yeah, I just threw that.'"
Sacrifices come with her many achievements.  Maya Turner-Jones, one of Woods' best friends, addresses one of the impacts of athletics.
"Her schedule interferes a lot socially because we don't hang out a lot outside of school.", she says. "I know that athletics will always come first."
Turner-Jones doesn't view this negatively, rather she holds admiration for the effort Woods is consistently displaying.  Track and field has never gotten in the way of their relationship.
"We're like sisters. God I love that girl so much." she says.
Upon meeting Woods, she is quiet and shy.  Her close friends, however, know a very different side of her.
"She loves music, she really knows how to have fun, and is always like, a dance party.  Not many people would know that because of what you see in class,"  Turner-Jones says.
Woods's fun side becomes apparent when she explains the things she does to get pumped up for a race.
"I have this song that I really like, and it seems like every time I play it I do really good.  It's kind of a ghetto song." Woods hesitates and laughs "'Ain't Worry Bout Nothin', that's it, that's my song."  Woods also prays and jumps around before races.
In addition to social life, Woods has trouble balancing academics with her demanding athletic schedule.  Keeping grades up can be a challenge.
"That's where my prayer comes in," she says jokingly.
Despite this, Woods is an above average student and a member of the National Honors Society.  Grades aren't as crucial, however, considering that Penn State, Bellmont University, St. Johns University, The University of California, and The University of South Carolina have already recruited her for track and field.  Woods' mother was hesitant about her athletic career until it became clear Woods would be eligible for college scholarships.
She owes a lot of her success in both education and athletics to unwavering support from her parents.
"My father was really heavy with athletics when he was younger and so was my grandfather, so they're my main contributors," she says and then adds, "but you kind of have to be self motivated when it comes to this."
Woods has always had strong religious roots and turns to God during stressful races.  "She's got faith in her Christianity and her belief in god and the things that He's pushing her through. She's one of those that will take time to pray and take time to get herself together,"  Coach Huhey says.
Huhey has grown close to Woods in the four years that Woods has been at Grady.  Similar to Woods' friends, Huhey has only positive things to say about her.
"I have fun with that girl," she says, fondly.