Atlanta Dogwood Festival opens up competition opportunities for Midtown art students
With the 87th Annual Atlanta Dogwood Festival approaching, Midtown's visual and photographic art programs are preparing to showcase their work in competitions at the festival.  
Midtown students are competing in two events hosted by the Atlanta High School Arts Exhibition (AHSAE). One is the AHSAE Art Throwdown, which takes place at the festival. The other is a competition to have a piece selected to be shown in a gallery with an opportunity to be awarded prizes and scholarships. Photography teacher Dawn Wadsworth encouraged her students to submit their work into the gallery, but explained its prestige. 
"[The show is] the best of the best; it's really stiff," Wadsworth said. "And even just getting in is an honor because they only choose about 18-20% of all their entries for the show." 
While Midtown's Visual Arts department's submissions to the gallery were not selected, senior Ethan Polk's photo titled "National Champion" was the only piece of Midtown artwork selected to be a part of the show and go up for further judgment. Polk expressed what led him to submitting this work for the competition and how he felt knowing his work was approved.
"Ms. Wadsworth was really adamant about me submitting something, so I just let her choose a photo, made it in the darkroom and submitted it," Polk said. "I'm really excited [that my print got picked]. Clearly not everybody can say they've gotten selected, so it's really exciting for me to enjoy this experience."
The other form of competition comes through the Art Throwdown, which is a live competition held at the festival. Art teacher John Brandhorst is in charge of the competition and finds the uniqueness of this event special.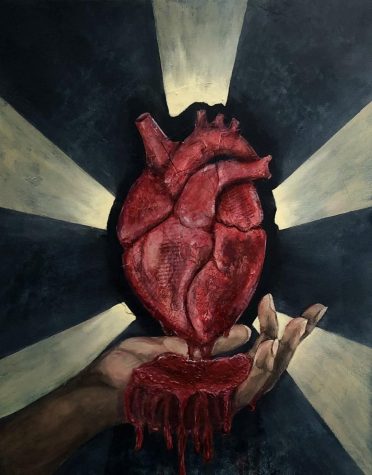 "[The Throwdown] is very different than the exhibition model because you show up, and actually make the stuff there," Brandhorst said. "So it's more like a sports competition in that it has all the regular things that go along with any other competitive event, but this is that applied to art making." 
The Art Throwdown incorporates various mediums of art which include figure drawing, digital photography and portraiture, as well as an art criticism competition along with much more. Senior Aisling Mahoney competed in previous Art Throwdowns and intends to compete in the same categories this year. 
"Last year, I competed in a couple figure drawing competitions," Mahoney said. "This meant a model stood for the group holding a pose for varying lengths of time. We drew inspiration from local artists to go beyond the figure before us, and I ended up placing second. The competition was about capturing her human essence beyond what was literally in front of us; it was a lot of fun." 
While Mahoney also submitted work for the gallery, it was not selected. However, she continues to compete and thinks that working against others positively impacts her artistry.
"I got involved because I love art and I love competition," Mahoney said. "Even if I don't win, it's fun to produce something and be surrounded by other young artists, and because the categories are timed I can't overthink it."
Brandhorst agrees and finds that there is a lot of value that he sees in students competing in art fields, and he encourages his students to get involved, whether it's through live competition or through submitting in the gallery. 
"It's like any other outreach of any other competition," Brandhorst said. "By meeting with peers that go to different schools, you get a sense of what's happening in different locations and then [students] get a sense of their own skills, pitted against their peers on a level playing surface."