Hollis chosen as new Howard Principal: A Q&A with the incoming leader
Midtown Assistant Principal Tekeshia Hollis was officially chosen as the permanent Howard Middle School principal for the 2023-2024 school year. She is scheduled to begin the transition this week, while the two current interim principals Barbara Shea and Paula Snowden continue their roles. 
The Southerner talked to Hollis about her past in education and her plans for the future as she embarks on a new chapter at Howard.
Did you always know you wanted to work in education?
No, I got my bachelor's in mechanical engineering, and I thought I was going to be an engineer. I didn't get started in education until 2015, at Grady. 
What has the jump from assistant principal to principal been like thus far?
I had a sneak peek into what it was like to be principal while serving as interim principal at Sylvan Hills Middle School, so I'm not completely new to expectations. Of course, the difference here is the cluster and the personality of the cluster because I think everywhere you go, there is going to be a different personality and vibe. So, right now the biggest difference is just getting to know Howard compared to Midtown. 
What has the attitude from the school and district been like?
I've met more so with the district recently, while we've been finalizing everything, and they've been very welcoming. I've spoken with the GOTeam, the PTO and foundation president, co-president and chairs, and they have also been quite welcoming and supportive, so I'm excited. 
What is at the top of your priority list once you start at Howard?
I really want to get to know the staff, the students and the community. At this time in the year, we are usually ready to close out, but we're just getting started. The goal is to get to know everyone so we can make conscious decisions for next school year that will help us be successful. 
What are you looking for to most at Howard?
I think it's exciting to solve; I'm still an engineer at heart. So, to observe and find out what could be more efficient, what problems need to be solved, and treat it like a puzzle. I'm excited to work together to solve it, it might not be perfect, but it's moving towards a better version of ourselves and Howard. I'm excited for that, coupled with the fact that personally, my grandparents and other family members walked those halls, so I'm taking it full circle and understanding the brevity of it all which is really surreal.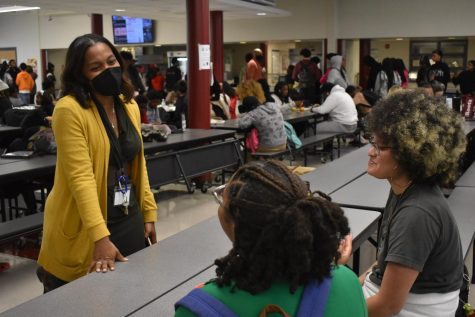 Is there anything you're worried about, starting at a new school, especially this far into the year?
I think that with anything, you get anxious about a new environment— I don't know anybody. Being at Midtown, it's like the warm blanket, it's comfortable and it's home. Going somewhere you don't know is exciting, but of course brings some anxiety. 
What is one thing you would ask from families and parents specifically during this transition? 
Grace. It's January and a lot has happened. I'm sensitive to the fact that we are trying to move toward consistency and it takes time in order to get to know what the needs are, and balance those needs with desire. I think right now is really critical for us to all band together to work on our branding and marketing so that we can recruit the best talent and that means kind of changing the narrative so people want to come, so that's kind of my goal. Let's get to know each other and put positive stories out so that people know it's a great place to come and work and so we can continue to recruit the top candidates.