Senior Bowman twins lead school soccer programs
What started as a hobby from a young age, soccer has now developed into a lifelong love for senior twins Bryce and Shay Bowman. When they are not playing club soccer or working hard in school, they can be found leading the Midtown boys and girls soccer teams. 
They both started playing soccer at age 5 along with several other sports encouraged by their parents. It wasn't until the beginning of middle school that they began to seriously commit to the sport. Shay currently plays for Tophat which is in the Girls Academy League club. Bryce is playing for Concorde Fire within Elite Clubs National League (ECNL).
"I kind of knew at 10 years old that soccer was what I wanted to do, I didn't know how serious I was going to take it, but I knew that I definitely wanted to keep playing for a long time," Shay said. "Probably around like 12 is when Bryce and I both realized that we were serious about it and that we wanted to be playing at a high level and competing."
Shay's impact on the girls team
During Shay's freshman year of high school, she and two other teammates, Hayley Chamberlain and Archer Streelman, who also play for Tophat, were not able to play on the school team due to club rules. Since the reversal of the rule, Midtown's team improved.
"Hayley was out their sophomore year but Shay and Archer made a huge difference," Barksdale said. "They are all extremely hard workers and helped lead the team to where we are now. They are leaders on and off the field and many girls look up to them. I'm looking forward to another successful season."
Last year, the girls team advanced to the state final, the farthest in school history. Shay was one of three co-captains alongside Midtown 2022 graduates Callan Cucchi and Grace Porges, and found the experience of advancing the finals as a player and a leader provided valuable experience for this upcoming season.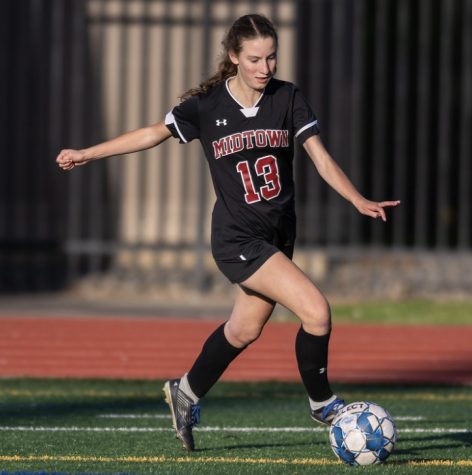 "It was good to step into a leadership role as I was able to lead on the field because I have a soccer knowledge that I think is valuable to the team," Shay said. "Stepping into that leadership position last year was nice because it was preparing me for this year in continuing that role. It was great to learn from Callan and Grace to be a leader but also being equals with everybody else."
Senior and co-captain Maddie Shaw thinks Shay's ability on and off the field is one the reasons she makes such a good leader and player. 
"Because Shay has been a captain since her junior year, she has adapted really well to the role," Shaw said. "She has excelled academically and that has definitely translated to her leadership abilities on the field. She is always motivating people to do their best, and she creates a community atmosphere among the players."
In Shay's sophomore year, the team advanced to the state semifinals, then to the finals her junior year. This year, she hopes to finish what the team started and return to the state championship for a win.
"I would love to win a state championship," Shay said. "I think we've gone one step further each year, and that's kind of the next step. But really, I just want to have fun. My club season is mostly over; we still have a little bit in the spring and then we'll go to nationals in the summer; so winning nationals would be amazing. But for high school, I just want to have a good season and get as far as we can."
Bryce's impact on the boys team
Similar to the girls team, the boys team also had a successful last season, advancing to the quarterfinals. As a senior this year, Bryce hopes to surpass the success of last year's team and advance farther in the state playoffs.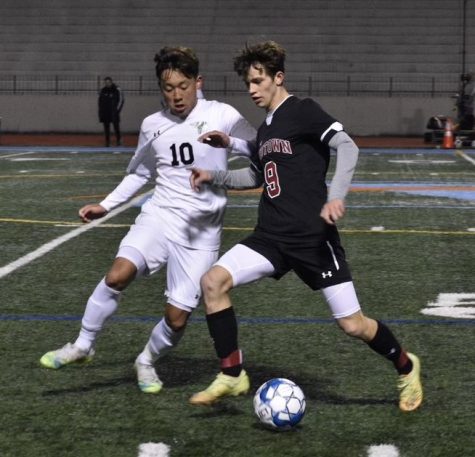 "The goal is to go undefeated in region and then to make it to the championship game and see what we can do," Bryce said. "This year, a lot of teams that we had a lot of trouble with in previous years are out of our 5-A division; we feel like we are a strong team and a candidate to win a championship this year."
Last year, Bryce learned from the seniors and now takes what he gained from them and uses his own leadership to guide the team.
"I learned from last year's captains a lot about being a leader and showing the team how to step up in the big moments. That's a lot of what it takes to be a leader, along with making sure that everything is settled between teammates in the locker room," Bryce said. "This year I just hope to bring a lot of unity to the team, to be a role model for the new guys, and to step up for the team in big moments."
Though the season has not started yet, senior Michael Centner thinks Bryce's soccer IQ and commitment to the team and sport will be instrumental in having a successful run. 
"Bryce has been a four-year varsity starter and brings a lot of experience and leadership to the team, as he has been in a lot of soccer situations," Centner said. "He has already started to organize the team for next season."
Support from others
Bryce and Shay's mom, Polly Bowman has watched as they have developed from young players into leaders and thinks part of their development comes from their love for the sport. Shay and Bryce have been able to stay at the top of their class academically and their mother attributes that to their twin nature.
"I think it's mostly their personality that drives their success in school, along with soccer," Polly Bowman said. "I think it's also because they have one another, and they have always competed with each other."
Shay acknowledges that the support she has received from her coaches, parents and brother, has been a large component to her success.
"My parents have been the number one supporters," Shay said. "They've been so supportive in everything and have been there no matter if it's good or bad. Bryce, as well, and I know that sometimes it doesn't feel like it because we're twins, but I think he understands the commitment it takes and what the process is like, because he's doing the same thing. We've been able to talk about it and kind of support each other through that and be excited for each other when we're doing well."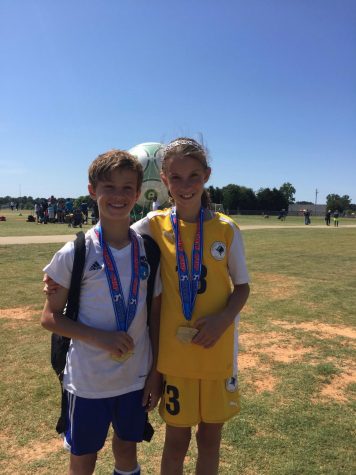 Bryce agrees and thinks having a strong support system has been helpful in his and Shay's success.
"I think that from my parents and my whole family, I've had a lot of support," Bryce said. "They've helped me with travel, with preparing for the mental aspects and the game, and much more. My teammates are also very supportive, and we've built kind of a great community among the soccer players recently, which is great to have." 
Extreme dedication
While on club and school teams, Bryce and Shay set aside about 20 hours a week dedicated to soccer, whether it's practice every weekday or games on the weekends. Though the commitment is a lot, Polly Bowman said it is worthwhile. 
"It's full time, and it is a big commitment," Polly Bowman said. "But it is exciting to be able to watch them have a passion about a sport and stick with it, and decide that it's something that they want to continue doing at the collegiate level."
Through soccer, Shay has put her energy into a sport she loves while also making lifelong friendships and learning hard lessons along the way.  
"Soccer has become such a big part of my life, and it is something that has helped me get through kind of everything else I'm dealing with," Shay said. "It's an outlet, but it's also just a great activity and a place where I've made so many friends that I know I will have for the rest of my life, and I've had so many great memories doing it. There's ups and downs, it teaches me a ton of lessons about losing and winning and being a good competitor and working with a team, and I'm really excited that I get to continue doing it in the future and — you know, hopefully have a successful college career."
College commitment
In October, Shay committed to Washington and Lee University, where she will play soccer for the next four years. Playing in college was something Shay knew she wanted to do in the future, and is happy she is able to attend a school that matches exactly what she was looking for. 
"Washington and Lee is a school that kind of fits everything I'm looking for in my college experience. Something that I was really big on when I was going through my recruiting process was that I wasn't going to give up the quality of education or the type of environment that I wanted, just so that I could play soccer," Shay said. "There are a lot of different schools out there, a lot of different soccer programs, and a lot of different options, but I wasn't just interested in playing for the best team possible. I was also interested in going to the best school possible and Washington and Lee is a place that balances that out really well."
Bryce is still deciding where he is going to play in college. No matter where he ends up, he knows soccer will still be a big part of his life and is glad he gets to continue doing something he loves for the next four years.  
"This is not the end of soccer for me; I'm going to keep playing, and hopefully I am going to commit soon," Bryce said. "The process has been long, but I think in the end it will all be worth it."
Before they head off to college, the twins want to have a successful last high school and club season, ending a chapter of a sport they've participated in since they could walk. 
"Going from semi finals sophomore year to finals last year has been a highlight in my soccer journey, for sure," Shay said. "I hope we're able to keep the streak alive and end off on a good note this season. Overall, it's been a really great experience, and I'm really happy that everything has fallen where it has, in club, and in school."