Senior leaders expected to guide boys basketball team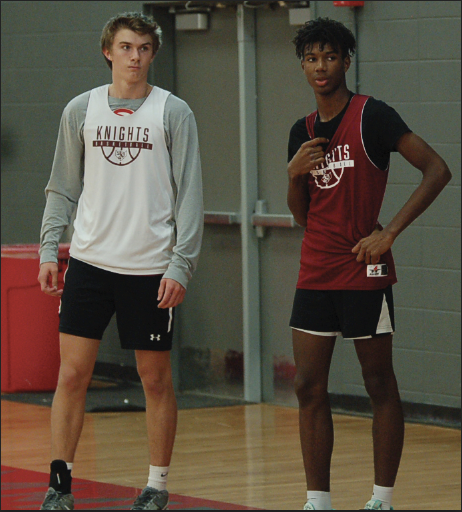 As the 2022-2023 basketball season starts, the boys basketball team hopes to carry over their success from last year into this year's regular season and region play. 
First-year head coach Isaac Taylor, an assistant coach the past three years, said the goal this year is to aim for success. 
"The goal was always to win," Taylor said. "This year, one of our goals is to win the region. We came second last year. We want to win state, of course, as always. We want everything that's out there to get, and that's always our goal. Our short term goals are to play better basketball, and play more team basketball this year."
Former head coach and Athletic Director Patrick Johnson has confidence in Taylor to help create a winning team. 
"I trust he will do a great job leading the program," Johnson said. "He's worked really hard to get to this point, and he's ready. I think we'll have a competitive team this year. We've got a good mix of returners and newcomers, so it's just a matter of seeing how well they all come together."
The team is led by seniors Dylan Gustafason, Terez Wilkins and Will Hunter. Taylor believes these players are essential to the team.
"I think that Will Hunter and Dylan Gustafason are going to have a really good season," Taylor said. "I believe that those two are really confident in their games. Will Hunter being back after injury has made a world of a difference. He's a jack of all trades. He can play the five, the three, the four. They're both kids who've changed their games throughout our program. I think Terez is always gonna be a big part of what we do, but Dylan Gustafason is something else. I feel like he is really taking his game to the next level, and he is ready to roll."
Gustafason said he's impressed with the team, and the goal is to win. 
"We look really good this season," Gustafson said. "A lot of new pieces have been added to the team, so I hope to have a good year. The goal this season is to bring home a state championship. "
Taylor believes the depth of the bench will contribute to the success this season. 
"We have guys who can step up," Taylor said. "We have Will Hunter, who's also working on his game. Like I said, we have Terez Wilkins, who's an option. We have Bryant Graham, who's playing at a high level. But we also have a great bench of younger guys who can really contribute. We have some freshmen and sophomores who are ready to roll."
Taylor speaks highly of the underclassmen, ready to contribute when called upon. 
"We have a great supporting underclassmen," Taylor said. "We have Mike Scott and Darrion Hadley as freshmen, who are really hungry to learn and to help this team. I cannot speak enough about how hard they work on the floor and off. We also have Luke Finley, who also fits right into that mold."
Many players on the team have been together all of high school. Taylor believes the connection and chemistry between the athletes is what makes them special. 
"This group of guys have been together for four years, while our other teams may not have been used to playing basketball our way for four years," Taylor said. "This is the first time that we've had our senior class come through. So they know the things that we like and don't like. They know the things that we need to do to be successful, and are willing to make it happen."