New teachers adjust to unfamiliar environment
While Midtown welcomes the new class of freshmen, there is also a new cohort of teachers making their way around the school. 
Web and digital design teacher Marc Dastous
Web and digital design teacher Marc Dastous made a decision to step down from his role as principal of Indian Creek Middle School to become a teacher at Midtown. 
"I loved it, don't get me wrong, I love working with kids in that age group," Dastous said. "But after 15 years of trying to solve all the adult problems, I'm really happy to be back in the classroom and helping [high schoolers]."
Dastous' passion for digital design started in high school. He took his first coding class in the first semester of his senior year, as well as a basic programming class in the second semester.
"I went to DeVry University in Phoenix to start learning how to program … I was there for four semesters programming," Dastous said. "I love to code; I love to program on websites; I'd love to learn more about coding, the logic part of it keeps me engaged."
For 10 years after he graduated, Dastous worked as a programmer in several corporate jobs, including National Geographic, before he decided to switch to a career in education.
"The classroom has always been a place for me to guide kids and help them," Dastous said. "I was a middle school principal and middle school teacher for many years, but being a high school principal, and a high school teacher has always been where I felt the most comfortable."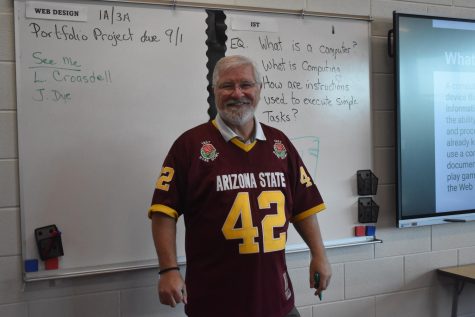 Freshman Cameron Collier decided to take the digital technology course taught by Dastous because of his interest in coding, and plans to take the pathway throughout high school. Collier particularly likes Dastous' empathetic approach to teaching. 
"He's understanding of students. He'll let us take a break from [assignments] we've been struggling with," Collier said. "He is really good at helping out with problems and explaining something that we don't understand."
Dastous' mentoring and leadership doesn't stop in the classroom. He is a Level 5 USA hockey coach, and coaches a U14 travel team in his free time. 
"Hockey is life," Dastous said. "It's one of those things I've been doing for so long. Having gone through the five levels for USA Hockey has afforded me some opportunities to travel." 
Dastous has played hockey since he was four and continued to play through high school, as well as at Arizona State. Dastous envisions himself coaching more in the future.
"I'm happy I started with teaching, but my retirement plans include coaching at a higher level," Dastous said. "So, when I finally do retire from education, that will be my next step." 
Literature teacher Desiree Carter
The new school year has brought about many changes to Midtown as several teachers departed and new teachers stepped in. English  teacher Desiree Carter is one of the newest additions.
Carter, who teaches ninth and tenth grade literature, said she came to Midtown because of the great literature and journalism program. Carter thinks it's important to appraise writing and believes Midtown does that well.

"I knew that I wanted to be somewhere that valued writing and valued publishing students because that is important to me," Carter said.
Carter is coming from The Museum School of Avondale Estates and understands it will be a process to adjust.
"It is always hard to change schools and to change jobs," Carter said. "You have to know going into it that you're adjusting, and it could take at least a year to feel like you know where things are."
While Carter has started adjusting to the new school environment, some of her students have had to do so as well. Freshman Lizzie Lyman is enjoying having Carter as her English teacher as she feels very welcome in her classroom setting.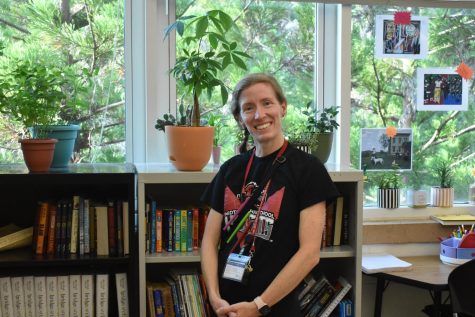 "I feel that Mrs. Carter has made us feel instantly welcomed," Lyman said. "I think that her teaching method varies from past teachers I have had because she has a laid-back, yet still engaging approach that is inherently focused on the well being of her students."
Some returning students, including sophomore Cayla Drake said they are enjoying Carter's teaching style. Drake likes how Carter helps students draw connections to themselves, which makes the class more personal.
"Mrs. Carter has a very organized teaching style," Drake said. "She gives very detailed instructions and provides room for interpretation in our work. She also makes us draw connections to our lives."
Carter has enjoyed many things since joining the staff at Midtown, especially being able to connect and get to know so many different students. In order to know her students better, Carter set goals for herself.
"I have enjoyed the conversations and getting to know the students," Carter said. "I wanted to know everybody in my class by the end of the first week and completing that felt really good because now I am able to learn about my students as individuals."
Sophomore Ross Smith said because Carter is a new teacher, she is more energetic than some teachers who have been at the school for a while.
"The classroom feels a little different because Mrs. Carter is excited about starting her new job," Smith said. "I feel like that affects the mood to make it more energetic than when a teacher has been at the same school for a while."
Lyman believes Carter is a teacher who looks out for her students and their needs. She thinks Carter helps her students and provides them with the necessary skills to help them succeed not only in her classroom, but in school.
"My favorite part of being in her class is that she is always looking out for us and our needs," Lyman said. "She plays music to help us focus, but also allows us to pick our own music if we prefer. She also always watches out for raised hands and is always ready to help."
Smith also enjoys and appreciates the passion for teaching Carter shares with her students. Smith said Carter knows what to do to make the class more energetic and excited for when class is in session.
"Mrs. Carter does a great job at getting people excited for the class," Smith said. "She has great energy and love for the content that rubs off on her students."
French teacher Anne Holzhausen
After French teacher Anne Holzhausen decided to take French in seventh grade, she instantly connected with the language.
"I fell in love with it, and took it all the way through high school and college and then went to France after college and just never stopped wanting to immerse myself in the language," Holzhausen said.
Holzhausen spent a year in France where she grew accustomed to the language and culture.
"I had to problem solve things like finding an apartment and brands and, you know, turning off my electricity, like all that kind of stuff," Holzhausen said. "It was really scary, but it was still the coolest experience of my life."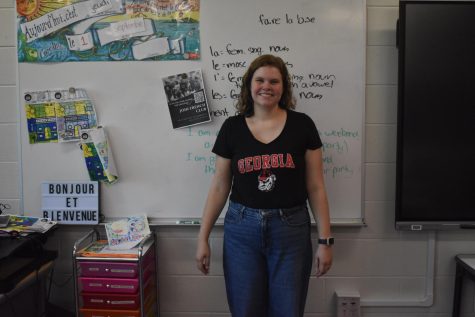 After Holzhausen's time in France she decided she wanted to become a French teacher.
"The first time I went to France was when I was in college on study abroad,"Holzhausen said.  "I fell in love with it, and I decided that that was what I wanted to do for the rest of my life. I love the culture as a whole. I love the way that the language sounds. The food, of course, is amazing. And just the history of the country. I think it's really fascinating." 
Holzhausen previously taught middle school students and has noticed differences in learning between the grade levels.
"[High schoolers] are more mature, for sure," Holzhausen said. "High schoolers tend to be more motivated, more engaged, and just generally more interested, which is great. It's really fun to teach high school."
Though she finds it enjoyable, Holzhausen also thinks teaching high school students comes with its challenges.
"High schoolers kind of challenge me because a lot of them are really, really interested in the content, and so they want more, which is great," Holzhausen said. "That pushes me to be a better teacher, I think."
Holzhausen aims to make her classes interesting for students.
"I want everybody to enjoy it," Holzhausen said. "I want it to be a fun class for everybody. And I want the kids to get engaged and interested. I want everyone to want to participate in things like French club and that kind of stuff. So to make it educational but also fun would be a goal."
Junior McCoy Lyman likes that Holzhausen gives students interactive assignments, such as Kahoot and Quizlet to review topics. Lyman says that he especially likes how collaborative the class is.
"I think my favorite part of Ms. Holzhausen's class is how social it feels," Lyman said. "We're almost never told to just work silently alone, so we get to work with friends and it's hard to [get] bored in her class." 
Freshman Kate Krugman says that she likes having a teacher that also isn't familiar with Midtown.
"I kind of like it. I like the idea that we're learning together and that this is both of our first times at Midtown," Krugman said. "I feel like it will be beneficial for bonding and stuff, and it will help relationships between us."
Holzhausen is adjusting to the new environment but feels appreciated.
"Everybody's been super friendly," Holzhausen said. "I feel really welcome here, and really lucky to be here."