Students explore passions at Governor Honors Program
Rising juniors and seniors come from all across the state to advance their academic careers. Georgia's Governor Honors Program (GHP) takes gifted and talented students and helps them expand their knowledge. 
To get into the program, students go through a five month application process from November to March. Students are first nominated by a teacher and then complete district-level interviews and essays. Next, the application goes statewide, and semi-finalists attend a semi-finalist event.
GHP is hosted at Berry College every year from mid-June to mid-July. Seniors Sam Prausnitz-Weinbaum and Siena Claudio both attended and majored in engineering. Engineer majors spent the month working on a team project.  
"We had a pretty independent classroom, so we would just get in our groups and do whatever we had to do for the day on our project," Prausnitz-Weinbaum said. "It was just a lot of work time, which I really appreciated because it just gave us hours and hours to really focus on our project." 
Students attended four and half hour classes during the day with a half-hour break in the middle. Praunitz-Weinbaum and his team spent their days creating.
"We made what we call the PortaVax," Prausnitz-Weinbaum said "It's a little self-driving buggy that delivers vaccines to rural communities in Sub Saharan Africa. The idea is that these communities are traditionally underserved because getting refrigerated trucks out to more rural areas is very difficult. So, the idea was that this would be a very small batch delivery system where I could just drive out a few vials to a rural area." 
One of the benefits of GHP is that it allows hard-working students from all around the state to get to know each other and work together.  
"It's a really fun experience because you're with a bunch of people that are just as passionate as you are about everything," Claudio said. "They are working just as hard and you're just trying to go above and beyond. It was fun to talk to people who really just want to talk about engineering or whatever their major is all day."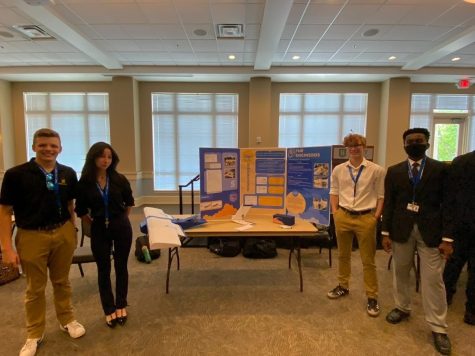 Students were also able to explore other interests outside of their major. Senior Aisling Mahony, who majored in art, also got to dive deeper into her passion for music.
"I had a minor for two hours in songwriting which was really cool," Mahony said. It required an interview, but it was generally just to gauge if you were seriously interested in it. So I ended up in a band with two other kids, and we wrote and produced a song together." 
As an art major, Mahony experimented with many new techniques, working for hours at a time.
"The first two weeks they spent every day introducing us to a different principle," Mahony said. "After that, we individually explored it for two weeks. So, I got to touch a lot of mediums that I'd never worked with before.I encountered costumes, which involved pouring hot wax and painting with it. We did a lot of mixed media, mixed media sculpture. There were drawing classes, oil painting, which I had never done, and ceramics as well."
When students were not attending class, there were other activities taking place around campus. 
"There were what they called seminars, where it was just some random activities," Prausnitz-Weinbaum said " There were some trivia seminars and a Taylor Swift seminar, just all sorts of activities. The list of the activities would be released in the morning with all the locations and times, and you could go wherever you wanted."
Towards the end of the program, students from all majors came together to show off their hours of work and what they had created during their time at GHP. 
"The majors that made something compiled a project or did research would present that at one of the presentation days," Prausnitz-Weinbaum said. "  "It was really gratifying after three weeks of working on this thing, to tell everyone about it and show it off and to also see what everyone else had been working on and learn some new things."
Not only did students learn at GHP, students made strong friendships and connections making the last days more difficult than expected. 
"At the end, everyone felt like such a tight-knit community,"  Prausnitz-Weinbaum said. "Saying goodbye was really hard, but it was just really nice that we'd all learned together and grown together."