Mai Kitchen brings Vietnamese cuisine, culture to Virginia Highland
A long awaited homecoming of authentic and creative Vietnamese cuisine has quietly arrived in the Virginia Highland neighborhood.
Mai Kitchen is the newest addition to the Virginia Highland food scene, recently taking over the space formerly operated by Genki Noodle and Sushi. Its owner, Alex Kinjo, is no stranger to the Atlanta food scene. 
Kinjo owns 13 other restaurants around the city, including MF Sushi, Pho Nam and Sakura Ramen. Like many of Kinjo's restaurants, Mai Kitchen is heavily influenced by Asian cuisine. In this case, the menu focuses on Vietnamese dishes that reflect Kinjo's heritage. 
Inspired by Vietnam's national flower, the Mai, Kinjo designed the entire restaurant to reflect the flower's vibrant yellow color, beauty and warmth. 
"I want to bring color, I want to bring happiness and warmness to the concept, but mainly to draw it to the food," Kinjo said. 
Mai Kitchen is not Kinjo's first Vietnamese restaurant to open in the Atlanta market. In 2003, Kinjo opened NAM in the Midtown Promenade shopping center. For many years, NAM was a place for people to gather for food in a romantic atmosphere.
"It was the first Vietnamese restaurant that had a very nice setting, very romantic, cool design, the whole nine yards," Kinjo said. "At the time we had 5 stars, which was a very big deal for a Vietnamese restaurant. We became very popular over the years."
Following a recession in 2008, Kinjo was forced to close NAM. After the closure, Kinjo maintained his passion for authentic Vietnamese cuisine, which led him to travel around the world, sampling Vietnamese dishes with the goal of curating a menu that respected the traditions of Vietnamese cooking while adding innovative touches that modernize his dishes. 
"I want to create a more innovative menu, very up to date but keep it traditional," Kinjo said.
The addition of Mai Kitchen to the local cuisine adds diversity to the dining options in the area. 
"I want to give a lot of variety to this community," Kinjo said. "The food aspect is our main focus and there will always be something inspired, something special. If you come in and you're not sure, just ask what the special is that day and the chef will provide what we have that day."
Longtime resident of Virginia Highland, Jordan Williams appreciates the inclusivity that Mai Kitchen's menu brings.
"You walk in the door and instantly feel a welcoming and friendly environment," Williams said.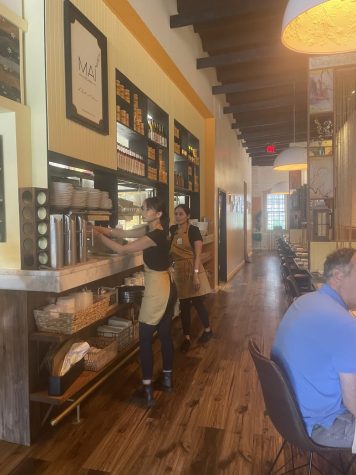 Kinjo wants to create an environment where people feel comfortable and welcomed.
"I want people to feel like they belong, not excluded," Kinjo said. "I want people to feel like they can walk in anytime and have the best time, the best food and not feel discriminated against."
To create the best food, Kinjo and his team are constantly testing new dishes with the goal of refining a menu that everyone can enjoy.
"When I say innovative, when I say curated, in other words, the dish has to be beautiful, the taste has to be right traditionally, it's a universal palette that I want to create," Kinjo said. "You can be Vietnamese, Chinese, Korean, or American, white or black, you eat my food, you're going to have a smile on your face. That's the goal I'm trying to accomplish, when you do that, you have done something right, that's your true identity and the meaning and purpose of what I try to do in terms of food."
Currently, Mai Kitchen is operating under a soft opening, using trial and error to try new dishes, so the menu is evolving and Kinjo hinted that there are more great options to come. 
"Having a platform now, with the food and audience, we are ready to fine tune this and make it great for the community, for the Virginia Highlands, for everyone," Kinjo said. "I feel part of the community and responsible to serve the people and make them happy. I want them to come and enjoy and share our food and culture."
Junior Ryan Carter lives in Virginia Highland and appreciates that an authentic Vietnamese restaurant has opened in her neighborhood. Having visited the restaurant during its soft opening, Carter was very impressed by the attention to design and the quality of the food.
"The food was so good," Carter said. "I don't eat meat but my family does and they have certain dishes, like spring rolls, that you get to go through every step of eating the meal. The owner was super nice and the food was amazing."
While Mai Kitchen is a brand new restaurant, it is the culmination of decades of experience and a reflection of Kinjo's passion for Vietnamese cuisine. Inspired by memories of Kinjo's mother's cooking, his extensive experience operating NAM and years of researching Vietnamese cuisine, Mai Kitchen is anything but new. 
"After 21 years, I finally understand the whole purpose of what I'm doing and what I'm here for so it has made me very happy to see people come in here these past two weeks and when they sit and eat the food, they 'ooh and aah," Kinjo said.