Language Clubs spark student interest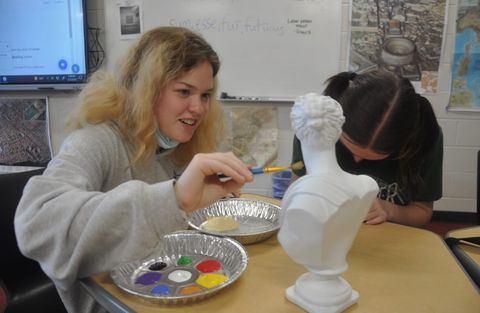 Many high schools require students to take a language course to graduate. The Atlanta Public Schools Office of ESOL and World Languages wants students to not only take a course, but to truly learn another language.
"Learning another language provides [students] with another culture to explore," Midtown Spanish teacher Enoch Gill said. "It allows them to see the world through a whole [new] perspective, one with a different language and values. I believe it makes them so much more accepting of other cultures."
Currently, Midtown only offers four language options: American Sign Language, French, Latin and Spanish. Beyond just taking language classes, many students also join the corresponding language clubs, but only Latin and French have language clubs.
"Language clubs really add to a student's experience in the course," Latin teacher and Latin Club co-sponsor Scott Allen said. "What we try to do is give insight into what it was like day-to-day for the Romans, so one day we might do vase painting, which is very very meticulous work, and the students come away from it with a new appreciation for the art that they see in class every day."
Allen believes Latin Club provides a safe space for students to pursue their interests in Roman culture and the Latin language.
"The goal is not only to have fun," Allen said. "It's to provide a very supportive community full of people who are just really excited to learn new things. In my opinion, that's part of what's made Latin Club so successful."
Junior Annie Pickren is a Latin Club Aedile, a position which is in charge of organizing activities, who believes the club enriches her Latin education.
"The club really helps you understand why we've worked so hard in class to translate and understand these people and their lives," Pickren said. "Latin Club also really helps you get to know the teachers. Through my three years in the club and learning Latin at school, I feel like the club has really enhanced my connection with them, which has helped me do better in the class."
Similarly, the French Club works to immerse students in French culture through activities such as watching French movies and television shows, observing French holidays, playing French board games and enjoying French food. 
"You really see a different side of the language than what you do in the class," freshman Ava Johnson said. "You get to explore everything about these countries, and we do it in really fun ways."
Not all languages offered at Midtown have clubs. Freshman Harrison Goncher is part of the Spanish pathway and is disappointed by Midtown's lack of a Spanish Club.
"It just seems weird to me," Goncher said. "I'm in Spanish, and so are a lot of my friends … I feel like when that many people take a language, there should be a club like there is for people in the Latin and French pathways." 
Freshman Kate Berg agrees with Goncher.
"I feel like [being in a club] is similar to when people watch Spanish shows," Berg said. "[Having a club] would help [students] to be immersed in Spanish [culture]. I feel like having a Spanish Club where people are speaking Spanish and learning Spanish culture would help me get what I'm really not understanding in class."
Though a Spanish Club doesn't exist now, Gill had previously sponsored one.
"There was a Spanish Club years ago," Gill said. "We did a service project every year, and then on a monthly basis, I picked restaurants that we went out to that serve food from Spanish-speaking countries."
Gill believes restarting the Spanish Club is a possibility.
"I had to stop sponsoring the club because I went to graduate school," Gill said. "But now that I'm finished I'm definitely open to the possibility of reviving the club, I'd just have to gauge student interest. I believe Spanish Club and all the other language clubs at school make the students happier and more engaged in the classroom. I believe that it could truly immerse students in Spanish, and that's a fantastic thing for people learning a new language."