ThriftCon event brings fashion, fun to Atlanta
The Atlanta Exposition Center North was alive with hundreds of people as they attended the traveling one-day vintage market, ThriftCon. Originating in Denver, CO., the convention has been held in other cities, including Houston, Miami and Los Angeles. ThriftCon invites vendors from around the country to participate in the vintage resale event. Dozens of vendors attended the Atlanta ThriftCon — each with their own unique style and background.
Each vendor dedicates their time to finding high-quality vintage clothing to resell. This year, Amir Alexander, owner of resale company, "Guilty Treazures" participated in ThriftCon for the first time.
"I've been [reselling] for about two-and-a-half years," Alexander said. "Once you're a thrifter, you find all different types of ways to source your items. I spend a lot of my time finding new things. I find my items from online sources and other resellers, and then I put everything online on my website guiltytreazures.com."
For Alex Peters, co-founder of "Alley-Oop Culture Exchange," vintage reselling was an accidental discovery that has led to professional success. When he heard about ThriftCon through business social circles, Peters and his partners traveled six hours from North Carolina to participate in ThriftCon.
"Me and a buddy of mine were moving in together after graduating college, and we had a ton of clothes to get rid of," Peters said. "We made $150-$200 just off of that; so, we kept the business going. It's grown a lot over the past few months and here we are. We aren't too fond of coming down this far, but ThriftCon is pretty popular in terms of vintage [fashion] and the pool [of people] that they bring in."
Thrifting culture has gained a significant role in the fashion industry within the past decade, especially among younger generations. These groups appeal to the idea of vintage clothing, which typically offers more of an individualistic outlook on clothing compared to big, modern fashion companies.
For customers, ThriftCon is a perfect way to find eccentric vintage clothing. Nearly every station had several racks of clothing, ranging from $30-$300, along with piles of clothing on the ground selling for $5-$15.
Sophomore Lilly Taylor decided to cancel her ticket to ThriftCon last minute, due to reservations concerning item prices.
"I just heard how expensive it was, and I honestly didn't really want to spend my Sunday somewhere where I wouldn't buy anything," Taylor said.
In addition to clothing prices, attendees were required to buy a ticket to enter the event in late March. Ticket prices varied. Children under age 13 entered for free, early admission tickets cost $30, general admission tickets cost $12 and tickets bought at the door were $20.
Junior Elizabeth Martin was also discouraged by the costs, but felt that her overall experience was worth the trip.
"They had a lot of cool clothes;it just wasn't affordable," Martin said. "I would recommend [ThriftCon] for people who are really serious about thrifting, or maybe people with a steady income, but as a teenager, I had trouble finding stuff that was under $30, which was kind of discouraging, especially after buying a $20 ticket."
However, when junior Taylor Ward attended ThriftCon, she had a completely different experience than Martin. Ward was satisfied with the overall experience and was pleasantly overwhelmed by the atmosphere.
"I honestly didn't have a problem with the price," Ward said. "I ended up getting like 20 things, the most expensive one was $22."
Martin feels as though the idea of thrifting was different at ThriftCon, as the focus was more on vintage clothing rather than practical clothing.
"I really appreciate what ThriftCon is and does," Martin said. "I think I just walked in with the wrong idea in my head. I thought that thrifting was just used clothes for cheap prices, and that wasn't really what [ThriftCon] was. I kind of think it should be called 'VintageCon' instead."
Ward was also appreciative of the experience and is looking forward to going to ThriftCon again next year.
"I was really excited and happy to be there," Ward said. "When I first walked in, I was shocked because there were a lot of people, but the energy was really good, the people were really nice and the music was great. I'm already ready for the next one."
Leave a Comment
About the Contributor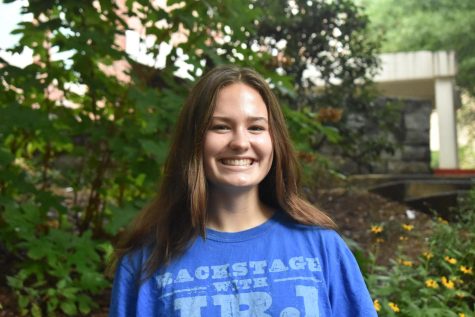 Ally Bliss, Lifestyle Associate Managing Editor
Ally Bliss is a Senior and it is her second year writing for the paper. Outside of the Southerner, Ally plays lacrosse and runs cross country for Midtown....