Students excel at Regional Science, Engineering fair
Midtown students succeeded at the 2022 Atlanta City Regional Science and Engineering Fair, with one group advancing to the International Science and Engineering Fair and three groups progressing to the Georgia Science and Engineering Fair.
Sophomores Lily Reilly, Avi Crosby and Solunne Fedovskiy received the "Gold Key" award for their project on acne medication and bacteria growth prevention. They will advance to both the state and international fair.
"Our project is about testing acne medications to see which products prevent the growth of staphylococcus epidermidis the best," Reilly said. "Acne is something that almost every teenager struggles with and knowing which products and ingredients work can really help those who are struggling with acne."
"Silver Key" recipient, junior Sofia Vempala, researched a topic relating to psychology, specifically sexism on online platforms, for the regional fair.
"My project is about studying sexism on the internet, specifically identifying sexist content on twitter, and about the use of synthetic computer-generated data as a substitute to real, human-produced data," Vempala said. "The internet has never been more popular and I think internet bias is a really interesting issue. Originally, I was going to work with the TikTok medium, but I figured Twitter would be easier to start with because it is mainly text-based."
At the state level, Vempala competed with a science and engineering based project. Vempala tested whether a machine could solve a series of different number tasks to find which conditions made testing accuracy the highest. She then compared her findings to human research by conducting a survey with students.
"This year I started a brand new experiment," Vempala said. "Last year's project was a continuation of my project the year before that. At the school fair, I coded a special type of computer program called a neural network. Then, I used that network to test whether I could teach a machine to complete tasks. This year, I started over with a whole new experiment in a completely different field."
Vempala was a recipient of a special award from the American Psychological Association (APA), which recognized outstanding research in psychological science under the category of behavioral and social sciences.
"The award says it's for 'achievement in research in psychological science,'" Vempala said. "My project is about social computing, which is really relevant to psychology. Beyond that, I'm not really sure exactly why I was chosen. Basically what happens is there are various organizations that each sponsor an award for the project they deem most exemplary for their area and the APA is one of them."
Sophomore Greyson Forster received a "Bronze Key" award for his presentation on crosswalk safety and efficiency.
"My project is about how well different types of signaling and infrastructure work for getting cars to stop at crosswalks," Forster said. "I decided to do my project on that because pedestrian deaths are on the rise in the U.S. despite a downward global trend. Obviously there's an issue there, so I wanted to find a way to test solutions to reduce that risk."
Though Forster competed in fairs at the elementary and middle school levels, this was his first fair at the high school level. Forster found the experiment itself to be the most rewarding part of the process.
"I really enjoyed performing the trials and seeing the results because I was genuinely interested in seeing what happened," Forster said. "It was exciting to see all of our research and work come together into a final project."
Due to COVID, the school and regional fairs were conducted via Zoom.
"For the school science fair we were judged over zoom and they just listened to what we needed to present and then asked us a few questions afterwards," Reilly said. "It was a bit rushed since zoom wasn't working very well. For the regional science fair, I had COVID at the time and was quarantining in my home so I was on Zoom at home while my partners were on Zoom at school. The state fair that we are advancing to is in person, so I'm excited to see what it's like to compete in front of actual people."
Some students agree that the fair provided an opportunity to display and expand their knowledge on different topics.
"I loved understanding and using state-of-the-art programming models and techniques," Vempala said. "The architecture I used in my program is the very architecture that the Google search engine runs on, so it was cool to see how that actually works."
Leave a Comment
About the Contributor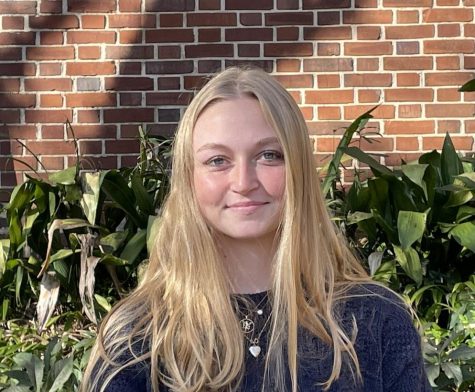 Callan Cucchi, Lifestyle and A&E Managing Editor
Callan is a senior and Managing Editor of the Lifestyle A&E section of the Southerner. This is her third year on the paper. When she is not working...