Girls JV Soccer remains undefeated under new coaching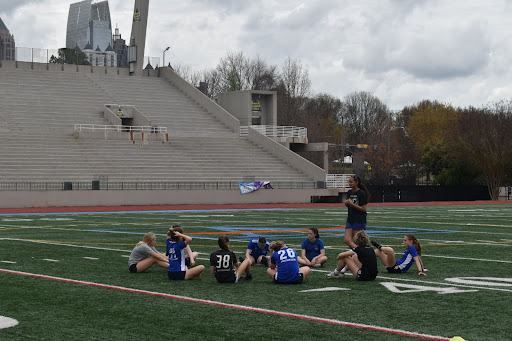 The JV girls soccer team emerged as the only undefeated spring sport at Midtown starting the season with a record 5-0-1.
It's not only Phoebe Mason's first year coaching at Midtown, it's her first year coaching at all. Mason said that one of the main factors in the team's success is their drive for victory.
"The girls want it so much. There's a whole lot of determination to win," Mason said. "They say stuff like, 'I want to win, I don't want to lose' all the time."
Mason also credits the success to team chemistry and togetherness.
"We just have such a great team. They all get along really well, which is really important." Mason said. "They're like one big family, which helps alot with dynamics on the field."
Similar to Mason, captain and sophomore Lyla Gerretzen said a main factor in the team's success is the unity, and closeness of the teammates.
"I think our success has a lot to do with how close we are as a team." Gerretzen said, "We fill each other's emotional tanks alot We all like each other and work well together."
As the season has progressed, Mason has noticed an increase of focus and determination from the Knights.
"I definitely think that they've gotten a little more focused as the [seasons] gone on," Mason said. "When I first got here I was new, so there was an aspect of having to get to know each other, and developing that foundation of respect. As the [season's] gone on we've gotten more comfortable with one another, and the girls' focus definitely got a lot sharper."
Mason sees Freshman Anna Raposelli as a stand out player.
"She's also just on point, listening, and never really talking over me or anything like that," Mason said. " On the field in the back line she's a powerhouse, [the team] definitely needs her in the center of that backline."
Mason places trust in the team's captain sophomore Lyla Gerretzen to be a role model to the young squad.
"I look to [Gerretzen] alot for leadership. I'll talk with her about what I'm expecting from the team," Mason said. "She's the one that gets everyone ready and focused before games."
Gerretzen said that being successful has taken some of the pressure off of her shoulders.
"I was nervous at the beginning of the season about what we were going to do," Gerretzen said. "Now that we are undefeated, it's less pressure, and stress for me and the team."
Gerretzen's leadership continues off the field as well.
"Having a positive attitude, as well as things like team dinners really helps us." Gerretzensaid, "We've been trying to do them after every home game."
Raposelli thinks the team's prosperity was a group effort, but still sees room for improvement.
"We have a very strong defense, and a midfield that is able to move the ball around very well." Raposelli said," I would like to see us to be able to communicate better, and to move better as a unit."
In order to continue their undefeated record Mason looks to improve the team's attentiveness.
"The biggest thing we need to work on is listening." Mason said. "I found myself having to repeat myself alot, and telling girls to stop talking. We do like to have fun, and I do like to pride myself on being a fun coach, but at the end of the day we do need that level of respect there."
Mason said that the continuation of positive reinforcement is vital to the team's achievements in the coming years.
"Maintaining positivity, as well as positive reinforcement is key." Mason said,"A lot of times within sports teams, you may get punished for doing something wrong, but at the end of the day you need to be rewarded for doing good. I think that that's going to be my biggest thing to continue with, by making sure that positive reinforcement is there, and also that I'm here next season to keep that consistency there."