Return to traditional prom uplifts teachers', students' spirits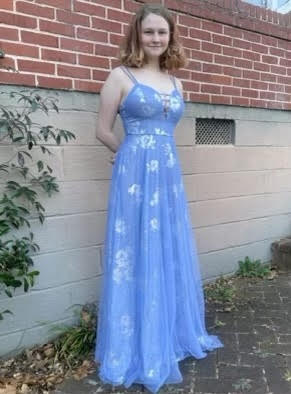 After a two-year hiatus, a traditional high school prom is back for Midtown juniors and seniors. Though the event isn't until mid-May, excitement is building, and preparations for the occasion are well underway. 
"I'm so excited to go to prom," senior Annie Robinson said. "I remember last year holding out hope that there would be a prom. It's one of those milestone markers in high school. You have your graduation; you have your prom; you have your homecoming. You have these big moments, and I'm excited for this one." 
The event is scheduled for May 14 at the Georgia Tech Hotel and tickets are on sale until May 12.
"I don't think it's going to look much different from a traditional prom," prom coordinator Emily Dohogne said. "The only thing that'll be different is that currently they are requiring COVID tests and mask mandates. That may change in the next three months, but thankfully, we have COVID testing here and if we need to have that in order we can."
COVID canceled Midtown's prom in 2020, just weeks before it was due to take place. Last year, Atlanta Public Schools made a last-minute decision to require all schools in the district to offer the event. Because of the late notice, prom was planned in the short span of two weeks, and it was offered to Midtown seniors exclusively. But as COVID cases decline and life gradually returns to normal, prom is back on the books.
"I'm really excited because we haven't had a school dance like this, or one I've gone to, since my freshman year homecoming," junior Lacey Berreth said.
Earlier this month, Robinson created a GroupMe for Midtown's female students to submit photos of their dresses to ensure others don't turn up in identical attire. The GroupMe, with over 200 girls, has been a resounding success, with members weighing in daily to support each other and exchange information. 
"I thought it would be nice to have," Robinson said. "We have the same intention of going for fun and wearing cute dresses, and I think it's a nice way to get our grades together and hype each other up."
Berreth was one of the first to send a picture of her dress to the group chat.
"I started planning so far in advance because my dress was secondhand;so, it wasn't like I could come back later because it might be sold already or someone could have already sent the dress that I wanted or something really similar into the prom group chat," Berreth said. "There's a lot of stuff that happened really fast."  
A website with Midtown prom details will soon be up and running. This year, invited underclassmen and guests who don't attend Midtown will be able to attend prom, but there is an age limit of 20. Berreth has a date who doesn't attend Midtown, and she was disappointed before Dohogne recently announced guests would be allowed. 
"I'm so excited," Berreth said. "It's going to be such a good time. I'm much more excited to go to prom now."
Junior Andre Grossberg said he doesn't have many strong opinions or expectations for prom since he has never been to the event. 
"I wouldn't consider it for myself as that big of a high school milestone, but that may just be because I'm more of an introvert," Grossberg said. "I'm not super into big social events. I would consider it to be a fun thing to do with the person of interest as something that shows you really enjoy being together, going out together, doing something fun and getting dressed up. It's nice."
Since its origin in the 1950's, prom has been a staple of American high school life, immortalized in movies seen around the world. Junior Esteban Vangioni is an exchange student from Madrid, Spain who has seen such movies and views an American prom as a once in a lifetime opportunity.
"My friends and family are really excited for me to live that experience because it's something you idealize a lot in Spain," Vangioni said. "Many friends of mine went as [exchange students] in 11th grade, also, and they told me it was a really cool experience that I must live while I'm in the United States."
Midtown students originally voted for this year's prom theme to be "Casino Night," but prom coordinator Dohogne said she is concerned some students will illegally gamble; so, the theme is being amended to "a night in Vegas."
After the stress of the pandemic, students and staff are embracing the opportunity to dress up and enjoy themselves.
"I love the interaction," said Dohogne "The prom is an educational institution event. However, it doesn't have to do with grades or anything like that. It's a way to interact and get to know kids and see them outside of the environment of the classroom which I really enjoy because students are not just students. They are people."
But with ticket prices upwards of $65 a ticket, prom – and the outfits that go along with the occasion – is expensive. Dohogne says the school may discuss ways to help students who are struggling financially.
Since information on the event is being released later than in years past, some students are still concerned about prom being canceled. But Midtown science teacher and previous prom coordinator Elizabeth Yale said those fears are unfounded.
"Stop freaking out; [prom is] going to happen," Yale said.