In-person Academy Awards should require vaccines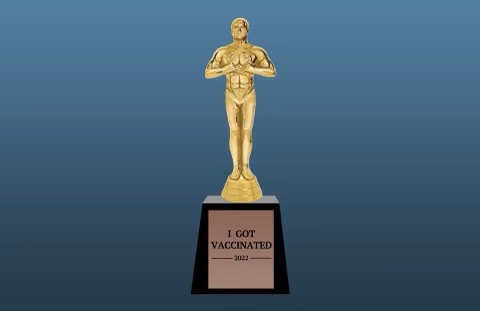 The 94th Academy Awards, which will occur on Mar. 27, 2022, will reportedly not require performers and presenters to be vaccinated. Unlike other award shows, such as the Screen Actors Guild (SAG) Awards and Critics Choice Awards, which will require proof of vaccination for everyone, the Academy will require only a negative PCR or rapid antigen test on the day of the show and proof of vaccination for all nominees, but not those performing or presenting.
However, vaccines must be required for everyone at the event, including performers and presenters, in order to protect all those involved in the production of the Academy Awards. The decision to not require vaccines for everyone comes as a shock as cases continue to rise for the highly contagious Omicron variant. The state of California, where the show is held, averaged 3,711 cases per day on the week of March 18, the highest of any U.S. state.
Vaccines are also more widely available than they were last year, making vaccine mandates fairer to enforce. As of March 18 2022, 182 individual COVID-19 vaccine doses were administered per 100 people in California. On the same date in 2021, 14 doses were administered for every 100 people. If the safety of those in attendance was prioritized in the past, when vaccinations were not yet widely available, the Academy should make the simple decision to require them when vaccines are accessible in every state.
Last year's show was held in person with strict COVID-19 testing requirements. After being pushed back two months from its original date in late February, the show took place across multiple venues to allow for social distancing. Furthermore, the in-person audience was limited to 170 people to reduce exposures. Because vaccines were not as widely available, attendees were required to be tested and partake in low-risk behavior prior to the show. Masks were required when off camera, and were only taken off for acceptance speeches and musical performances.
The Academy requires vaccines for its own employees and museum visitors, as well as for all guests and nominees, so requiring them for all performers and presenters is a logical next step to maintain the safety of both those in attendance and staff working at the event.
While the Academy adheres to the latest minimum requirements in regards to COVID-19 in the state of California, other preceding events are taking far more steps to ensure the safety of those in attendance. For example, the SAG Awards will require proof of vaccination and booster shots if applicable. Additionally, proof of a negative PCR test within 48 hours of the events and a negative rapid antigen test the day of the event are required. These are requirements the Academy needs to implement.
According to the Hollywood Reporter, industry insiders speculate that the lack of a vaccine requirement comes as a way to protect unvaccinated attendees and the program's reputation. At least one of last year's award winners and multiple nominees at this year's show would be excluded from attending the event if the vaccine requirement remained.
Last year's event took far more precautions to ensure the safety of those in attendance. The Academy's choice to prioritize the attendance of a few performers and presenters over the safety of all those in attendance is contradictory to the organization's past efforts. To ensure safety, vaccines should be required for all those in attendance. If they are not required, many attendees, workers and organizers will be put at an unnecessary risk.