Aerial silks take students to new heights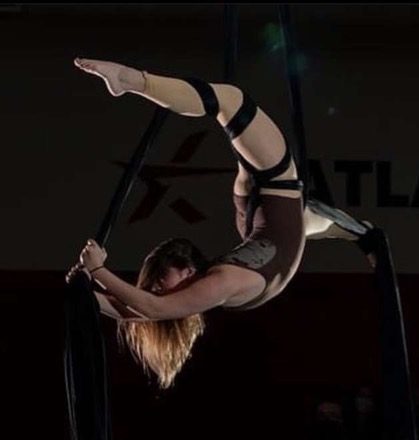 Aerial silks, a sport where athletes perform acrobatics while hanging from fabric, is a common circus trick but an uncommon extracurricular for students. However, Midtown has its own group of students that participate in this sport.
Junior Leah Benator said she started aerial silks as a hobby.
"I originally started doing aerial as a hobby during covid with one of my friends I go to camp with," Benator said. " It grew into something that I found to be fun and challenging. "
Benator said her "late start" does not put her at a disadvantage.
"I really love how diverse it is and how unlike many other sports it is. You don't need to start at such a young age to be 'good',''' Benator said. "Many of the people I practice with are in their mid-20s or 30s."
Junior Leila Heller appreciates the uniqueness of aerial silks. .
"Every part is unique and I don't think you could get the same feeling doing something like the Spanish web which is essentially aerial silks but with a rope instead of two sheets," Heller said."It's also very unique because in most sports you aren't in the air having that much control over your body."
Aerial silks is a female dominated sport, largely due to the acrobatic performance.
"I would say that it's predominantly a girls sport because many of the positions we put ourselves into can be painful for guys," Heller said. "I only know a few men who either currently do aerial or have done it."
Trust is a major factor in a successful performance.
"The community is very close knit because when we are practicing we have to be able to trust people to help spot us while we do our drops," Heller said. "Aerialists really do come in all shapes and sizes. Everyone is working towards their own goals and are rooting for each other."
Christina Collandra is the head coach at Atlanta Kick, a fitness and martial arts gym that offers silks classes. Collandra said there are a variety of training styles that go into aerial silks.
"There is a big focus on flexibility and technique so that people of any strength level can accomplish really great routines," Collanadra said. "But as the training in strength and conditioning continues their bodies change and become more and more capable over time. Lots of climbing, but it's not all upper body. Really everything we do comes from the core."
Benator expresses her appreciation for her coach.
"My coach, Christina, is a ray of sunshine," Benator said. "She literally can help me whenever I need her, even if it is not related to aerial. She is honestly so talented and is always providing the right criticism and support when I need it. "
Collandra said her main reason for coaching is to have fun with the girls and help them develop their talent.
"I love coaching these athletes because we get to play around so much," Collandra said. "This is just as much an art as it is a sport. The challenges are many but the work arounds are even more numerous. It's very rewarding to see someone gawking at a new trick and then nailing in just a one hour lesson."
Benator said it would be great to have a team at school but feels as though it's unlikely to happen.
"I think having an aerial silks club at school would be so much fun," Benator said. "Aerial silks doesn't really have teams but people do duos and trios sometimes. I don't think it would ever happen though. Aerial silks can be so expensive and there isn't really anywhere at school where they can be rigged. We would also need to find a coach. Maybe one day we can figure something out."
Collandra shares a similar sentiment in hoping that circus arts gain more recognition within schools.
"I'd love to see more circus arts move into the school system," Collandra said. "We are a very welcoming and radically accepting crowd. We focus on building up our athletes and help their unique selves shine rather than work them into some sort of scoring system. "Performance Troupe" might be a better term than "team" and it should by no means be gender exclusionary."