Junior Prausnitz-Weinbaum pursues unique passions in the fine arts
Woodworking is an art form that requires brute force. While ballet is an art form that requires grace and elegance. Both require a level of technical skill and precision, skills that junior Sam Prausnitz-Weinbaum has mastered.
Prausnitz-Weinbaum took up woodworking at the end of freshman year when the pandemic began.
"I was at home and I just wanted to make something," Prausnitz-Weinbaum said. "I looked up a DIY guide on how to make a chair, and I asked my neighbor if I could use his tools because they had a bunch of tools and I made this kind of bad-looking chair, but it was really fun. From there I slowly started accumulating more tools and skills."
Prausnitz-Weinbaum carefully crafted his own workspace in his basement so he could start making pieces.
"The workspace in the basement is unfinished so it's a dirt floor covered with some plastic and it's on a slope, so it wasn't a workspace until Sam did some work on it," Prausnitz-Weinbaum's dad Mark Weinbaum said. "He poured concrete, put in posts and made sure that the floor was really strong because he's putting heavy equipment on there."
Prausnitz-Weinbaum has made everything from soap dishes to cutting boards to menorahs. He spends varying amounts of time on each item and enjoys the hands-on process of shaping the wood.
"I love how you can take this raw material of wood that isn't much on its own and make it into anything. There's something really beautiful doing that with your own hands," Prausnitz-Weinbaum said. "Seeing the final product just gives you a lot of satisfaction."
Prausnitz-Weinbaum started selling items at the Lake Claire Craft Fair, an annual event where vendors sell crafts, music plays, and food trucks are provided. Since then has been taking on more specific commissions.
"I saw Sam at the Lake Claire holiday sale last year," customer Cathy Bradshaw said. "I liked his tables and I asked him if he would make something special for me."
Bradshaw was very pleased with the tables that Prausnitz-Weinbaum made for her from reclaimed wood and its personal feel.
"There have been some people who have complimented the tables and said 'oh, nice tables,' so they were received very well," Bradshaw said. "My family loves them and I love the fact that they were made by somebody I know, in a way that is custom and high quality."
Prausnitz-Weinbaum's woodworking process has been experimental. He gets inspiration from YouTube, but also comes up with ideas on his own. While he makes mistakes, he sees it as part of the creative process.
"On almost every project, if not every project there is a stumbling block where I mess up a cut or I join the two wrong pieces and I'll have to figure out how to fix that," Prausnitz-Weinbaum said. "It can be frustrating, but it's also a time to be creative to fix your mistakes."
Prausnitz-Weinbaum has acquired many skills from doing woodworking for the past year. He has refined techniques and wants to start making smaller, more precise pieces. Weinbaum notices several benefits to woodworking.
"He's gotten quite good at woodworking and that in and of itself is a useful skill not just for making things that are pretty, but also things that are functional or repairing things that need to be repaired," Weinbaum said. "In addition, he is an entrepreneur by taking an idea and making it real. He started out with a basement with a bumpy floor and did research to figure out what tools to get and how to make the items that he now sells."
Prausnitz-Weinbaum has acquired a new set of skills from woodworking that add on to the skills he has gained from another afterschool activity he does: classical ballet. Prausnitz-Weinbaum has a passion for dancing and has been doing it since fifth grade. He dances with the Dance Foundry school.
"There's a lot of things I like about dance," Prausnitz-Weinbaum said. "I like the friends I've made through dance that I wouldn't have met otherwise. Plus, it's of course a good source of exercise that I enjoy. I don't have fun running or working out by myself, so dance allows me to be active while having fun. And I'm totally a show-off, so I always like learning new skills."
Sophomore Grace Franetovich dances with Prausnitz-Weinbaum and appreciates his positive attitude.
"He is really supportive and always in a good mood," Franetovich said. "Sam is always positive. When we are partnering, he is always good at helping constructively so that things go well. I also trust him a lot. He is very dependable and I know he's not going to drop me."
Prausnitz-Weinbaum is the only high school-aged male dancer with Dance Foundry, so his role is crucial. He has been working to improve his skills.
"There's one jump called a double saut de basque (pronounced so-deh-bahsk) which I've done a couple of times, but I'm trying to really get solid," Prausnitz-Weinbaum said. "Another thing that I've been slowly working on for a while is partnering, which is dancing with a girl. Usually, I support her in a pose, turn or jump."
Senior and fellow dancer, Grace Langan, notices the hard work and positivity Prausnitz-Weinbaum puts into every aspect of his life.
"In everything Sam does, he is really dedicated and focused in both school and dance," Langan said. "He is able to take critiques and fix them. His persona adds character to the dance. It is more than just his technique, he adds his personality to what he is doing. He is always super upbeat whether it is in class or at dance and is always trying to make people laugh which is really nice."
Sophomore dancer Sophia Dominey is a year younger than Prausnitz-Weinbaum and has always found him to be welcoming to others.
"Sam is always really encouraging and he always makes an effort to be friendly," Dominey said. "He always waves in the hallways and has a big smile on his face."
Prausnitz-Weinbaum juggles a lot between woodworking, dance and school, but always finds time to do all three, partly by what he calls being an "avid calenderer." Prausnitz-Weinbaum is not sure if he will take woodworking or dance past high school, but he thinks it is fun and suggests that others give unfamiliar and new things like woodworking a try.
"I encourage anyone to try it out," Prausnitz-Weinbaum said. "It's likely that you have a neighbor like I did who has all the tools and you can just borrow them and try to build something yourself. It's really fun and who knows, you might even get into it like I did."
Leave a Comment
About the Contributor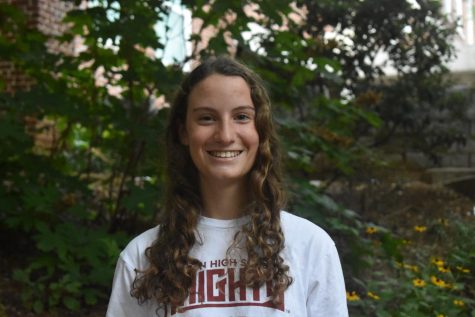 Shay Bowman, Lifestyle Managing Editor
Shay Bowman is a senior and this is her third year writing for the Southerner. When she's not writing, she's playing club and school soccer, practicing...