Biden's Atlanta speech must spark voting rights measures
President Joe Biden and Vice President Kamala Harris visited Atlanta on Tuesday, Jan. 11, to discuss the urgent need to pass federal voting rights legislation to prevent corrupt elections. The choice by Biden and Harris to choose Atlanta as the discussion for voting rights is no coincidence; Georgia passed restrictive voting legislation in March of last year following the slim Biden victory in the state during the 2020 presidential election.
Biden's visit to Atlanta must immediately spark community movements aimed at improving statewide voting rights, such as more activism from citizens and voting rights groups for actual action in the Georgia General Assembly.
The Georgia voting legislation known as SB 202 incorporates measures to limit ballot access, such as having less time to request absentee ballots and making it a crime to offer food and water to voters waiting in lines, which tend to be longer in urban areas. With Democratic voters concentrated in urban areas, there is no doubt that SB 202 threatens a fair election process.
The idea of Georgia voting restrictions' threat to a fair election represents the larger issue of a newfound grave threat to democracy, which was mentioned by Biden in his speech. Many of these threats are visible as the 2022 Georgia legislative session starts. Several Republicans plan to incorporate a variety of voting legislation similar to SB 202 in the new session. SB 325, primarily supported by Republican Senator Butch Miller, would ban absentee ballot drop boxes entirely, which were used heavily in Democratic metro areas.
In the long run, more statewide voting restrictions would impact Georgia by creating a situation where people are forced to take significant time away from their day to vote rather than rely on absentee ballots and a fast election process. It is thus essential that we as citizens are mobilized by Biden's speech to use our voices to protest the voting restrictions proposed across the board, which would ensure a fair election process.
Additionally, in his Atlanta speech, Biden called for an exception to the Senate filibuster for the opportunity to truly pass voting rights legislation. The pending bills in the Senate are the John Lewis Voting Rights Advancement Act and the Freedom to Vote Act. If passed, these two bills would establish nationwide standards for ballot access and would restore the power of the Voting Rights Act of 1965 after a series of disadvantageous Supreme Court rulings.
Although a filibuster exception would give the Democrats a better shot at passing these two bills, as Biden implied in his speech, this process would not accurately represent all of Congress's ideas and would instead just create more divisions between the two parties.
We as a nation need is to reform the two existing pieces of legislation so that they are a compromise between the Republican and Democrat congressmen and women. We can't solve the issue of voting rights restrictions in our country with Democrat support and Republican denial. A compromise between the two parties could incorporate both Democratic ideas of increased voting access and Republican ideas of more voter security to please both parties.
Ultimately, Biden's speech symbolizes not just the importance of voting rights in Georgia but also nationwide. If we want a free and fair election process, there must be national bipartisan support for voting legislation through compromise. Since national legislation is no guarantee to pass in this short of a timeframe, we also must stand up for our rights when warranted in the new legislative session through statewide action.
Leave a Comment
About the Writer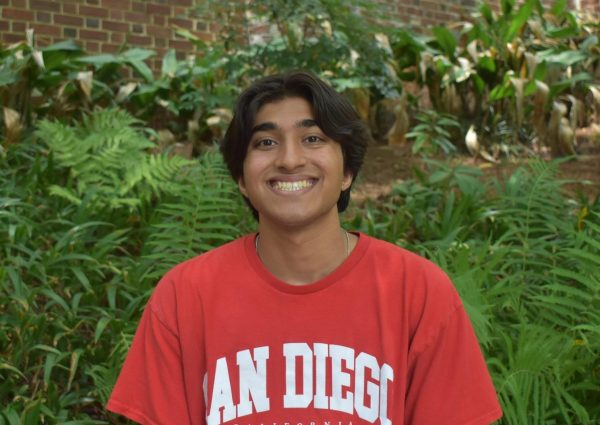 Shalin Bhatia, Editor in Chief
Shalin is in his fourth year of the Journalism pathway and is in his third year on the Southerner staff, serving as the Editor in Chief over the News Section....