APS needs to reconsider returning to in-person learning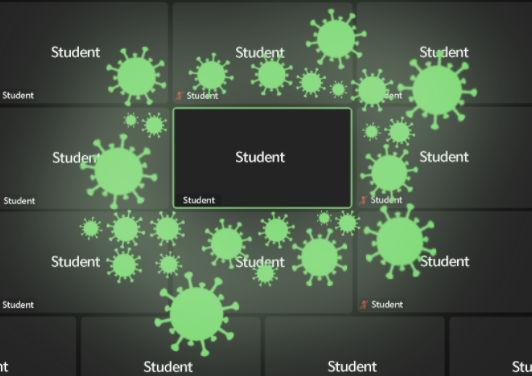 Amid the sudden Omicron variant spike, Atlanta Public Schools has moved classes online once again. However, unlike the original shutdown in March 2020, this one will only last a week. 
The past two years have proven how difficult it is to learn online. Over the course of the pandemic, virtual learning has caused a reduction of learning, food insecurity, increased mental health issues, vulnerability to domestic abuse and overall has decreased well-being amongst K-12 students, The Lancet reported. 
After successfully returning to in-person learning for roughly five months, students, teachers and parents alike aren't eager to return to virtual learning. Virtual learning is challenging for both students and teachers, but due to the pandemic, it is a necessary action that prevents the spread of Covid-19. Many people have begun to label the Covid-19 pandemic as the "new normal" and treated the surge as such. While Covid has undoubtedly become the "new normal," that should not be an excuse to recklessly rush back to public spaces due to the inconveniences of staying at home. To minimize the spread of the Omicron variant, APS should temporarily switch to hybrid learning instead of forcing all students to come back immediately. 
The CDC updated and shorted its quarantine requirements for those who test positive for Covid-19. Regardless of vaccination status, the recommended quarantine period is five days. However, people can still be contagious after five days and with the shortage Covid tests, confirming whether or not people are still contagious has become much harder. Also, the Omicron variant is now the U.S's most dominant strand and makes up 95 percent of cases. Due to the Omicron variant's increased transmissibility, its resistance to cloth masks and its ability to evade immunity from vaccines or previous infections, it is more contagious than the Delta variant, the CDC reported. Now more than ever, APS students need to be vaccinated so that they can avoid getting themselves or others seriously ill.
Unfortunately, the vaccination rate for ages five through nineteen in Georgia is not high. According to the Georgia Department of Public Health, 51 percent of people ages 15 through 19, 36 percent of people ages 10 through 14 and 14 percent of people ages five through nine have received at least the first dose of the vaccine. 
Even if all students in APS were vaccinated, the Omicron variant's resistance to the vaccine is still problematic. Data from South Africa and the United Kingdom has shown that without the booster shot, the effectiveness of the vaccine has greatly fallen. Two doses of the vaccine is only 35 percent effective against infection. With the booster, the effectiveness increases to 75 percent.
On Jan. 3, the FDA approved the Pfizer booster shot for ages 12 through 15. This will allow many eligible APS students to get the third shot and increase their immunity to the new variant. However, according to Pfizer, the booster shot only becomes effective after a week or two of the initial shot. For many students, the booster won't be effective by the time school starts again. 
On top of everything, APS students and staff are coming back from a long break during a Covid surge. Luckily, APS acknowledged this and implemented new Covid protocols. Starting on Monday, student surveillance testing will be increased to twice a week along with vaccination events for APS students, families and staff. APS will also be reinforcing existing protocols. These new measures will be beneficial, but in the end, student testing and vaccinations are unfortunately still optional. Also, while APS has continued to enforce a mask mandate, they have not released any information regarding the inefficiency of cloth masks.   
Despite all of the current problems caused by the Omicron variant and going back to in-person learning so quickly, completely staying virtual isn't the most optimal solution either. For parents who are unable to stay home and unable to monitor their children during the day, virtual learning creates additional problems. It also makes school resources more difficult to access. 
If APS decided to switch to hybrid learning, students and parents could make a decision on when to go back to school based on their own needs and concerns. Those who are concerned about Covid can stay home and those who need to go in-person could go back to school. By having less people in school buildings during a Covid surge, it will also make in-person learning safer.