Junior Abramowitz finds passion in creating jewelry
Whimsical designs, vibrant colors and countless hours of work are what make junior Lauren Abramowitz's handmade jewelry so special.
Abramowitz's business, Shop L.A. Gifts, unofficially called Lauren's Jewelry, started over a year ago during quarantine. She filled her free time with creating art and decided to start her own jewelry business.
"It's really fun to me, and initially it started out as just a hobby and a fun little relaxing thing to do," Abramowitz said. "I like making my own designs and being creative with them. Over time, I became more passionate about jewelry, and I decided to do more with it."
The small business is featured on Etsy, an online market for handmade goods and is only just getting started. Abramowitz sells clay earrings, rings and beaded necklaces. The shop sells fun, one-of-a-kind designs like "cow" and "sprinkle donut" earrings.
"I come up with ideas randomly, sometimes," Abramowitz said. "Other times, I find stuff on Pinterest as inspiration, or I'll just play around with the clay and see what happens."
Once Abramowitz decided she was going to make jewelry, she began teaching herself techniques and processes. Although she found inspiration in other places, the majority of her ideas came from looking at and shaping clay.
"I've relied on teaching myself or browsing Pinterest to learn the correct processes for making jewelry," Abramowitz said. "Some of it is just trial and error. My grandma makes jewelry as well, and I've picked up some things from her."
Abramowitz's mom, Stephanie Abramowitz, has always known Lauren was artistic. She has enjoyed watching Lauren come up with new ideas for her art.
"All throughout the years, I've watched her take that next step and say 'I want to make rings,' and I'll say, 'Oh honey, that's really hard' and the next thing you know, she is doing it," Stephanie Abramowitz said. "She is constantly figuring out how to do things on her own, researching it and making it happen. She is very creative, inventive and a self-starter."
Besides making jewelry, Lauren is passionate about digital art and animation. Stephanie sees her going into an art field of some kind.
"Some of the colleges she is looking at actually have jewelry making as a major, which I didn't even know was a thing," Stephanie Abramowitz said. "She might minor in that or take a couple of classes and see what she thinks. She really likes to draw and do digital arts, too; so, colleges with animation programs and visual effects programs are high on her list."
Although Lauren doesn't see the jewelry business becoming full-time, she plans to keep it as a side hobby and continue art throughout her career.
"Right now, I want to do something along the lines of digital art or animation," Abramowitz said. "I'm also considering minoring in jewelry, but art school would be really cool because I love it, and obviously, you want to do something that you love."
Junior Abby Snyder toured SCAD with Abramowitz. Snyder could tell Abramowitz's enthusiasm for art and animation.
"She is really gifted at art, and so sweet," Snyder said. "She is humble but very skilled. I think that she will go far in jewelry and art."
Lauren's jewelry is only one of the many art projects she seems destined to do. She creates unique pieces in several fields of art.
"She [Lauren] said one day that she thinks working for Pixar would be really cool, and I told her that I think it can happen if she works for it and makes it happen," Stephanie Abramowitz said. "I don't think I'll be surprised one day if we are watching a Pixar movie with Lauen's name on it."
Leave a Comment
About the Contributor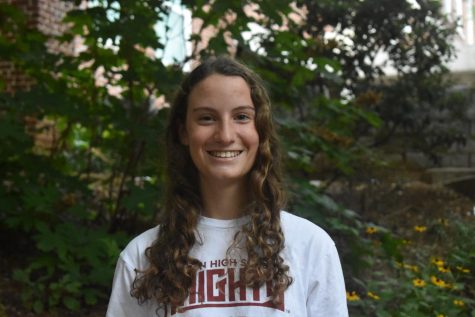 Shay Bowman, Lifestyle Managing Editor
Shay Bowman is a senior and this is her third year writing for the Southerner. When she's not writing, she's playing club and school soccer, practicing...