For boys lacrosse, there's a victory over Campbell at rainbow's end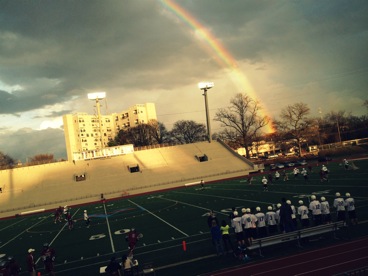 The Southerner
March 9, 2012
Hang on for a minute...we're trying to find some more stories you might like.
By Lee Johnson
In the movie, 300, 300 Spartans held their own at home before falling to the massive Persian army.
On the lacrosse field at Grady Stadium Friday night, however, the 10 Spartans from Campbell were no match on the road for a Knight attack that dispatched them very early in a contest that quickly unraveled into a route.
The Grady boys lacrosse team demolished the Campbell Spartans 15-3 thanks in large part to improved teamwork and effort.
The day was wet, warm, humid, sunny, windy and cloudy. The weather proved to be unpredictable. The stadium was sprinkled with parents and a select few Grady supporters.
Before the contest began, both teams readied themselves for battle and prepared with chants while clashing their sticks together. The tension built between the two teams, both of whom entered the game winless.
A double rainbow shined bright above the stadium just before the game started as if offering a sign of what was to come for the host Knights.
Grady (1-3) scored first beating the Campbell goalie with seven minutes left in the first quarter.
Bilal Vaughn made countless blocks as goalie and ensured that nothing – well, almost nothing — would get past him. Grady added three more goals while Campbell (0-2) added only one.
Patrick Carroll played with aggression and speed making six shots, picking up 11 ground balls, and making five assists.
The sky turned dark and the moon glowed upon the game along with the field's large overhead stadium lights. Campbell attempted to make a comeback by scoring two points, prompting a Grady timeout. Soon after the timeout, Grady scored twice.
The first half ended with the Knights ahead, 7-3.
"There was a lot of ball movement, and people were doing what is expected from a varsity team." Vaughn said. "We can go into practice and capitalize on the great things we saw in the game thus far."
The second half played much like the first with Grady dominating the field.  Grady scored frequently and set a fast pace while Bilal defended the goal from all of Campbell's shots on goal.
Of Grady's 15 goals, seven were assisted.
Declan Farrisee scored five goals for Grady.  Jacob Friesan added three and Jay Williams, two. No other Knight had more than one goal. Prahbu Rao scored his first goal of the season.
The team hopes to build on its first victory of the young season.
"The team did well," Nick McFarlin said. "We are really coming together.  I expect the team to continue to do well. We will keep practicing and working hard as we do."
Grady's season may not seem to be so dim now, but with the next five games in March, all being away games. Grady is going to have to keep up its game in order to prevail.