Morningside Monster Bash returns after year-long break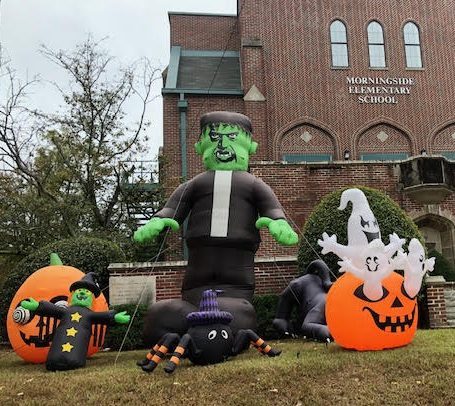 The annual Morningside Elementary School Monster Bash will be held on Oct. 30 after taking a one-year hiatus due to COVID-19.
In a normal year, hundreds of Morningside students, personnel and community members flock to the event, which includes rides, carnival games, food and a fifth-grade run haunted house. The bake sale offers a wide variety of treats and includes a cake decorating contest. The Monster Bash aims to offer a fun social event to celebrate the season of fall and Halloween.
"We'll have some carnival rides, a pumpkin decoration contest, some hand and arm painters, a ninja course and some other surprises," event coordinator Justin Hubbarth said. "It will be a great time for people to celebrate Halloween and just fall in general with family and friends."
Due to Morningside's renovation, the Monster Bash will be held at Inman Middle School. After the cancellation of the event last year, students and community members have been anticipating its return.
"I was really bummed out when it was cancelled last year," former Morningside student and current freshman Anastasia Zaharis said. "It's been one of my favorite school events since I was really little, and I've been looking forward to it. I'm excited that it's back this year and am excited to see what they do with it."
As well as being a community event, the Monster Bash raises money to benefit the school and various other causes.
"We'll have a parent bake sale," Hubbarth said. "The proceeds from that will go to 'Dolphins Do Good,' a Morningside philanthropy group which is working with Afghan refugees this year. We'll also have an auction with painted pumpkins and the proceeds from that will go towards the Arts department at Morningside."
In Sept, Morningside had 18 cases of COVID-19 and 52 cases of exposure via close-contact, according to the Atlanta Public School COVID-19 dashboard. Hubbarth said that they are making an effort to reduce COVID risk at the Monster Bash.
"We're taking a lot of Coronavirus precautions while planning the Monster Bash," Hubbarth said. "At the event itself, everyone will have to be masked, and nothing will be inside. We're also using food trucks instead of having parents grill so we can reduce the risk of spread."
Morningside PTA Co-President Tony Moore indicated that he feels comfortable attending the event with his children.
"It's the fact that it's outside and all of the rides are open-air," Moore said. "At the same time, even when I think about the basics of their costumes, they are ones that allow them to easily wear their face masks."
Moore said that COVID has changed how the PTA handles events, such as the Monster Bash.
"In general, it's made us more critical of what we decided to do in a school year," Moore said. "We want to prioritize the safety of students, the safety of parents, faculty and the entire community. That's more important than any fundraising we can do."
Hubbarth is excited to get the chance to volunteer and bring his ideas to the event. He believes that students deserve the experience that the Monster Bash offers.
"With the pandemic and everything that's been happening, I think the kids need a little bit of normalcy — while still following all COVID precautions," Hubbarth said. "I think we can have a safe, fun-filled Halloween bash this year."