Engineering and Drafting and Design pathways get grant and new space
The Midtown Engineering and Drafting and Design pathways have moved to a new space and are receiving new funding and equipment for classes.
This year, the pathways moved to a new space on the A100 hall that includes two classrooms, workrooms and space for more equipment.
"It's absolutely magnificent," engineering teacher Tonia Schofield said. "It's been a long time, a long journey since 2012, waiting for this facility. So, it has been extraordinary; my students enjoy [it]. We have not even begun yet."
Previously, the pathways worked with a limited budget and little equipment.
"We had no resources before and basically everything was just a scavenger hunt on a zero dollar budget," said senior Alex Swift, who assisted with budgeting for the pathway this year. "If you couldn't find it, you couldn't use it."
In addition to new equipment, the new space allows the Engineering and Drafting and Design classes to do projects in a much safer setting than in Schofield's old classroom.
"We are a project-based learning class: design, build, construct," Schofield said. "We were doing it in the hallway, but it was not a safe environment …We got the facility; so, we have the machinery and equipment to be able to participate in and compete with other schools on their level."
This year, however, the pathways are seeking to get students industry certified in certain equipment and software.
"When you seek an industry certification, then they give you a solid amount of funds," Schofield said. "We are about to get those funds." 
Funding allows the pathways to receive $108,000, which is given to Career Technical and Agricultural Education (CTAE) programs like Midtown's engineering pathway. Once it arrives, the new equipment will allow the Engineering and Drafting and Design classes to do things that they were previously unable to do. 
"With the new equipment, not only are we able to produce large projects faster, but we're able to do stuff such as scan objects and recreate them in CAD," Swift said. "We're able to display objects in a virtual reality, and we're also able to give kids just overall better experiences when they do engineering."
Despite the benefits of the equipment, there were some challenges during the move to the new space.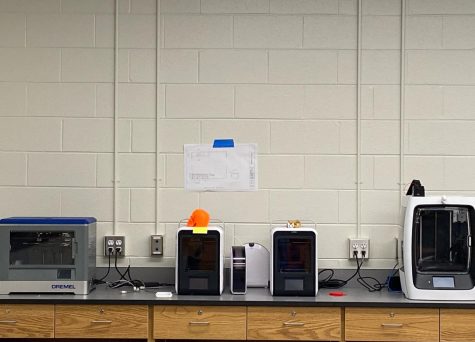 "The shipping company made some mistakes in labeling the boxes, and as a result, some boxes that needed to be labeled "This Way Up" or "Fragile" were not labeled correctly," Swift said. "Some of the 3D printers were shipped upside down, which resulted in major damage, and some parts were lost."
However, the program's new and larger budget from the upcoming certification will allow them to replace damaged equipment.
"Because we're about to get certified, we have a very healthy budget this year," Schofield said. "So, nine times out of ten, a lot of stuff is going to be replaced because they want us to start with new equipment."
The money and equipment will also help Midtown's Technology Student Association (TSA) chapter. TSA is a CTAE club associated with the Engineering and Drafting and Design pathways.
"We have the equipment now to construct, build and design," said Schofield, who is also a TSA adviser.  "We have what we need now to be able to compete on a state level, as well as the national level."
TSA will also benefit from the new space and equipment, which will help students with their projects and competitions.
"It's awesome that we have this giant. . . new space to do our projects, including a VEX Robotics room; the machinery room with 3D printers and different mechanical machines; and the general engineering room where we can do our different projects," TSA President Andre Grossberg said. "I'm very excited about the new space that we have."
Schofield believes the new changes will allow TSA to excel this year.
"When you work with nothing and then you come with what you need, I would expect them to do greater things," Schofield said. "They expect to do greater things, and they put their heart, they put their all into it."