Coach Stockdale leaves Midtown, goes Division 1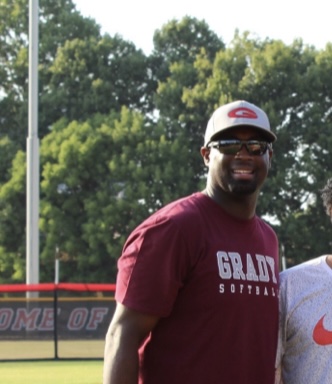 Coach Daniel Stockdale secured the head softball coaching job at Delaware State University in Dover, Delaware, after over two years of teaching and coaching at Midtown.  
Stockdale coached both the baseball and softball teams during his time at Midtown. In addition to coaching, he taught physical education and health. At the collegiate level, Stockdale coached at Georgia State University, The University of Memphis, Albany State University and Savannah State University. When he was offered the head coaching job at a Division 1 college, Stockdale said he was ready for a change. 
"It is my first opportunity to be a Division 1 head coach," Stockdale said. "That's always been a career goal of mine. I am excited about the people I get to work with on a daily basis, being in a new environment. I have been in the south my entire life; so, being in that mid-Atlantic region will be pretty cool." 
Delaware State's interim athletic director, Alecia Shields-Gadson, appointed Stockdale.
"Coach Stockdale stood out among a host of outstanding candidates for the DSU head softball coach position," Shields-Gadson said in a statement. "His wide-ranging experience, record of success on and off the field, along with his vision for the student-athletes and the program are in line with those of the university and athletics department." 
Despite Stockdale's excitement for his new job opportunity, he said he will miss Midtown and the students he has taught and coached. 
"[I will miss] both the teams," Stockdale said.  "I miss the success of the baseball team, being able to take them and help them get back to the playoffs for the first time in a lot of years. The softball team, watching them go from zero wins to having a winning season right now. Right now, they are currently in the playoff contention. I am going to miss that the most." 
According to Stockdale, Midtown not only improved him as a coach but as a person. 
"Midtown was a humbling experience for me," Stockdale said. "It taught me that a lot of kids at this level just need someone to really work with them, to help them grow with their development and their skills. They need somebody to show them that they care."
Stockdale has coached senior Zoie Armstrong for three years. Armstrong said Stockdale created a great environment for the softball team to improve. 
 "Coach Stockdale pushed us as a team everyday," Armstrong said. "He taught me to not make excuses and to do better. Not only was he a good coach on the field, but he was off the field, as well. He cared a lot about me and my teammates, and he was fun to be around."
Athletic Director Patrick Johnson will act as the interim softball coach until the next school year, when a new head coach will be hired. 
"We will be looking to fill that spot with our staff going forward," Johnson said. "We have a little more time for that. We are just trying to get through this season first and then we'll start collecting candidates. People love to come work at Midtown High School, so I think we will get a lot of good people." 
The strong softball and baseball programs will make the transition of coaches easier.
"Anytime you lose a good coach, it hurts obviously," Johnson said. "I think the program is in a good place for whoever steps in next. We've got a good staff of assistants to be able to continue what [Stockdale] started this year, and then we'll look for what our long-term solution for head coach is going to be. There is no doubt the program now is in a better place than when he got here. We are just continuing to build on his success." 
Johnson believes Stockdale was a model coach and colleague that will be successful wherever he is. 
"I think he's a great coach," Johnson said. "We have been really fortunate to have him the past two plus years. I think the success and the improvement of our softball program shows the effect that he's had. He's been great to work with. I know Delaware State will be lucky to have him."