Return to school prompts student anxiety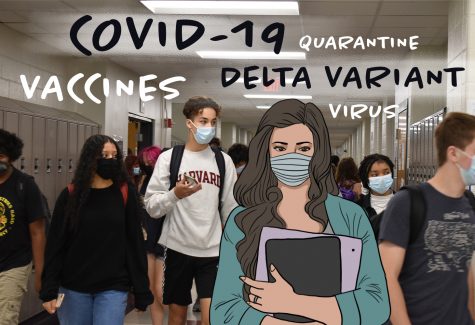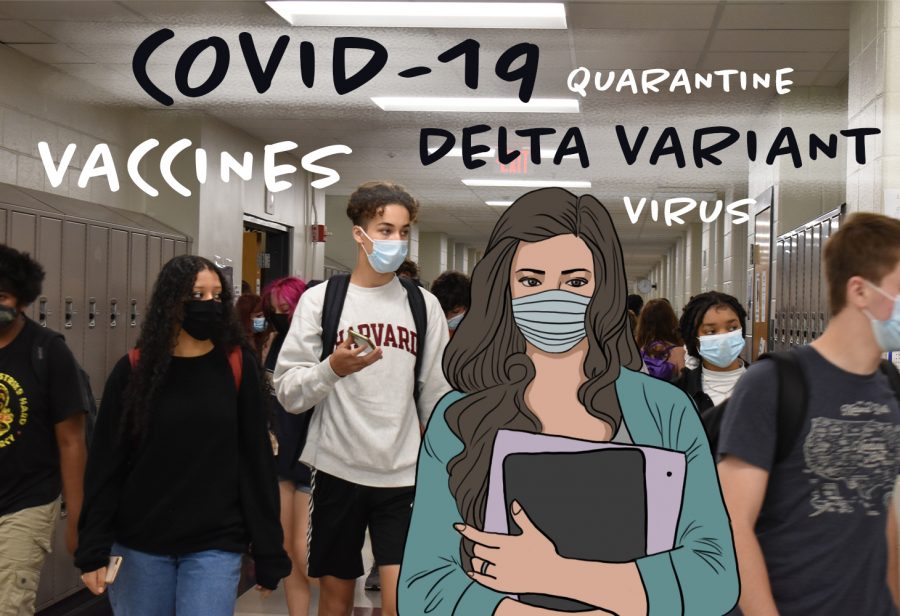 With Covid-19 cases increasing due to the highly infectious Delta variant, anxiety surrounding students, staff and parents' health has become prominent. 
In rare cases, vaccinated people can still contract Covid-19. Students like junior Neisha Ball, who are vaccinated but could transmit the disease to others, were anxious about coming back to school in person.
"I have family members that are high-risk; so, it was definitely scary to [come back in-person]," Ball said. 
Other students, including senior Teddy Suazo, did not feel as stressed about Covid-19 when school started.
"I wasn't really worried about getting Covid from going back to school because I assumed most people would have gotten vaccinated," Suazo said. "As the year is going on, I'm learning more and more about the vaccine and the different variants, which is leading me to believe Covid will still be prevalent in school."
As of late July, 54 percent of the eligible students at Midtown were fully vaccinated, the second highest rate in the district. 
"I wasn't worried about being vaccinated since I'm not really at risk, but I think the chance of me transmitting it to someone else is worth getting the vaccine for," said Suazo, who recently got the vaccine. 
Some students said they are glad to be back to in-person learning.
"I'm excited, the fear [from Covid-19] is wearing off, especially with the weekly Covid testing at school," Ball said. "I really hope I can enjoy my junior year." 
Not only has going back to school been a positive experience for some students, but parents are also relieved. 
"I'm glad that my kids are able to be out of the house and around people," Midtown and Howard Middle School parent Nicole Borse said. "Social interaction is so important, and from an academic perspective, they both do better when they are face-to-face." 
To help limit the spread of the virus at Midtown, there is a mask mandate for all indoor buildings, social distancing requirements and assigned seating to help with contact tracing. Though some students remain skeptical. 
"I think that school policies will be effective, but maybe not on the scale that most people may think," Suazo said. 
With nearly 1,500 students enrolled at Midtown, maintaining social distancing in hallways and during lunch has posed a challenge.
"Since there are so many students at Midtown, it's really difficult to socially distance," Ball said. "I think the weekly testing and available masks are making it better though."
In addition to worrying about physical health, some students were anxious to return in-person because of the social aspect after spending almost a year and a half at home.
"Someone might think they are afraid of getting Covid-19, but when they really look at what is making them uncomfortable, it's the idea of being around a large group," said Melaine Bliss, a Midtown parent and psychologist specializing in trauma and anxiety. "Many people feel as if they have forgotten how to 'be social' and the idea of large groups feels scary."
Some students said they believe being back in person will be beneficial for their mental health.
"Having a lack of social interaction took a toll on my mental health; so, I'm not sure how [continuing online school] would have panned out," Ball said.
After what people have called "the lost year," in which students were not able to see each other or participate in many extracurricular activities, Bliss thinks social interaction is more important than ever. 
"Human beings are social creatures, and from an evolutionary perspective, we are neurologically 'wired' to be in community with other people for our own survival," Bliss said. "To take that away from teens, who particularly thrive on group engagement, such as friendships, sports, arts and communal academic pursuits can be dangerous."