Candler Park Market serves as neighborhood gem
Candler Park Market has been a cornerstone of the Candler Park neighborhood for the last 20 years. It attracts residents from all over the neighborhood and is a gathering point for neighbors and friends.
Residents will tell you that Candler Park Market (CPM) is not just an average grocery store, it is an important part of the community. All sorts of people, from Candler Park and the surrounding areas, go to the market to buy anything from snacks to expensive wines.
Long time Candler Park residents Josh Parson and his fourth-grade son Mihir go to the Market all the time.  
"Candler Park Market gives a sense of community and shows the disparity in the world," Parson said. "It is an anchor in our community."
CPM is a closer and friendlier alternative to a big brand store like Publix or Kroger. Many residents of Candler Park would prefer to go to the Market for something small, like milk, than a name brand store because of the warm atmosphere. 
"Candler Park Market feels more like a community than a name brand store," freshman Louis Daugherty said. 
At the market, employees feel more like friends. Customers like Rachel Bowser feels that the friendly atmosphere allows for quality interactions with employees. 
"I like having personal relationships with the employees and talking to them," Bowser said. "We all know what it's like to get a coffee with Rick and people love to watch Jeopardy with Bobby."
Candler Park Market serves as a central point in the neighborhood where friends and family can gather. It provides a space for seeing neighbors. On the weekends and after school you can see kids gathered outside at the tables. 
CPM even attracts people from surrounding neighborhoods. Grady sophomore Nik Bruckman lives in Morningside and comes to the market to see friends. 
"I come to Candler Park to hangout with friends at CPM since it's like a converging spot," Bruckman said. 
During the school year there are even shifts of kids coming from the elementary and middle schools to hang out at the market on Fridays. 
"Everybody goes there and hangs out," Mihir Parson said. "I go about three times a week, or whenever my friends can." 
It is a common meeting spot and you will likely run into someone you know while shopping at Candler Park Market. It brings the residents of Candler Park even closer together. 
"Candler Park Market creates a sense of shared cultures and experiences," Bowser said. "There is a sense of core identity and shared values."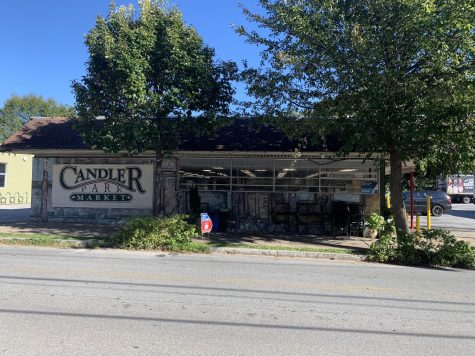 The market also brings the community together by supporting local groups such as Mary Lin Elementary School. They provide food for events, such as last year at a parent fundraising event for the elementary school. It helped raise several hundred dollars for the school, effectively helping the community grow closer. 
Candler Park would not be the same without it's coveted market. Recently it underwent renovations and residents of the neighborhood were worried that the feel of the place would change. 
"People were worried about the renovation changing the vibe of the market to be more sterile," Bowser said. "This shows how much people really care about the market."

With the pandemic, CPM was closed for a short period of time. This had a big impact on the neighborhood. Residents could not meet outside or pop in to pick up a few groceries. 
The market is loved by everyone. The market is targeted towards all ages and has something for everyone. It is seen as a spot to get a quick lunch for adults, candy for kids and a place to catch up with friends for teens. 
"It is awesome because you can buy as many candies as you want," Parson said.