Local restaurants respond to COVID-19 concerns
As the COVID-19 pandemic continues, restaurants are bearing the brunt of the current economic crisis.
Due to the pandemic, the restaurant industry is predicted to lose $240 billion nationally by the end of this year, and two out of three restaurant employees have lost their jobs, according to a survey conducted by the National Restaurant Association.
"We closed down all the stores except Grant Park," said Sarah O'Brien, founder and owner of Little Tart Bakeshop. "We really limited our operations for a good two months while we got more data about what was going on in the state."
At the start of the pandemic, Atlanta Mayor Keisha Lance Bottoms issued an executive order closing many businesses but allowing restaurants to stay open for delivery and take-out. In compliance with local public health guidelines, some local restaurants had to drastically change their service model to ensure the safety of both employees and customers.
"We got into reactive mode," said Anita Hsu, co-founder and co-owner of Sweet Auburn Barbecue, Gezzo's West Coast Burritos and Lazy Betty. "When you don't have that much time to really plan, you just kind of start running scenarios."
The City of Atlanta has relaxed its restrictions recently, allowing for restaurants to reopen seating at limited capacity. Restaurant owners are taking precautions when reopening their dining rooms.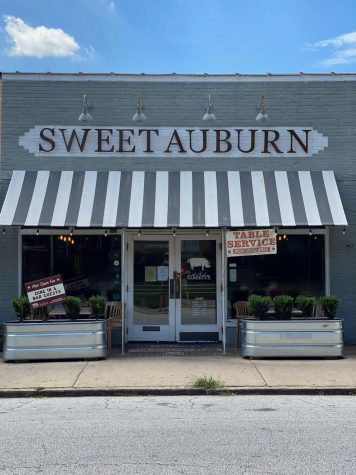 "We're trying to operate within the guidelines of what the health experts are suggesting and just trying to make a new normal," Hsu said. "We're trying to continue to serve great food and give great customer service but within the rules of what has been imposed on us."
Restaurants are introducing new strategies in an attempt to make up for lost sales. Sweet Auburn Barbecue, located in Poncey-Highland, and the Sweet Auburn Curb Market, as well as Gezzo's, located in McDonough and Locust Grove, introduced a delivery option. Outdoor seating is available for the first time at Lazy Betty, located in Candler Park.
"There's been a silver lining," Hsu said. "As owners, we've been forced to think outside the box. Although it was stressful, it forced us to be more creative."
At Little Tart Bakeshop's Krog Street Market, Summerhill and Grant Park locations, there's now an option for customers to pre-order pastries and coffee in an effort to generate additional revenue while also reducing contact between employees and customers. 
"At the beginning, we just tried to limit our contact with customers and customers' contact with each other as much as possible," O'Brien said. "You come and you stand in this line; you've already paid; you say your name; we put your pastry on a table, and you grab it. It was the most limited way we could figure out how to interact."
Additionally, Little Tart can be found at Peachtree Road Farmers Market and Grant Park Farmers Market, which since reopening, have provided another important outlet.
"I really appreciate that the management and leadership at both of those markets made it so we could stay in operation, because that's definitely been a lifeline for Little Tart," O'Brien said.
Despite these efforts, local restaurants continue to deal with reduced sales. 
"We didn't have as much business, so we had to cut some of our staff," Hsu said. "Our managers assumed a lot more of the roles of the day-to-day duties. Really, it was just about a balance of how we can take care of our team, but also take care of the business, so when they come back, there is a business left for them to have a job at."
O'Brien said the community around Little Tart Bakeshop is vital to staying open during the current economic crisis. 
"I always feel incredibly appreciative of my customers, but I have felt even more appreciative at how much people clearly wanted to help when this pandemic started," O'Brien said. "That made us, my whole team, feel really supported."
Hsu shares a similar sentiment, emphasizing the continued relationship between local restaurants and residents.
"The community has been amazing," Hsu said. "It was really heartwarming and humbling to see all the people that really did come to support us."