TLFC hosts Black Lives Matter event, rallies students
After attending a protest for the Black Lives Matter movement, co-founder and Banneker High School rising senior Isatou Gomez was inspired to give a voice to the youth. A week later, Teens Looking for Change (TLFC) held their first protest. 
Gomez and West Lake rising senior Jordan Sims rounded up students from across APS to form TLFC, a group dedicated to empowering teenagers in social activism. On Friday, June 5th, the group held a "Piedmont Park Standout". 
TLFC is a student-led group with the sole purpose of raising awareness for the current differences in the world. As of now, the group is focusing on the Black Lives Matter movement, hoping to bring attention to police brutality, racism and prison reform.
Grady High School rising senior Zoya Charania and rising junior Aaliyah Rapping quickly joined TLFC, hoping to help educate youth on social issues in the United States. Rapping was first introduced to injustice due to her parents' background with the criminal justice system however, both were passionate about social issues prior to joining.
"We wanted to give the youth an opportunity to speak up and have a platform about everything that's going on right now," said Charania. "There's a lot of people who don't understand how systemic the racism is in this country so we really wanted to educate people on that matter and encourage people to go out and vote so that we can actually make a positive change and take back everything that's been taken from people of color in the United states." 
Despite being such a novice group, the event was well-attended. Gomez and Rapping were very happy with those who showed up. Not only did APS high school students attend but also adults and children from the community. Sisters Sky and Promise Hill showed support by decorating their own poster alongside their mother Ronnetta Hill.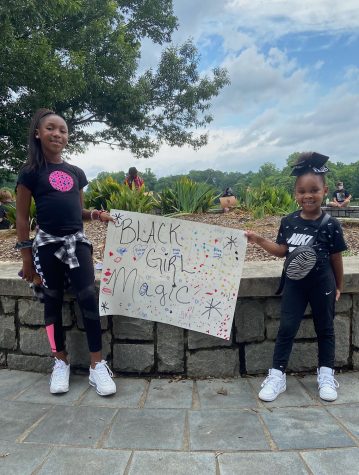 "We are here to march for all black people so they can stop killing us," Brandon Elementary School student Promise Hill said. "I think protesting is so important because it can make a difference in the world. [I want] people to stop being racist."
The event included multiple speakers from TLFC and featured a spoken word poem from Grady senior Erin Taylor. Banneker graduate Audrey Grice spoke about an experience her brother had with racism in school.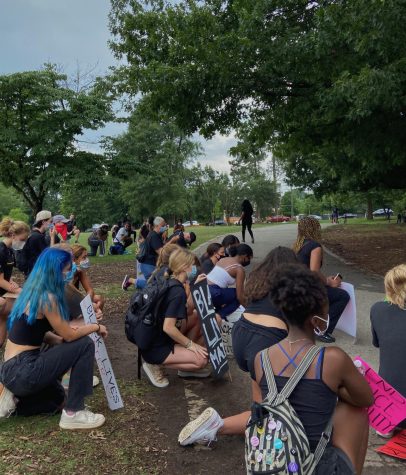 Along with speeches, protestors kneeled in silence for nine minutes, in honor of George Floyd, a black man killed by a police officer who held his knee on Floyd's neck for eight minutes and forty-six seconds, which ignited these new waves of protests. The event was finalized with chants and music, in which students got together to dance. 
TLFC has many plans for future functions and activism. They hope to hold events focused on both sexual harassment and feminism but expand the movement outside of Atlanta.
"I have a really big vision for this, but I see this potentially becoming something that we can make national," Rapping said. "We've had a lot of reach in Atlanta. We have the Cochran Firm supporting us. We have Mawuli Davis who was a very big civil rights leader in Atlanta."