Students create unique art using unusual mediums
Thrift and second-hand stores around Atlanta have long been providing students with unique, one of a kind items. But students have found more ways to make their closet their own- painting and embroidering on their clothing. They put their own original twist on a piece that cannot be bought in a store.
"Embroidery is a great way to make something that's unique and that's yours and that absolutely nobody else has. I think that's one of the reasons why I initially started it. Because it makes your closet yours. And the imposter syndrome of thinking you're conforming is not true anymore," said senior Erin Townsend.
Senior Jamie Gray has made a business out of her goth-punk clothing pieces.
"I had been going to a lot of thrift stores and finding relatively cool stuff, but I wanted to do more and I had these paint pens," Gray said. "So I just started doodling on stuff and then I was like 'oh I could sell these' and then I put them on Depop." 
Most of Gray's clothing sold within a day, motivating her to keep creating new items.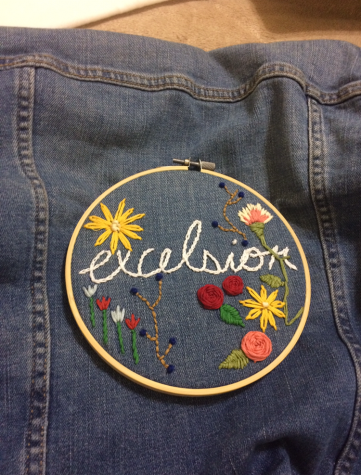 "I paint kind of the same stuff that I always draw, which is like girls and kind of creepy stuff. I like combining cute stuff and creepy stuff and people say it matches my personality cause those are my two big polar opposites," Gray said.
Senior Erin Townsend began embroidering various items in her closet sophomore year.
"I had an old denim jacket and I thought it was ugly and I wanted to make it cute," Townsend said. 
Townsend taught herself the craft by watching YouTube videos and says she learned how to embroider "through YouTube and will power alone." Since then she's embroidered numerous pieces with words and vibrant plants. 
"I think at the beginning there's obviously a hump where what you're doing is quite ugly, but from there it only gets better," Townsend said.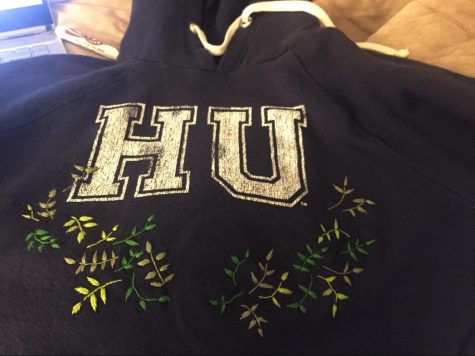 Townsend's most recent project was a quick laurel embroidery that she did on a sweatshirt for a college video essay.
"I have this issue where I can't stop until I'm completely done," Townsend said. "So I usually finish by like a day or a weekend. Never a weekday because then I get too consumed and the week is a bust."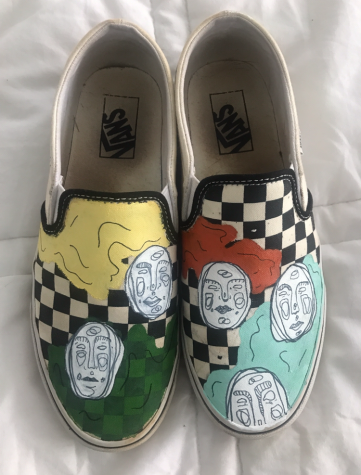 Senior Mackie Cottrell customized her Vans after the shoe store did not have the plain white vans that she wanted. "I was like oh but I don't want to be basic and just have normal shoes, so when all my friends were out of town I decided to paint them," Cottrell said. 
She modeled the design on the shoes after her current art project at the time, which was abstract faces in bold black lines. 
"They're supposed to be somewhat abstract, god-like figures but at the same time you're able to recognize that it is still a human's face," Cottrell said.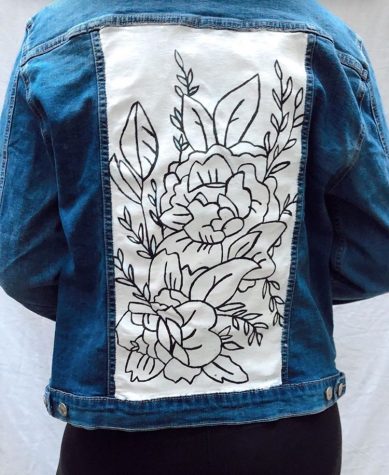 Senior Camisha Smith runs an online clothing shop on Instagram called 'shopcamishascloset.' She started creating her own clothing pieces in April 2019, after she turned several men's polo shirts into two-piece sets. 
"They really took off. That's when I got the idea to start incorporating my other art styles onto clothing," Smith said.
 Now she constantly puts customized pieces up for sale on her store. 
"Adding my own touch, whether that be painting, distressing, or sewing/ embroidering, gives me the chance to give old clothes a new life," Smith said.
Leave a Comment