Past board members challenge at-large incumbents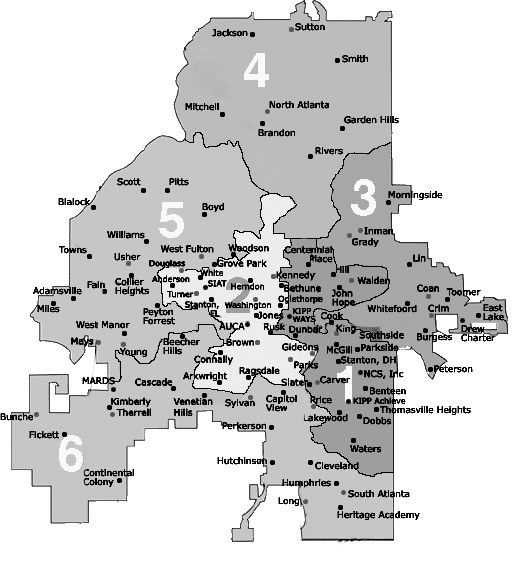 J.D. Capelouto
October 24, 2013
No matter the results, this year's Atlanta school board elections on Nov. 5 will end with major changes across the board. Of the nine current board members, only five are seeking re-election. Now, The Southerner fills you in on the most notable and relevant district elections.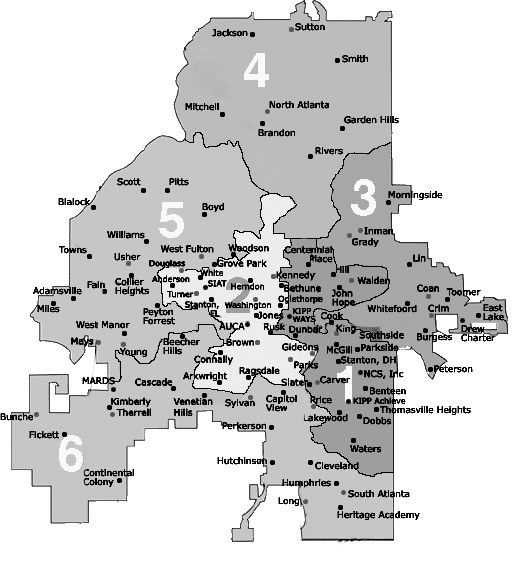 District 1
Brenda Muhammad, who has served on the APS board for the last 14 years, is seeking another term for the District 1seat and is being challenged by small business owner and APS parent Leslie Grant. Some Grady students and parents will vote in this district election.
Muhammad told The Southerner that she is running because APS has some "unfinished business."
"I'm finding out there are some things that we have not done that really need to be done to address some of the problems that we have," Muhammad said.
Grant agrees, but feels it's time for new representation in the district.
"I don't think that we have another term to wait for change within APS," she said. "It's very necessary that we get different leadership for this seat."
While Grant said she is able to be more in touch with the community because of her close involvement with the district over the years, Muhammad thinks her leadership experience on the board makes her the best candidate.
"We have too many pressing, important issues before us, and it's not the time for learning on the job," Muhammad said.
District 3
Grady alumnus and Carver Social Studies teacher Matt Westmoreland is running unopposed to fill the spot currently held by Cecily Harsch-Kinnane, who is not running for re-election. Westmoreland has high hopes for Grady's district.
"I want an APS where every child is receiving the excellent education that opens up real opportunity and choice in life," he said.
Westmoreland believes the future of APS starts with electing a board with a "vision for where we want this district to go," and is excited for his time as a board member.
"I wouldn't be leaving my kids and colleagues at Carver, who I've become very close to, if I didn't think we have the chance to do some really transformational things in APS over the next four years," he said.
At-Large Seat 7
Every Atlanta voter will cast their ballots for the three citywide board seats. Current board member for seat seven, Courtney English, is seeking re-election and is being challenged by Nisha Simama, a counselor and multicultural coordinator at The Paideia School. Though Simama currently works at Paideia, she has had a lot of experience within APS as well.  She served as an interim Board of Education member for District Two for about six months in 2011 to fill the remainder of Khaatim El's term, and when she first moved to Atlanta, she worked at East Lake Elementary School. In addition, two of her kids attended APS schools from Kindergarten through 12th grade, graduating from Mays.
"I think that the board of education is a little broken and that we need to have people on that board that really know education inside-out," Simama said. "We need someone who knows education from that standpoint, who's worked with boards, who's been on boards … I'm running because I know education."
Simama believes she can act as a model for the rest of the board if elected and can help avoid contentious situations which have have hurt the district in the past.
"This whole divisiveness that occurred on the Board of Education between the various groups is something I thought was unconscionable, and it hurt the kids," Simama said, "and my opponent was clearly a part of that."
On Sept. 18, Inman Middle School hosted a candidate forum for all of the at-large candidates. English attended and got a chance to speak to the voters. English, who has four years of experience working on the board, began by telling a story about how his mom worked hard to get him the right education within APS.
"I'm running for school board because no parent should fight or should have to fight like my mom had to fight to give their kid a good education," English said. He later added that this election is a "once-in-a-generation moment" because of the vast possibility for major change throughout Atlanta.
At-Large Seat 8
Board member Reuben McDaniel drew a lot of competition for the eighth at-large seat. One of the notable challengers includes Mark Riley, who held this spot for eight years from January 2002 to the end of 2009. Riley said he decided to run again in this election because of the poor job he believes McDaniel has done, specifically with his involvement in the administrative changes in District 4.
"The chaos of the last four years made me think that I could be a stabilizing influence and provide seasoned leadership where it's needed," Riley said, "and frankly, our current representative, Reuben McDaniel, has just been a real disappointment in terms of the lack of maturity and the micromanagement that he has engaged in with North Atlanta High School."
Riley is confident that the next four years will be beneficial for APS.
"We're going to have a really exciting new board made up of young, bright, committed education advocates," he said.
At the candidate forum, McDaniel spoke to the constituents about what matters to him and why he should return to the school board.
"Over the four years that I have been here we've done a lot of work to assess what the issues are, to clean up some issues, and we've made some progress, but it's not enough," McDaniel said at the meeting. "I understand we have a lot of work to do, and I am committed to making that happen going forward."