Bookstore opens new chapter for Virginia Highland
Home to over 12,000 books, Virginia Highland Books is a cozy new addition to the neighborhood.
For years, it had been owner Sandy Huff's dream to open her own bookstore. Huff and her family had been brainstorming ideas for the name, book selection, and location but with no real plans to take action.
"We were just dreaming big," Huff said. "Then, in January, I just happened to be in the neighborhood and saw the 'for sale' sign in this location. It felt like, if a bookstore was going to make it, this location is where it possibly could."
Huff jumped at the opportunity and decided to make her dream come true. The wholesaler Huff used helped with the layout and design of the store, which made the process more efficient.
"This bookstore just fits the neighborhood so perfectly," Huff said. "The book community is incredibly supportive and cooperative during the process."
Formerly housing clothing store Empire South, the large spaces afforded Huff the ability to shelve books from floor to ceiling.
"The building itself has been here for a while, so it's got the exposed brick walls and the old hardwood floors, and it just feels like a bookstore," Huff said. "We are trying to go for a cute and homey feeling with lots of mix-matched rugs, comfy chairs, lamps, and art on the walls, so you can sit down and pick up a book."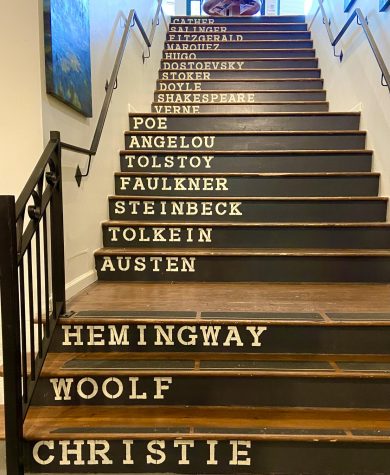 Senior Meg McGahan described the environment as "welcoming and happy."
"I thought it was very neighborhoody, and I had a great experience," McGahan said. "There's just a lot of positive energy in there. The employees were super nice; they commented on each book that I was purchasing and told me how they had loved reading them."
Huff and team have an entire section dedicated to children's books, adding to the diverse collection of the store.
"We have a really cute kids section with a lot of good kids books," employee, former editor in chief, and  2021 graduate Dana Richie said. "To see the little kids coming in and giving them recommendations is something that is really cool. Building that connection with kids in the neighborhood is something else that makes our store special."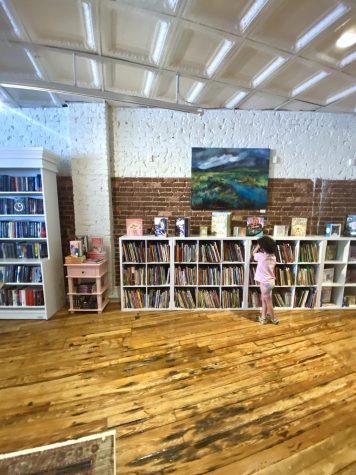 Since the opening, the store has gotten mass amounts of attention from around Atlanta. Huff described the turnout of people as, "way more than I expected."
"I think that because this is within walking distance for so many people, that makes it super unique," McGahan said. "It's the perfect location, and it's the ideal spot for a bookstore because you've got lots of coffee shops and food everywhere."
The location of the bookstore is another strong feature that pulls customers to Virginia Highland.
"With Virginia Highland, we are definitely having some synergy with Perc, the coffee shop, and the new ice cream place that's opening up," Richie said. "I think that this is going to be a new intellectual nook for people to come in and hang with friends or have a date. I think we are really feeding off other businesses and having that coalition is really nice."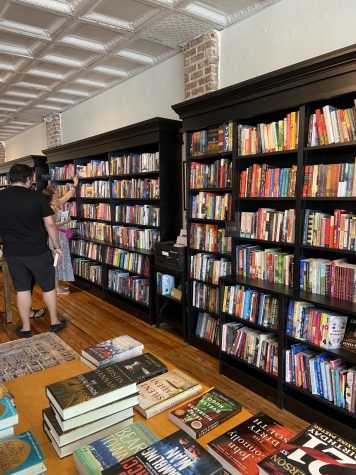 The employees at Virginia Highland Books aim to make the community their top priority.
"A lot of the employees are high school and college students, and it's just a really good dynamic," Richie said. "Everyone is so welcoming to each other and to the customers, so I think that helps feed into the friendly neighborhood vibe."
The open nature of the store adds to the sense of community and comfort.
"I think this bookstore is definitely more unique compared to other bookstores because it has so much space," McGahan said. "You walk in, and it's super open, which I think is really nice because it feels more communal that way."
The independent bookstore strives to stand out from its competitors.
"In order to compete with places like Barnes and Noble, we can give [customers] what they can't really give, which is charm," Richie said. "It feels more like a small town shop, and it definitely has a lot of really cool books that you maybe wouldn't find elsewhere. We are very catered to the community because we know that's what makes our bookstore special and that's what draws people in."
Huff has always loved reading, and sharing her passion with others has added to the positive atmosphere.
"I just really want to share books with people because I'm a huge reader," Huff said. "I want to encourage people to read and encourage the love of reading in children. I think this is a great place to have people come in and chat about books and what they're reading."
In the future, Huff hopes to start a book club at the store to share and spread the love of reading.
"Once our website gets up, we really want to have an opportunity for not just our staff to give lots of recommendations, but all the neighbors and have young adults give recommendations and reviews of books," Huff said.