Porchfest leads the return of festivals in Atlanta
After almost a year of not being able to see live music in-person, hangout with neighbors or eat from food trucks, the Virginia Highland "Porchfest" led the neighborhood in transitioning people  from the couch back to pre-pandemic festival life. 
Held in early May, Porchfest was a neighborhood event where residents of Virginia Highland volunteered their porches and front yards for different local bands to play throughout the day; this is the first year it has been held in Virginia Highland. Attendees were also able to purchase food from 12 Atlanta based food trucks.
"My experience was a 10/10," senior Bianca Weber said. "The weather was great, the food was amazing and the music was incredible. Plus, it was free!" 
The festival was expanded to span five streets near John Howell Park, which helped visitors spread out in accordance with Covid-19 precautions. However, crowds still formed at separate houses, and masks were not mandatory. According to Christina Carrick, Virginia Highland District Board Director and Porchfest Chair, surveys done by the Virginia Highland District found around 70% of attendees were fully vaccinated. 
"I don't know if I would consider it Covid-safe," Weber said. "A lot of people were wearing masks, and it was outside, but then again a lot of people were not wearing masks."
As the number of vaccinated people grows, more festivals including Music Midtown and the Dogwood Festival, which were cancelled last year due to Covid-19, are scheduled to return later this year. 
"I really enjoyed it because I had not been to a festival in over a year because of Covid, and it was really fun to see my friends and other people around the neighborhood," sophomore Jory Richardson said. 
Many of the bands showcased had not played to a live audience since before the pandemic. Lovechild, a band formed in March 2020, was one of the 50 musical acts playing at the festival. 
"Porchfest was something else," said Lovechild lead guitarist and 2018 Grady alum, Sam Epstein. "You could tell everyone in the audience was ready to hear some live music, and we were ready to play. Overall, it was a really solid show." 
One of the specialities of Porchfest is that attendees are able to hear music from lesser-known local Atlanta bands. 
"I love live music, and it was really fun considering I got to see a lot of music that I don't usually hear on the radio," Weber said. "It gave local bands a chance to perform for a crowd, which they probably haven't been able to do because of Covid." 
Porchfest's goal was to bring the Virginia-Highland community together for a fun festival as Atlantans start to return to pre-pandemic life.
"After experiencing the local Oakhurst Porchfest for several years, we really wanted to bring that energy to our neighborhood," Carrick said. "Our mission is to revitalize the business district and community and Porchfest was a perfect way to help achieve that goal."
After being isolated from everyone in the community for over a year, most people agreed that the highlight of the festival was being able to gather and have a good time. 
"The best part was seeing everyone from the community come together for a good day of music," Epstein said. "With countless bands up and down the streets, there was no shortage of it. It's just great to be playing music."
The Virginia Highland community plans to make the event an annual festivity, with a few tweaks for the future.
Leave a Comment
About the Contributor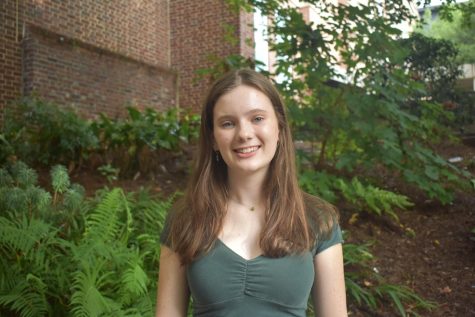 Greta Gustafson, Co-Editor in Chief
Greta Gustafson is a senior and this is her third year working on the Southerner. She is on the Midtown lacrosse team, and in her free time, you can find...