Junior Everett Stubin strays from typical teenage pastimes
Rock climbing and woodworking are not your typical teenager pastimes, but they are favorites of Grady junior Everett Stubin.
Stubin got into woodworking three years ago, and it has since become an important part of his life. 
"I took a class at Highland Hardware and really enjoyed it," Stubin said. "I took another later on and it took off from there. The ability to make things is not so common anymore, and I really like that I can envision something and make it into an actual object."
Since then, Stubin  has created a woodworking shop in his garage at home. He primarily wood-turns, a style of woodworking in which a lathe is used along with various other handheld tools to create an object symmetrical around an axis. Stubin uses this style to create bowls, pins, wine stoppers and similar objects. He sells select pieces through commission on his Instagram, @stubinwoodworking.
Jacob Domerowski graduated from Tucker High School last semester and also has his own woodworking business, "Oakdale Handcrafted."
"We haven't worked together a lot, but I recently made a chessboard with him," Domerowski said. "Since he usually wood-turns, whenever he does a flat project he doesn't always have the tools for it. For this project, he came over to my shop and I helped him out."
When Stubin isn't woodworking in his garage studio, he can be found at the rock climbing gym. Stubin started climbing a year and a half ago after his brother introduced it to him. 
"Right before the pandemic or a little bit earlier, I tried rock climbing," Stubin said. "I was really surprised that this thing had been in my life for so long, and I had never really partaken in it. It ended up being really fun and from that point on I was obsessed."
Stubin enjoys the sport not only because it is fun, but also because of the athletic aspect.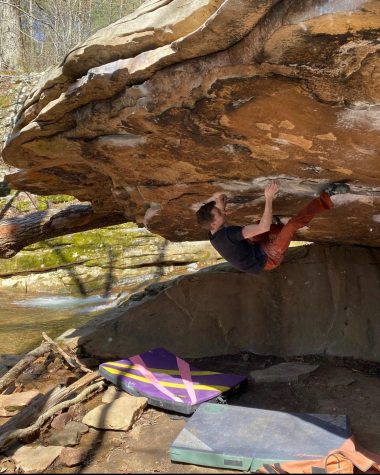 "Rock climbing is like fitness but cheating," Stubin said. "It's just something that is so fun and so amazing for your physical health. You get a lot stronger, healthier, and it doesn't even feel like you are doing any work. 
Matt Parsons, a Clemson graduate, often boulders with Stubin. Bouldering is a form of free climbing, where the climber climbs harder routes shorter than 20 feet. 
"One of the best things about Everett as a climber is that he has a dialed focus, a part of climbing that I have more-or-less ignored over the years in favor of an 'I'll just have fun' approach," Parsons said. "Meeting him has been a great way to get my act together and work to improve my skill and strength so that I can get some harder sends."
Stubin also rock climbs with Domerowski, who relishes the puzzle that climbing together can bring.
"I enjoy the community that comes alongside rock climbing," Domerowski said. "For example, when you are trying to figure out how to do a climb with someone else, but they have a different body type and some things work for them but don't for you. When climbing with Everett, he's a bit shorter than me, so we have to come up with all sorts of different ways to use our strengths and navigate the climb."
Though few students have hobbies like woodworking and climbing, Stubin suggests that trying new and unconventional things can be beneficial.
"I think what drives me for both activities is the desire for self improvement," Stubin said. "They're both activities where it's easy to gauge how much progress you've made, it's always apparent in your results."