Girls soccer makes playoffs, advances to 2nd round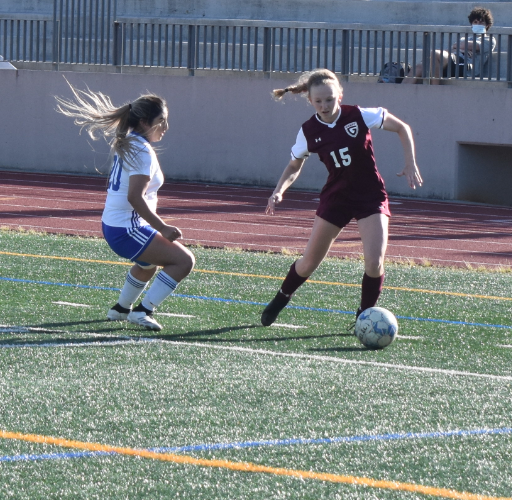 The girls soccer team qualified for the playoffs after finishing the regular season 9-5-3 overall and 6-0 in Region 6AAAAA.
From the get-go, the girls' intensity has propelled them past the competition.
"We just really came out with this sort of fire and need to win this year, and I think we could attribute that to our coaching staff," senior co-captain Elise Isakov said. "The coaches have really pushed us. Every practice, you give one hundred and ten percent, so you can go out there and shut down the competition."
Senior co-captain Sam Huray said practices have been more productive than in previous seasons due to the team's depth of talent.
"Every single girl out there has played soccer before, so there's that kind of baseline technical ability," Huray said. "Every single girl challenges each other at practice. We really have a talented group of people out there. Everyone truly works hard and shows their talent in all the games and practices."
Isakov cited the team's skill level and attention to detail as the cornerstones of the girls' dominance on the field.
"Our team is just very well-rounded," Isakov said. "We have a lot of strong players in every single position. The way we play is just very seamless and smooth. Everyone on the team is amazingly technical, so no one's just strong or just fast. That's the edge I think we have over other teams."
Among other things, first-year head coach Blair Barksdale has challenged the girls with tough opponents, forcing them to take their game to the next level.
"Our coach has reached out to these other programs and really worked to schedule games against the good teams," Huray said. "Just having that consistency of having those really good soccer programs to play against has helped us grow tremendously."
Winning their region heightened team morale and gave the girls home-field advantage in their first playoff game.
"This is the second time we've won region, and we did it pretty convincingly, so that was just a really big confidence-booster," Huray said. "We also get home-field advantage for our first game. I just feel really good about where we are and our direction."
Clinching the No. 1 seed from their region also matched the Knights up in the first round against Cass, the No. 4 seed from Region 7AAAAA. Led by freshman player Allie Planeaux and sophomore player Archer Streelman, who both scored twice, the Knights beat Cass 6-0 on Wednesday, April 21.
"They performed very well," Barksdale said. "They really executed, which is what you want to see at the end of the season, so I'm very proud of them."
On Monday, April 26, the Knights will play against Decatur, the No. 3 seed from Region 5AAAAA. Last time they encountered, the Knights won 1-0 in a penalty shoot-out. Accordingly, Barksdale said "keeping them mentally ready" is crucial.
In Huray's words, the sky is the limit in terms of what the girls can accomplish in the postseason.
"Obviously, we want to go as far as we can," Huray said. "If we do what we're supposed to do, we have a chance to go really far. I'm just trying to take it one game at a time because that's all you really can do."