Edwards brothers leave their mark on lacrosse team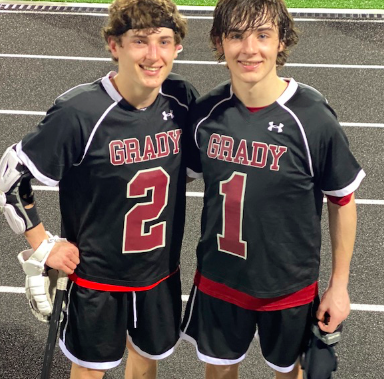 Lacrosse is a family affair in the Edwards household. Brothers Kevin and Brian Edwards, continue this legacy. 
Kevin Edwards, senior captain of Grady's lacrosse team, said his parents, former collegiate lacrosse players, fuel his passion.
"They have everything to do with it," Kevin said. "They have a love of sports and that's just passed down to me. If we're not playing sports, we're watching sports; they just encourage us to try our best."
Mother Peggy Edwards said the two brothers are constantly on the move. 
"They have such a passion for it; they're always practicing," Edwards said. "At lunch, or their 10-minute break, they'll hit the driveway and start either shooting baskets or shooting on a goal. They just love their sports."
Sophomore Brian Edwards sees sports as more than just competition; he sees it as a calming outlet.
"When I get stressed, I go play sports," Brian said. "It really takes my mind off things. It's like going to a different world."
Brian's main love for lacrosse comes from the team oriented nature of the sport. 
"[My favorite part about lacrosse] is how you can't just be good," Brian said. "It can't just be a one-man show; you've got to be able to work with your teammates."
The team is now 6-4 in all competitions and head coach Tom Estella relies on the duo. He says Kevin is a leader and a playmaker.
"Kevin sets a great example out there for other people to watch," Estella said. "In closer games, he's one of those people that isn't afraid to take the ball and set an example of what we should be doing on offense. He's kind of like a second coach."
Estella said Brian's skill makes him an essential asset to the team. 
"Brian is one of our better and more experienced players, so having him on the team helps sort of mentor the younger players," Estella said. "We try to leverage his athleticism across the field so we'll have him playing in multiple different positions. The fact he's able to do that really helps the team."
Even though Brian is an underclassmen, Kevin still sees him as an important figure in helping and supporting his teammates.
"I know he's only a sophomore but he still does a good job of helping his teammates out with fundamentals," Kevin said. "I think next year he'll definitely step up even more than he already does."
Kevin shares experience in order to help strengthen the team as a whole.
"A lot of the team is sort of new to the sport," Kevin said. "I just try to help them with fundamentals, learning the game and to develop a lacrosse IQ."
Lacrosse has helped foster a unique connection between the brothers on and off the field.
"We've always been playing together so we know what we're going to do on the field," Kevin said. "Off the field we'll break down the game, correct each other and make suggestions."
Brain cherishes the advice Kevin gives to him, hoping it will lead to more success when he plays. 
"If I ever mess up, he'll always tell me what I did wrong," Brian said. "He'll help me fix anything and so when it gets to a game, I won't mess up."
Edwards notices the effects of Kevin's influence on Brian. 
"Kevin is such a huge influence to Brian," Edwards said. "Brian has won a few accolades and we always tell Kevin that it's also a win for him because he's the reason Brian got to this level."
Brian sees constant competition against his brother as a great way to improve each other.
"He's always been better than me," Brian said. "So, for me to be able to go against him everyday allows for me to be so much better."
Kevin feels similarly about how lacrosse has impacted his relationship with his brother. 
"It actually makes us much closer," Kevin said. "We're like friends too and I think competing against each other is fun and we're also doing something we really love."
The love of sports runs rampant through the Edwards house 24/7, especially on game day.
"On game days, I'm fired up from the morning to the afternoon," Edwards said. "There's always a buzz in the house on gameday."
Before every game, Edwards relays a motivational message to the brothers.
"Before walking on the field, I always tell them 'You [have] to give it every ounce of you'," Edwards said. "You don't want to leave the field and say I could've done a little more."
There is nothing that Edwards loves more than watching her sons play.
"My dad used to always say to me the best years of his life were watching me play and I used to not believe him," Edwards said. "Now as a parent, I feel the same way; it's so exciting to see them."
The first time seeing the two play together was a special moment for Edwards.
"The first time they played together was one of Kevin's rec leagues and they needed an extra player so Brian got on the field," Edwards said. "By looking at me, you would've thought I hit the jackpot. I was so excited."
It was during this thrilling triple overtime game against North Springs, that Kevin scored the winning goal. For Kevin, this was his favorite moment the two have shared together on the field.
"Brian intercepted a pass and ran down the field, passed to me and I scored to win the game," Kevin said. "Everything about it,  being an assist from my brother and it being triple overtime, made it that much more special."