Sophomore Aden Mikus places in All-State art competition
Since elementary school, Aden Mikus has had a passion for the arts. Now a sophomore, Mikus finds herself a state finalist in the All-State Art Symposium.
Born into a family of artists, Mikus was constantly encouraged and supported to create. Art has been a part of her life for as long as she can remember. 
"When she was younger, I was always pushing her to draw," Elizabeth Crawford, Mikus's mother, said. "My husband and myself are both in the art field; it has been engraved in her ever since she was little."
At only 10 years old, Mikus was asked to display her work at an exclusive mayor's event. This included the privilege of hanging her art in the Clermont Lounge and eventually Atlanta City Hall.
"I was asked to enter the program; so, I made the piece and gave it to my teacher who submitted it," Mikus said. "It was a really exciting experience, especially for a sixth grader. It's what really got me started."
Recently, through the Grady art program, Mikus submitted a piece to compete in a state competition, the All-State Art Symposium. A few weeks after her submission,  Mikus decided to check the symposium website to see how her piece was doing. To her surprise, her name was listed as a state finalist.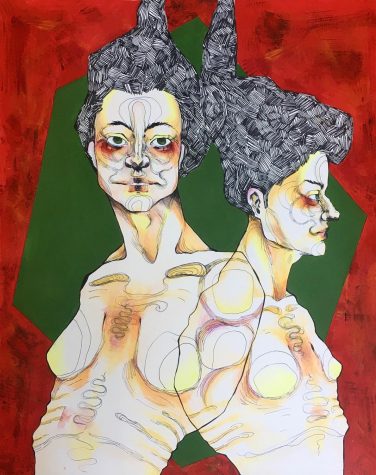 "It took me several days mentally to understand that my art was in a state competition as a finalist, and honestly, it's still something that feels surreal," Mikus said. "Overall, I am excited and hoping for the best."
Mikus has grown as an artist, constantly experimenting with new textures and ideas, while also participating in Grady's art club. This includes attending festivals and selling commissions. 
"It's honestly incredible how Aden has gone from drawing mediocre hand sketches to beautiful portraits of people in what seemed like seconds," Naiomi Partridge, a sophomore and close friend of Mikus, said. "Now competitions and festivals? I couldn't be more proud."
Mikus credits much of her success to social media, specifically Instagram. 
"I really enjoy social media as a way to show my artwork," Mikus said. "More people know what I am passionate about, [and] it spreads the word. It is helpful to get a greater audience."
Mikus' Instagram platform is her largest audience with over 800 followers. Throughout the colorful feed, there are pictures of her sketches, pottery, digital art and paintings.
"You can have people from all over the world see what you are doing," Mikus said. "You can even be inspired by other people, too. The possibilities are endless. Social media is a really great binder for artists all over the world."
Mikus recommends a business account for all beginning artists. She explains how beginners are able to see their demographics, such as what genders and ages view their page, as well as which posts do the best. 
"I have already grown so much thanks to Instagram," Mikus said. "I want to know where social media can take me. To all the people out there who really like art but they are scared to post it online, just do it. Social media will help you so much as an artist; the growth is really endless."
Mikus says she is shy, but art is a way to escape.
"I feel like art is the opposite of isolating; it was something to talk about," Mikus said. "Art can mean so many things to you versus what it means to me. It's really fun to put your perspective into art and see what others take away from it."
Mikus dreams of attending Rhode Island School of Design to further study art and science after she graduates. 
"We weren't surprised when she said that she wanted to enter the art career field," her mother Crawford said. "We spoke with her about what paths she could choose and what she might be interested in."
Mikus wants to work in the field of medical illustration, where she can create detailed drawings for textbooks and publications used by physicians and students. Mikus, however, understands the uncertainty of the career path. 
"Some people don't pursue art because of the fear of failure," Mikus said. "You should pick something in your life that truly makes you happy; I know that if I didn't pursue art, I wouldn't be happy. I would constantly be looking back and wishing that I had followed what I love."