Stop thinking that Biden will solve all our problems
With Donald Trump out of office, many Americans are breathing a sigh of relief. There's widespread hope that Joe Biden's presidency will bring competent leadership back to the White House and won't be plagued with resigning officials, impeachments, conspiracy theories and an outstanding number of lies.
But since Biden's inauguration, there's been a surprising attitude on social media and the news that he and Vice President Kamala Harris are going to single handedly and miraculously fix the large host of issues they were faced with when they entered office.
Even though Trump is out of office, this is not the time to ignore and put blind faith in our leaders. Biden and Harris are seasoned politicians, but we're in a difficult stage of our country. To think that two people can make a pandemic, partisan gridlock, constitutional crises and widespread financial struggles disappear in four short years is frighteningly naive.
Our leaders need to be held accountable, no matter what party they represent. Each new presidency ushers an age of reignited hope, but it shouldn't bring in a new age of ignorance. Now is not the time to sit back and think that our government will always have our best interests in mind.We need to keep pushing for legislation that we care about. Joe Biden's election was not a cure-all. This country still has problems, and he and Harris have work to do.
The economy is in massive disarray, with Biden saying that the economy has lost 10 million jobs due to the pandemic. His $1.9 trillion economic stimulus package, which now looks like it will pass Congress, wants to send $1,400 checks out to those who aren't considered "high earners" and work on rebuilding the economy. This bill needs to effectively rebuild our economy and not fall short like previous stimulus bills, where large businesses profited more than small ones.
Ultimately, the president's job is to listen to his constituents and do what is best for them. He can't do that without feedback and criticism. If we all just leave it up to him, bills that will hurt ordinary Americans and help big business, like the previous stimulus bill, will continue to be passed. To make Covid-19 relief effective, we have to continue holding Biden accountable.
Biden has proposed a mountain of ambitious legislation. He wants to bridge the gap between Democrats and Republicans to foster true bipartisan cooperation, address policing issues nationwide, put the U.S. on course to achieve net-zero emissions by 2050 and get Covid-19 under control. Any one of those issues is extremely complicated and hard to tackle, and to think that Biden's going to fix all of them, stabilize the economy and fulfill his other campaign promises is unrealistic.
Biden has a massive agenda, and not everything is going to get done or done the way he and his supporters want it to. This is where the American people come in.
Ultimately, the president's job is to listen to his constituents and do what is best for them. He can't do that without feedback and, frankly, criticism. If we all just leave it up to him, bills that we care about will not be passed or will be edited to make them more palatable for bipartisanship.
The unfortunate thing about Biden's promise to work with Republicans is that it might negate other promises, such as the $15 federal minimum wage, in favor of bipartisan support for legislation. With the slim majority the Democrats hold in the house, policies will need to be edited in order to get them passed, as Republican votes might be needed. The stimulus bill had the proposed minimum wage increase removed in order to allow it to pass the House.
We need to continue voicing our opinions on his policies and his priorities, and push for him to keep items that matter to us on the legislative agenda, whether it's the minimum wage or the broken Covid-19 vaccine distribution process.
The president and vice president are going to make mistakes, forgo campaign promises and betray the very people they courted to vote for them. That's the nature of being in a position of power where tough decisions are made. We need to continue to hold our leaders accountable and push them, no matter who they are, what their past record is or how much we trust them. Getting Biden elected was a first step. Now, we need to make him act.
Leave a Comment
About the Contributor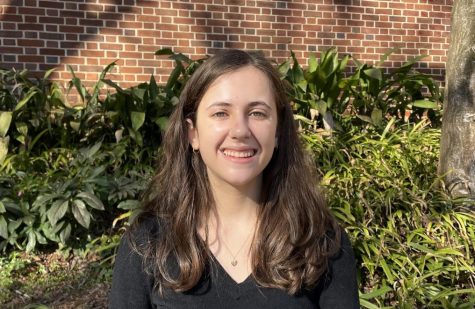 Anna Rachwalski, Co-Editor in Chief
Anna Rachwalski is a senior and this is her third year writing for the Southerner. Outside of the newspaper, she is president of the Quiz Bowl team, is...