Student starts vegan skincare business: Glo Zen
Skin care is important to many teens, and struggling with acne is a difficult but not uncommon problem faced by many high school students. Therefore, many turn to skincare products to keep their acne in check.
One student took matters into her own hands, and started a business to help others find a product that helps clear their face.
Sophomore Nylah Shepherd's business, Glo Zen, is a vegan, cruelty-free, gluten-free and entirely natural skin care line. Cruelty-free means that the products were developed without the use of experimentation on animals.  She started the business to create products that work for all skin types, including her own.
"It is a business that I wanted to start, because for years, I've been researching different types of skincare products that would work for my skin," Shepherd said. "Sometimes, it would work, but other times, it wouldn't; so, I decided to create a business that could help myself and others clear their skin."
Glo Zen features 10 products that include two cleansers, two creams and moisturizers, a toner, a serum, a detox mask, an eye gel, a cooling gel and a face mist. Shepherd wanted to make sure that there was a product for everything.
"All of these products are what the majority of people use in their skin care routines so we wanted to incorporate all of them," Shepherd said. "For the most part, the products have good antioxidants and nutrients that are good for your skin."
She began working on Glo Zen in the summer. Launching the line took six months, a difficult and lengthy process made easier with the help of her mom and partner, Tina Shepherd.
"My mom is an entrepreneur herself, and she's been my partner in creating this business," Shepherd said. "We started working on July 4th. We came up with the name, and we legalized everything in one day. Then, from that point on, we were figuring out what products we wanted and building our website and also growing our social media pages."
A key part of starting the business was finding a private vendor who could manufacture the different skincare products. The vendor only sells vegan products.
"When we found the vendor, we saw that their products were vegan and cruelty-free, and I don't think we thought much of it at the time when we were actually starting the business, but when we researched about how that's beneficial to skin, that was an extra bonus," Shepherd said.
Not many skincare brands are vegan, so finding vegan products can be difficult. Senior Kristen Hart is vegetarian and partially vegan, particularly when it comes to beauty products.
"There are two key parts about purchasing a vegan skincare or makeup product for me," Hart said. "It's one, that it's cruelty-free; and two, that the ingredients are vegan."
Hart is passionate about not supporting any companies that use animal cruelty. After being vegan for two years and only purchasing cruelty-free, Hart has become familiar with the ingredients in products.
"Basically, because I've been doing this for so long, I kind of have an inventory of what brands I can buy from in my head," Hart said. "NYX is cruelty-free, e.l.f. is cruelty-free and vegan and Tarte is cruelty-free."
Hart believes that deciding to run a vegan and cruelty-free business is difficult, but important.
"It's a really big step when a company chooses to go cruelty-free and vegan," Hart said.
Shepherd and her mother found it important to research as much as they could about skin care before creating their products. Shepherd had some prior knowledge, but she has learned much more.
"Nylah did extensive research on the products before purchasing them," Tina Shepherd said. "She has also been very consistent with her social media posts."
One of the first things Shepherd set up was the Glo Zen Instagram page. Since then, the page has grown and given Glo Zen exposure.
"I think the business has been pretty successful so far," Shepherd said. "We just launched a month ago, and our Instagram page has grown a lot. We've had plenty of orders from our family and friends, but we did just get our first customer that we didn't know."
Shepherd knew that she was interested in starting a business, but for a while, she was deciding between hair products and other ideas. Her mom suggested skincare.
"I didn't automatically know that I wanted to do a skincare business," Shepherd said. "I knew I wanted to start a business. I just never knew what type. I never thought of skin care as my business until my mom brought it up. She was like: 'You're pretty interested in skin care, and you're always buying new products for your face.' I agreed, and we started to work together to come up with a skincare line."
Shepherd is looking to continue Glo Zen as long as possible. She has plans to launch new products once the business grows, and she believes that there is a good chance she will study business in college.
"Glo Zen is a business that I never thought I would start at such a young age, but I'm very glad that I did," Shepherd said. "I hope our company grows, and we can help myself and many others achieve the skin that they've dreamed of."
Leave a Comment
About the Contributor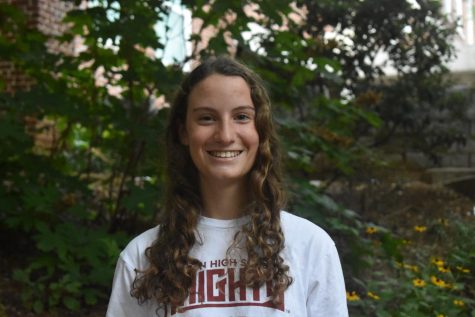 Shay Bowman, Lifestyle Managing Editor
Shay Bowman is a senior and this is her third year writing for the Southerner. When she's not writing, she's playing club and school soccer, practicing...