Franklin helps Grady athletes succeed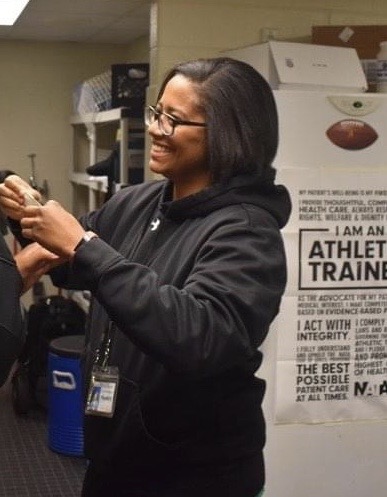 If there's one thing athletes know, it's that injuries are sometimes unavoidable. Student athletes have to go through a healing process, and help from a medical professional is often needed for a positive and fast recovery.
LaToya Franklin has been the Grady athletic trainer for almost six years. From a young age, Franklin wanted to be involved with young athletes.
"When I got injured playing basketball in high school, I had to go through therapy and the physical therapist actually said, 'Oh just fill in your athletic trainer at your school, she can do some of the stuff that we are doing here,'" Franklin said. "That's kind of  when I got an idea of what an athletic trainer was [and] what an athletic trainer does on a daily basis."
To become an athletic trainer, Franklin had to complete four years of college, pass a national certification exam and become licensed to practice athletic training in Georgia. Her  job entails many different things, including coordinating physician coverage for football games, scheduling student-athlete appointments and covering Grady practices and home games.
"It's kind of multifaceted," Franklin said. "I'm actually hired through WellStar Atlanta Medical center. We have an outreach program; so, I supervise the other athletic trainers that work for APS, and then I also work with the student-athletes at Grady High School. Any injury rehabilitation, injury evaluation, anything like that, that's what I do."
 This year Franklin's role has become even more important to help combat Covid-19.
"It's been stressful, to be honest, and it's a learning curve for everybody involved, coaches, athletes, parents, athletic training staff, athletic training students, dealing with a day-to-day [of] not knowing," Franklin said. "You get a set schedule and then get a text message saying, 'Oh we don't have practice today. 'It might be covid-related; it might not be; we don't know, though. You just go with the flow."
Athletic Director Patrick Johnson emphasizes that, in the midst of the pandemic, Franklin's critical role is more important now than ever.
"She does a little bit of everything," Johnson said. "Especially this year, with the pandemic, she's played a big role in helping make sure that our teams and our coaches are following Covid protocol. She's been a great resource on what to do in different situations. She's always had a big role in the past but, especially this year, she's been extra valuable."
Johnson has worked with Franklin for the each of his two years at Grady. He believes she is a great colleague.
"Working with Ms. Latoya is great," Johnson said. "I have been coaching for a long time, been an athlete for a long time, [and] I've been an athletic director for a couple of years and that relationship with the athletic trainer is always really important, no matter where you are in athletics. I have been around a lot of different athletic trainers, some good, some bad, and Ms. Latoya is a really great person to work with. Our students all really enjoy her.  She is a hugely valuable asset to all of our Grady sports people."
Senior Ameah Richardson runs track and is a cheerleader. She had to visit Franklin this year to help identify an injury.
"I hurt my knee," Richardson said. "We were not really sure exactly what it was, so I decided to go to Ms. Latoya to get a professional opinion on it. I came in around three times to see her. She gave me a bunch of exercises and some exercise bands. She made me give her updates on how I was doing the exercises. She recommended me to an athletic doctor; they were both in contact with each other, as well, to get my progress."
Franklin's personality and attitude help athletes cope with their injuries.
"It was very helpful," Richardson said. "I've been going to Ms. Latoya for my entire four years of Grady because it never fails; I get injured every year. She has always managed to help me, and help me have a better season. She is always helpful, very caring. She makes each situation really personal. I've seen her with numerous athletes, and for each one, it's like a special visit. I would definitely recommend her to any Grady athlete that had any injury."
For students interested in becoming athletic trainers, Franklin encourages them to dig deeper and fully understand what the job includes. People may think athletic trainers just wait for athletes to get injured, but there is much more that goes on off the field.
"Definitely get some exposure or experience before you take that route in college," Franklin said. "If you have an athletic trainer, follow them around, see what they do, ask them a bunch of questions. There are a lot of hours that are put in. There's a lot of things people don't see. There are so many more components to the job then what you see as just a fan at a game."