Hank Aaron leaves lasting legacy
Hank "Hammer" Aaron, one of the greatest baseball players in history, who smashed the all-time home run record in the face of racism and threats to his life, died on Jan. 22 at age 86. 
Throughout his 23-year career with the Braves, in Atlanta and Milwaukee, Aaron became a legend of the sport and etched his name into the history books. Aaron was admired by his peers on and off the field, as a player and a leading civil rights activist. He defied all odds and became an idol for many children across the globe.
Baseball Hall of Fame chairperson Jane Forbes Clark said in a statement, "Hank Aaron's incredible talent on the baseball field was only matched by his dignity and character, which shone brightly, not only here in Cooperstown, but with every step he took. His generosity of spirit and legendary accomplishments will live on forever."
Aaron was born in Mobile, Alabama in 1934, and was one of eight siblings. Aaron grew up poor, and in his early days, he honed his skills by hitting bottle caps with sticks, as his family could not afford proper equipment. He would create his own bats and balls out of materials he found in the street. As a child, Aaron idolized Jackie Robinson not only for his legendary play on the baseball field but also as a civil rights activist who broke down the Major League Baseball's color barrier. From a young age, he was expected to help in making the family money, picking cotton among other jobs, instead of playing baseball.
 In high school, however, his talent was promptly recognized. He was discovered while playing for the semi-pro Mobile Black Bears at age 17 by a scout for Major League Baseball powerhouse team, the New York Dodgers. Though he did not make the team, the opportunity shone a light on Aaron and he was soon signed by the Indianapolis Clowns of the Negro American League where he played for three months. After his standout play for the Clowns, Aaron received two Major League offers from the New York Giants and Boston Braves, he eventually took the Braves' contract as they offered 50 dollars more per month. In 1954, the Braves bought his contract from the Clowns for 10,000 dollars.
After signing for the Braves, Aaron experienced cruel racism from fans, who did not want a Black player on their team. He was repeatedly called racial slurs, and as Aaron later recalled, in one instance after eating at a restaurant, the waiters threw out all of the plates he had eaten on because he was Black. However, after he hit the field, everything changed. Aaron made an immediate influence on  the Braves, drastically changing the franchise from a losing one to a winning one. In his first year, Aaron had a high .280 batting average and hit 44 home runs. For his outstanding play throughout the season, Aaron was named an MLB All-Star. By the end of his career, he would receive this honor a record 21 times.  
For the next 20 years, Hank Aaron dominated the Major Leagues, setting records that stand to this day and closing in on the most coveted record in baseball: the home run record. Babe Ruth held the record with 714 home runs. At the end of the 1973 MLB season, Aaron had 713. Throughout the 1973 MLB offseason, the national media and baseball enthusiasts grew increasingly excited as he closed in on Ruth's record. Aaron received so many letters each week, including highly racist hate mail,  the Braves had to hire a secretary to sort through his mail. He even received a plaque from the United States Postal Service for receiving the most mail that year, more than the president. Aaron later revealed in his 1991 autobiography, "I Had a Hammer." that much of the mail he received was vile and cruel racism with many letters containing death threats. The situation got so bad that the FBI had to investigate some of the most severe threats. In his book, Aaron described the impact the mail had on him.
"The Ruth chase should have been the greatest period of my life, and it was the worst," Aaron wrote. "I couldn't believe there was so much hatred in people. It's something I'm still trying to get over, and maybe I never will."
On April 8, 1974, Aaron and the Braves returned to Atlanta with Aaron tied with Ruth for 714 runs. He was looking to pass Babe Ruth in front of a Braves record of 54,000 fans. In the fourth inning, Dodgers pitcher Al Downing pitched a fastball at Aaron, who promptly hit a home run and broke Ruth's record. Legendary Braves announcer Milo Hamilton called the home run and described the scene live:
"Henry Aaron, in the second inning walked and scored," Hamilton said.  "He's sittin' on 714. Here's the pitch by Downing. Swinging. There's a drive into left-center field. That ball is gonna be-eee … Outta here! It's gone! It's 715! There's a new home run champion of all time, and it's Henry Aaron! The fireworks are going. Henry Aaron is coming around third. His teammates are at home plate. And listen to this crowd!"
After the 1974 season, Hank Aaron moved to the Milwaukee Brewers from the Atlanta Braves, after 20 years with the team, and numerous records set and All-Star games made. Aaron left the Braves with 733 home runs hit, 16 more than Ruth's previous record. In Milwaukee, Aaron hit 22 more home runs, and retired with 755, smashing the previous record. 
Hank Aaron retired in 1976, having made 25 All-Star appearances, winning one World Series, and having set the all-time home run record among others. Aaron was inducted into the Pro-Baseball Hall of Fame in 1982, his first eligible year, with  98% of the vote, one of the percentages highest ever. 
As legendary and influential as Aaron was on the field, he left just as much impact off of the field with his work in the civil rights movement. Aaron broke barriers in baseball and continued to fight for racial equality far after his career ended. He stated on numerous occasions that his civil rights activism, which came during a time of deep civil unrest, was his greatest accomplishment in life. 
Hank Aaron endured racism throughout his career and fought through it for what he believed. He played 13 years in the Major Leagues before the Civil Rights Act of 1964 was passed. However, as Aaron grew closer to Ruth's record, the racism and vile comments only got worse and led to Aaron stating that he just wanted to run away to a place where nobody had heard of Babe Ruth.
Despite the racism, Aaron continued to use his platform as a Major League Baseball star to champion civil rights. Aaron continued to lobby for efforts to encourage young Black boys to stay in baseball, and bought equipment for many teams in his hometown of Mobile and in Atlanta. Aaron also lobbied for more Black men to be in senior management of MLB teams. Aaron became the first Black man in senior management of an MLB team when he was Vice President for the Braves, but due to his efforts, there are now 10 Black men in senior positions. 
Along with his work for racial equality in the MLB, Aaron also worked with the National Association for the Advancement of Colored People (NAACP), to provide underprivileged youth with financial and mentoring support.
Hank Aaron was a highly transformative figure not only in the Major Leagues but also in the civil rights movement. The impact that he had will live on forever. He changed the lives of many and became an idol and role model for many Black kids across America. Throughout his life, he touched the lives of many, and he will never be forgotten. 
"My motto was always to keep swinging," Aaron said when discussing his career. "Whether I was in a slump or feeling badly or having trouble off the field, the only thing to do was keep swinging"
About the Contributor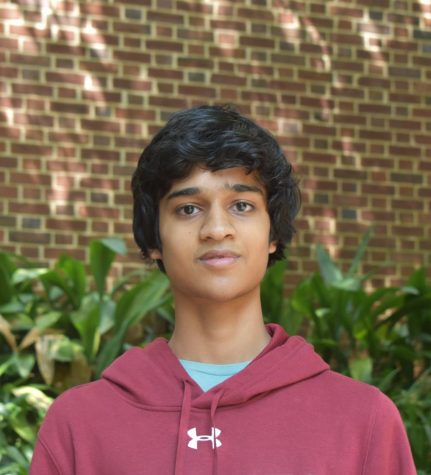 Sayan Sonnad-Joshi, Comment Associate Managing Editor and Weekly Activity Editor
Sayan Sonnad-Joshi is a Junior and Associate Managing Editor for the Comment Section on The Southerner. This is his second year writing for the paper....