The Green Flamingo plants down roots in Virginia-Highland
A welcoming window, vibrant flowers, a forest of plants and a bright pink wall. That's what locals see when walking past The Green Flamingo in the Virginia-Highland shopping district.
The Green Flamingo, started by owner Brad Scoggins, is a new plant shop with a retro feel. It houses a variety of plants that shoppers can purchase to spruce up their homes.
"The Green Flamingo is a destination plant shop located in the heart of Atlanta, where there are old school favorites, new exotics and other unique plants," Scoggins said.
The store opened Oct. 10 in the former location of Judith Bright Jewelry and has quickly gained recognition.
Sophomore Emma Lepik believes the bold and vibrant accent wall plays a key part in the store's attraction.
"It is really different from other plant stores because it has everything in one spot," Lepik said. "It is cute, and there is something about the pink wall I really like. The flowers also attract you in because they are really pretty."
The Green Flamingo opened during the pandemic and has taken safety precautions such as enforcing the use of masks and only allowing five people in at a time. Scoggins said that there were many challenges opening the store when he did.
"Opening during a pandemic was terrifying," Scoggins said. "And it still remains terrifying. I know how happy my plants make me, and if we could share that feeling with people, especially during the pandemic, how could we wait any longer?"
The Green Flamingo is a small, local shop that allows customers to find what they are looking for quickly.
Eighth-grader Molly Thompson said the store's quaintness makes looking for plants easy.
"It's easier to find everything," Thompson said. "The homey and welcoming atmosphere makes me feel less overwhelmed."
The store's partnership with Ginger Rose's flowers is unique. Ginger Rose specializes in floral design for weddings and other events.
Owner Alyssa Ice makes the flower arrangements sold at the Green Flamingo.
"Typically, I specialize in fresh flowers, but with the seasons changing and dried flowers being all the rage, I've done a lot more dried arrangements," Ice said. " You can come in and choose a premade bouquet and then bring it home to your own vase. It will be an everlasting beautiful arrangement for you."
Ice also makes custom arrangements.
"If someone has a specific color palette and a vibe of what they like, I can create something custom, which is fun," Ice said.
The shop is supposed to portray the beauty of nature, Ice said. She believes having a little potting soil on the floor never hurts.
"The space really celebrates the beauty of nature, but it also has a fun and funky vibe to it," Ice said. "I think a lot of times retail spaces can be too perfect, so we are leaning into the nuances that nature is imperfect. It is a space to be creative and embrace the fact that we are working with nature."
Scoggins also founded, with business partner Joshua Morgan, Little Barn Apothecary located a few doors down from The Green Flamingo. The store sells organic and handcrafted skincare products. Little Barn Apothecary inspired the idea to start The Green Flamingo.
"When we opened [Little Barn Apothecary] early this year, we filled the shop with some of my favorite plants," Scoggins said. "Everyday, we had customers ask if they could purchase our plants. We were tired of saying no, so we decided we would offer plants for sale a few doors down."
The Green Flamingo's atmosphere is aesthetically pleasing, Scoggins said.
"We offer a feel-good experience, where you can explore, ask questions, just browse or even sniff a leaf," Scoggins said.
The Green Flamingo will have an ever-evolving selection of live plants that will stay affordable in a full-service shop, Scoggins said.
"There are full service plant shop perks like free advice, full potting service (free of charge), and we love to just geek out with other plant nerds," Scoggins said.
Lepik is excited about the new plant shop and is hopeful it will stick around. She's already spreading a good word about The Green Flamingo.
"I definitely will tell my friends to go to The Green Flamingo because you can get anything you want there from flowers, to succulents, to hanging plants, to floor plants," Lepik said. "I think it is perfect."
Leave a Comment
About the Contributor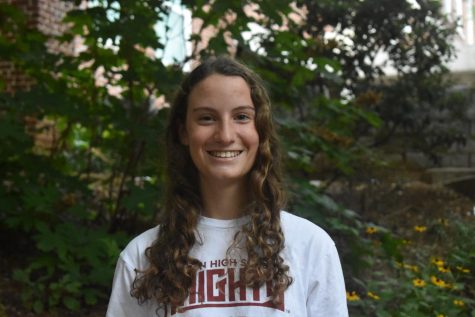 Shay Bowman, Lifestyle Managing Editor
Shay Bowman is a senior and this is her third year writing for the Southerner. When she's not writing, she's playing club and school soccer, practicing...