Grady gets out the vote
Some have called 2020 the year of reckoning. Others have dubbed it the worst year in recent memory. However, for some Grady students, 2020 has been the year of political activism.
Grady alumna Sarah Taylor graduated in 2015. At the time, Taylor did not imagine herself working with a political party.
"This political atmosphere that we're seeing right now is something that I had never experienced in my entire life," Taylor said. "When I was in high school, you know, it really wasn't that common for me and my friends to talk about politics. It wasn't really a major topic of discussion in the classroom."
Taylor took action after witnessing the political events of the past few years. Since June of 2019, she has been working with grassroots campaigns and canvassing for the Democratic Party of Georgia as a Field Organizer. She encourages those teenagers devoted to their communities to take action.
"I would like young people to know that becoming a state house representative or becoming a local representative is not that hard," Taylor said. "It really just takes passion. It takes drive. It takes a commitment to your community."
Some Grady students seem as passionate as Taylor. Senior Hollis Fluker was tired of seeing headlines highlighting the mistreatment and violence against the Black community. Fluker, a Black student, sees a clear need for change.
"I am tired of seeing black deaths capitalized for profit," Fluker said. "I am tired of seeing our pain dehumanized. Change needs to happen, and it will. I want to do everything in my power to be a part of that change."
To be the change Fluker wanted to see, he joined non-profit organization When We All Vote. The organization's main goals are to increase voter turnout and registration. Recently, it partnered with Atlanta Public School's "Good Trouble Voter Campaign" in order to honor the late Rep. John Lewis and register as many eligible voters as possible.
"For the Grady cluster, each of the members works in groups with a specified agenda," Fluker said. "I work alongside our trusted advisor, Mr. Chris Rhodenbaugh, and my peers to put together a teacher toolkit, which houses information, guides, links and sources distributable to the classroom for student access."
By providing students with information regarding voting, When We All Vote is increasing civic participation and emphasizing the importance of a single vote.
"A lot of people today question whether their voice matters," Fluker said. "It is imperative to use your voice and to stand up to what you believe in. This heavily applies to the voting process."
Junior Evelyn Lowry was drawn to "Students for Ossoff," a student-led initiative that aims to turn out as many youth voters as possible to elect candidate Democratic Jon Ossoff to the United States Senate.
"I am very motivated to support honorable candidates who demonstrate integrity, who will work to create a better world for their constituents and fight for the changes we would like to see," Lowry said. "Additionally, I realized that even though I can't vote yet, there is still so much action I can take and so much to learn about to work towards a better future for everyone."
Lowry was introduced to "Students for Ossoff" by a friend and was impressed by Ossoff's principles and the organization's youth-led effort, she said.
"I am just starting to get involved," Lowry said. "I've been on a few calls including a virtual town hall, where we got to interact with Jon Ossoff and hear him answer our questions, which was really cool."
Because a majority of high schoolers aren't of voting age, Lowry believes it is important to find other ways to make positive political change.
"It's up to us young people to do everything we can in our power to fight for the changes we want to see and fight against the changes we do not want to see," Lowry said. "Whether you are doing that by simply engaging in important conversations with your peers and families, or going out and working for a specific candidate, it still matters, and it is still important to do so and get involved."
Taylor, Fluker and Lowry all believe in the importance of exercising political power in any way possible, whether knocking on doors or casting votes.
"You do not have to be 'political' to perform your basic rights," Fluker said. "If you are not willing to do it for yourself, do it for someone who cannot do it – someone who is dependent on you to make a change."
Leave a Comment
About the Contributor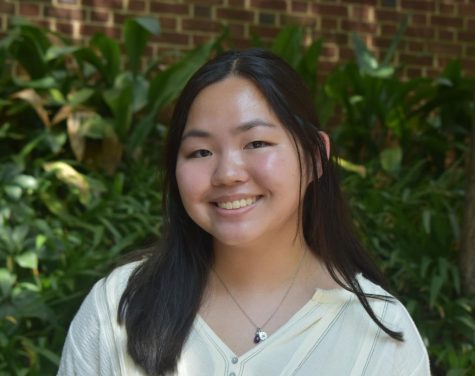 Yei Bin Andrews, Co-Editor in Chief
Yeibin Andrews is a senior, and this is her third and final year writing for The Southerner. She is currently a Co-Editor in Chief. She is excited for...