ACL injuries challenge high school athletes
Sophomore Hayley Chamberlain tore her anterior cruciate ligament in April while playing a pickup soccer game. Chamberlain was dribbling down the field when she injured her knee.
"A person came from behind and another person came from the front," Chamberlain said. "My knee twisted and then it popped."
ACL tears are common for many athletes over 14 years old. Dr. Ched Garten, a non-operative sports medicine physician at Paragon Sports Medicine in Atlanta has worked with sports-related injuries for almost 20 years.
"When an ACL tears, it's kinda like a steel cable," Dr. Garten said. "If you think about [it like] a steel cable, it doesn't just break in two, it explodes because it's under a lot of tension."
Dr. Garten says sports with particular types of movements or traumas have high rates of ACL tears.
"There's two mechanisms or injuries for ACL —a noncontact injury —which is where you pivot or your cutting, side stepping and your knee goes into a funny position and the ACL pops," Dr. Garten said. "Or there is a contact injury, so you get struck by another player, somebody falls into your leg, things like that. Only about 30 percent are actually contact injuries."
Female athletes have additional factors that play into their likelihood of an ACL tear.
"Females are four to five times more likely to tear their ACL than males," Dr. Garten said. "There are anatomical reasons for that, with their hips being wider. There is some correlation with the menstrual cycle, when you are in your cycle … your ligaments are a little bit loser. So there's a lot of different factors there."
Sydney Shaw, a senior at Notre Dame, played soccer for 14 years. Shaw, Class of 2017, played four years at Grady until she had to quit following three separate soccer-related ACL tears.
"None of them were really contact-related, most of them happened from me planting and then pivoting the wrong way, and then it just gave out," Shaw said. "The last time I had only played three games by the time I came back."
Unlike other sports injuries, many athletes do not feel extreme pain following an ACL tear because of the lack of nerve endings in the ligament.
"It honestly did not hurt that much each time, but I think It was mostly because I was in shock," Shaw said. "What happened to me most of the time was that within the next thirty minutes to an hour after I tore it, it started to swell up really badly, and then at that point, it became more painful. But the initial pop wasn't super painful."
Dr. Garten emphasizes the importance of post-operational physical therapy. He says the average recovery is six to nine months, depending on other factors relating to the injury's severity, as well as the type of surgery.
"When you tear your ACL, that's a trauma," Dr. Garten said. "You lose your quad really quick, and can also start to lose range of motion, full extension and flexion, which could all affect you long term. We have to build back the muscle, get the range of motion going, hips strong and work on balance."
In addition to the physical effects, an ACL injury can be an emotionally-taxing process for athletes.
"It was definitely difficult because soccer was part of my identity, and so, I didn't really know how to cope with being out of the sport for so long," Shaw said. "Having it happen so many times, I was definitely very frustrated and didn't really know what to do."
Grady girls soccer coach Blair Barksdale wants to lower the number of ACL injuries on the team.
"I do a lot of ACL prevention exercises, plyometrics, and I have specific drills that focus on ACL strengthening," said Barksdale, a first-year coach who was previously at Heritage High School for nine years. "The big one is to make sure to take recovery days. Throughout the season, If we play a really tough game, then the next day will potentially be a recovery day, where we do a lot of stretching and let the muscles relax, instead of overusing them."
Sophomore tailback and linebacker Steven Simpson tore his ACL playing in a 7-on-7 football game. After months of rehab, Simpson is back on the field. He scored the only touchdown against the Mays Raiders on Sept. 19 in a 30-6 loss.
"It feels good to be back because I was sad when I couldn't play," Simpson said. "I can't do certain things, and I'm scared to cut, so I have to keep practicing."
Leave a Comment
About the Contributor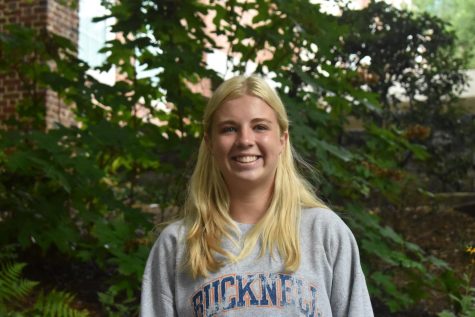 Archer Streelman, Co-Editor in Chief
Archer Streelman is a senior writer for the Southerner. She loves playing soccer, hanging out with friends and traveling. She is super excited to continue...