Chadwick Boseman leaves lasting impact after death
Chadwick Boseman began his short-lived, yet revolutionary career in Hollywood portraying black icons, and he ended it as one.
Boseman played groundbreaking black figures like Jackie Robinson, James Brown and Thurgood Marshall. Throughout his 10-year career, he established himself as a cultural force and mainstay, becoming one of the most highly sought after black actors in Hollywood.
Boseman's career in Hollywood began in 2013 at 35 years old, when he was cast to play the legendary Jackie Robinson in the biopic "42." Boseman, who died Aug. 28 after a four-year battle with colon cancer, made the most of his breakthrough role with a memorable performance.
A New York Times review from 2013 said he played the role, "with sly charm and a hint of stubborn prickliness," and that he "executed the role to perfection." "42" was also the first time baseball great Jackie Robinson was portrayed on the big screen, putting an immense responsibility on a rookie actor.
After "42", Boseman transitioned into another role that left a lasting impression on Hollywood, his portrayal of the singer James Brown, known as "The Godfather of Soul," in "Get On Up." His performance once again earned rave reviews from critics, and Boseman was thrust into superstardom, earning yet another role playing a black icon.
"Marshall" was Boseman's third biopic, in which he played Thurgood Marshall, the first black justice on the Supreme Court. Many claim it was his best performance. The Hollywood Reporter described Boseman's portrayal as, "A performance worthy of a man as important as Thurgood Marshall." The role boosted Boseman's image in Hollywood as he became one of the leading black actors, along with the likes of Will Smith and his mentor, Denzel Washington.
With his masterful performances in all three movies, Boseman had pushed his way into the public eye, catching the attention of Marvel Studios and earning the role of a lifetime: An opportunity to portray the main character, T'challa, in "Black Panther," a character he fell in love with while working in the African bookstore at Howard University, his alma mater.
Boseman embraced the role, realizing its significance to the black community, as the role was the first black-led Marvel Cinematic Universe movie. A posthumous statement from his Instagram says, "it was 'the honor of his career to bring King T'Challa to life in 'Black Panther.'" He embraced the pressure and stayed devoted to the role until his death. He went as far as to lobby for the characters in the movie to have South African accents, and took courses in ancient African symbolism and spirituality, so that he could portray the role to the best of his ability.
What the public didn't realize at the time was that Boseman took part in all of this while battling his diagnosis of Stage 3 colon cancer, which he had received a few months before filming started. The film was shot in 2017 and was released in 2018 to widespread success. The movie was a cultural sensation, and Boseman was praised for his role, with Slate Magazine stating, "Chadwick Boseman performed with both regal confidence and real vulnerability."
The movie was a worldwide success, making $1.34 billion worldwide, and shot Boseman to international fame. It was also nominated for six Oscars, and won three. More importantly, the movie had a profound effect on black culture. When reporting on Black Panther, Time Magazine wrote, "It's a movie about what it means to be black in both America and Africa — and, more broadly, in the world. Rather than dodge complicated themes about race and identity, the film grapples head-on with the issues affecting modern-day black life."
The movie was incredibly impactful to African-American culture, and Boseman was at the center of it all, leading the charge for equality, not only in Hollywood, but in society.
Over the next two years, Boseman's colon cancer progressed from Stage 3 to Stage 4, but Boseman, determined not to quit, filmed several more movies, all of which he gave his heart and soul to.
In 2019, he played a starring role in "Avengers: Endgame," the highest grossing film of all time, which made $2.9 billion worldwide. The movie provided a platform for Boseman's message of equality. "Avengers: Endgame" was just another part of Boseman's illustrious movie portfolio, and widened his already large impact on Generation Z.
In his final two movies, Spike Lee's "Da 5 Bloods," and "Ma Rainey's Black Bottom," Boseman plays fictionalized versions of two black characters from totally different eras: one from the Vietnam War and the other from the 1920s. Both heavily focused on the racial injustices engrained in America at their respective times. Boseman filmed these movies within two years, while in and out of chemotherapy for an increasingly aggressive form of colon cancer. Boseman never quit, and died doing what he loved: acting and spreading the role of equality through his work.
Chadwick Boseman was a highly transformative figure in Hollywood. His acting changed many lives, and he became a role model for young black children, who looked up to him and the black icons he portrayed on the big screen. Each of the black characters he portrayed from Thurgood Marshall to Black Panther created deep pride about black history and influence. Through his movies, he touched the lives of many, and his impact on society was profound.
About the Contributors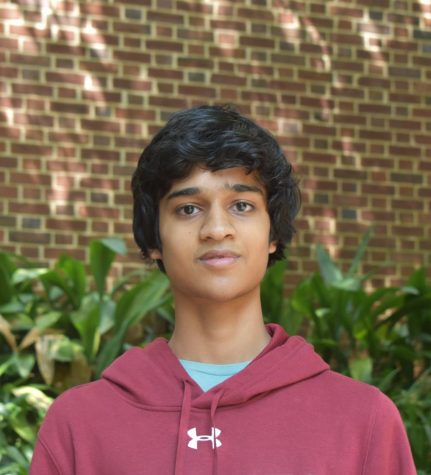 Sayan Sonnad-Joshi, Comment Associate Managing Editor and Weekly Activity Editor
Sayan Sonnad-Joshi is a Junior and Associate Managing Editor for the Comment Section on The Southerner. This is his second year writing for the paper....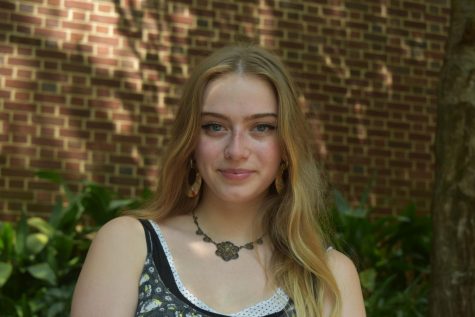 Sophia Maxim, Design/Layout Managing Editor
Sophia is a senior and a Layout Design/Graphics, Photography, and Social Media Editor on the Southerner. Outside of writing, she spends her time taking...