Softball team works toward playoffs
Coming off a 3-win season, the Grady softball team has started 4-9 and aims for a better finish this year.
The softball season started on Aug.11 against Villa Rica. Grady opened with four losses as the Knights were outscored 50 to 13. Grady won its next two games against New Manchester and Galloway, 18-1 and 16-9.
"The season has been going better than I even imagined honestly," coach Daniel Stockdale said. "We have gotten a few wins; we've lost some tough games, but we have a lot of young players on the team that are stepping up to the challenge each and every game."
The team started September with five straight losses. The Knights turned a corner, beating New Manchester for the second time, 16-1, and Maynard Jackson 22-5. Grady's is now 3-6 in Region 6AAAAA, and is tied for fourth in the region. The top four regions advance to the state playoffs. Grady needs to beat North Springs to avoid a fifth-place finish.
"Our most recent games have been going great; we won the last two, even the game we lost against Northview, we lost in the last inning," Stockdale said. "We are in position to make the playoffs for the first time in a while, but it's not a done deal. We still have to win a few more games."
Five seniors graduated from last year's team, leaving many open spots for freshman to fill. Stockdale believes the freshmen have helped the team improve.
"Our last year's team, we had a great group of seniors that had a lot of years playing at Grady, but they were not as experienced coming into high school as the freshmen are now," Stockdale said. "Our freshman class has played more softball growing up than our senior class did last year when they were growing up, so it's really helped the team just get a little bit better this year."
The assistant coaches have also helped the team progress. According to junior captain Zoe Armstrong, assistant coach Ron Killingsworth and community coach Tarun Palep have added to the supportive environment.
"Coach Stockdale asked me to come aboard to help out last year when my daughter was a freshman," said Palep. "I help with whatever coach wants me to do — individual instruction for those who need it. I work primarily with the infield. I also work a lot with our players in the batting cages, on hitting instruction and batting practice."
The COVID-19 pandemic has led to precautions at games and practices to keep everybody safe and reduce the spread of the virus.
"We have to wear masks all the time, which, in sprints and stuff, sucks, and there's more emphasis on spreading out our water breaks from each other," freshman Caitlin Stanley said. "We also have to wear masks during games, which is really different. It changes how we have to communicate with each other. We have to say certain things; we have to communicate all the time on the field or like calling the plays, so you can't do that very easily with a mask on, so it makes it harder."
As the season winds down, the team continues to learn and grow.
"Considering the fact that we are in a harder division than the team was last year, we have done really well adjusting, and I think we are definitely no doubt getting better every single game," Stanley said.
If there's one thing Stockdale wants the girls to achieve this season, it's to improve.
"To get better each and every day, to get better each and every game — that's the primary goal for us," Stockdale said.
Leave a Comment
About the Contributor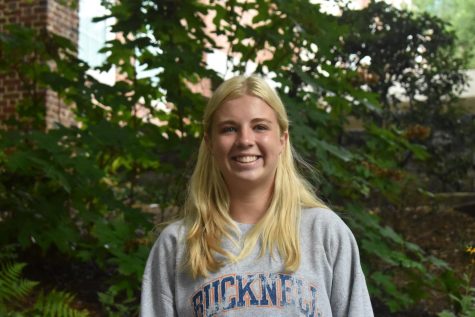 Archer Streelman, Co-Editor in Chief
Archer Streelman is a senior writer for the Southerner. She loves playing soccer, hanging out with friends and traveling. She is super excited to continue...