AP Government connects classrooms to the real world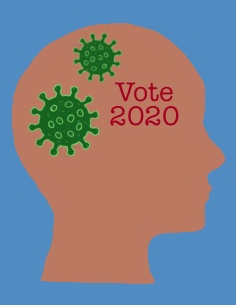 In the United States, the talk of a newly-discovered virus started in February. The Johns Hopkins COVID-19 map tracing the outbreaks of the virus was displayed on the smartboard with red dots and countries of the world illuminating the faces of AP Government students.
"Last [school] year, I started looking at the COVID-19 maps with my AP Government students in February," AP Government teacher Susan Salvesen said. "We traced it, and I kept asking them 'Do you think this is going to impact us? Do you think that we will be impacted by the coronavirus?'"
Grady's AP Government class is fostering important discussions about current events circulating throughout everyone's day-to- day lives. COVID-19 has dominated most major news publications and aspects of our daily routines. Junior James Washington believes these major events will create a unique experience in this year's AP Government classes.
"I think we have a pretty good year to be in AP Government," Washington said. "The pandemic influences how the government goes about dealing with it, along with the general election this November."
The events circulating throughout conversations at home have stimulated talk in the classroom as well. Senior Alan Bethea recognizes the impacts that current events have had on AP Government.
"Current events fuel the AP Government experience," Bethea said. "A portion of the class is dedicated to researching, discussing and analyzing major events that happen in the United States, as well as globally."
While some students enjoy discussing world events, such as the pandemic, with their peers, others feel differently. Senior Ava Young believes the conversations surrounding COVID-19 are overdone and that school should be a place where the pandemic isn't the center of attention.
"I don't think it's something students want to hear about anymore," Young said. "Which may sound, you know, incredibly privileged, because so many people have suffered so much loss because of COVID-19. But, I think, sometimes, school can be an escape."
Along with discussing the widespread effects of COVID-19, the timing of the 2020 Presidential Election coinciding with the AP Government classes gives students a deeper look into what they're learning in the classroom and helps them understand what is happening at the polls.
"Some of my students will be voting in the general election this year," Salvesen said. "Because of this, it's interesting to look at why we think certain things and how that impacts our voting behaviors. I think it is interesting to cover before the election."
According to junior Elijah Senter, AP Government further reinforces opinions students have made on their own, while shaping their knowledge of the political environment around them.
"I have my own specific view of how the government should function and the role it should play in society," Senter said. "But, before I decided to take the course, I wondered if my view was too limited to be a proper opinion."
Salvesen believes creating a connection between students' personal lives and the world around them makes for a more meaningful learning experience.
"Students like to know what's going on in the world and what's going on in terms of what's happening at home [in the United States]," Salvesen said. "I think that students are more engaged with civics when they are able to relate to it."
Even with the current events working their way into daily Zoom video calls, Young believes that the curriculum for AP Government won't be altered.
"I don't really think that the current events that we have now, COVID-19 and election year, have altered the class that much," Young said. "A big part of the course is going over current events, but it's not like this year we're getting necessarily any more news than years prior. It's just that this news may hold more weight for people."
Although students may have different opinions on current events, the AP Government class has given students an outlet to form their own diverse opinions surrounding the world around them.
"I took AP Government because I'm interested in learning more about how the government functions," Washington said. "I can use this to better understand what's going on today in our world today."